Wondering what a 3G holiday is? No, it has nothing do with cellular networks!
What we are talking about here is three generation family holidays. This is a sweet and emerging trend the world over. Families head out on a holiday, all three generations, together. The kids hold on lovingly to the arms of their grandparents while the doting parents beam their approval.
Today, more and more families are embracing the 3G holiday concept to emotionally bond and bridge the gap across generations. There are many reasons why this trend is picking up. First of all, the emergence of nuclear families has ensured that grandparents live on their own, away from their children and grandchildren. Hence, holidaying together is a great way to emotionally bond together in new surroundings and also experience the joy of travel. One can always make do with the usual monthly visit, but a holiday has its own charm and the bonding of generations in scenic surroundings is something to look forward to.
If you have not been on a 3G holiday, then it is high time that you did. Here are some tips that will come in handy when you're planning a holiday that brings three generations together.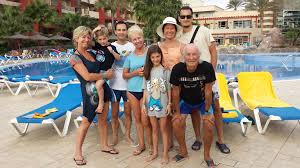 Selecting the Right Place
The selection of where you want to holiday is very important as you have the needs of three generations to consider. The fitness levels of the grandparents need to be considered, while the availability of enough activities for the third generation needs to be kept in mind.
Selecting the Right Mode of Travel
3G travel is not as simple as hopping into your car and driving away on a road trip. The various factors of health and endurance of different family members need to be factored in before deciding whether to fly, drive or board a cruise to your destination.
Selecting the Right Things to Do
The generation gap would obviously result in different preferences, but there's no need to fight about what to do. Activities should be planned keeping in mind the tastes of the different generations. Separate activities can also be planned where the younger one's head off for some extreme adventure activities, while the seniors visit a museum or take part in a cultural performance.
Selecting the Right Eating Options
Food is a very integral part of travel and needs to be specially taken care of in a 3G holiday. The dietary requirements of the first generation need to be carefully factored in while planning where and what to eat.
With these tips for travelling with your family, your 3G holidays is going to be nothing like any holiday you have ever had before. The experience will linger in memory for time immemorial and flood you with waves of nostalgia whenever you reflect on the experiences.
The holiday season is just round the corner, are you considering to go 3G this time? If you're bringing along the whole family for a vacation, make sure you book your stay with Sterling Resorts. Our luxury resorts are located in picturesque holiday spots. We also have a wide range of facilities so there's something for everyone!