It is widely acknowledged that experiential learning helps absorb and internalise knowledge better. Personally, I am a big proponent of this principle leading to my peppering my professional presentations with many anecdotes to get the audience to relate to my thinking and support the conclusions and recommendations I am making.
It was not until I began working with Sterling Holidays, however, that I understood the experiential learning to be gained by travelling often. So much so, I would strongly recommend that Human Resource managers should incorporate artfully planned travel programs in their Training calendars as travel can prove to be an important educator and a source of deep consumer insights.
The India Inc. story in 3D technicolour
The first eye opener was in 2010 when I went on this long road journey from Kodaikanal to Yercaud with a photo shoot crew. I had just spent the last few years of my career as Managing Editor of a management magazine, The Smart Manager. Conceptualising and editing issue after issue, I was steeped in what the Management Gurus were saying about the great India story. But I guess somewhere I never entirely believed all the hype, living as I did within the boundaries of Mumbai's ivory tower.
It was on that long road trip between Kodaikanal and Yercaud that I saw the India Inc. story unfold in front of my wondering eyes in all its technicolour glory. I was travelling in the interiors of India after a gap of over a decade. The first thing that leapt into my brain was the fact that small town India was no longer a hodgepodge of white washed Soviet era type small houses. Instead, I saw freshly painted houses and every now and then, beautifully designed bungalows that could even find their way into the portfolio of city based architects and interior designers.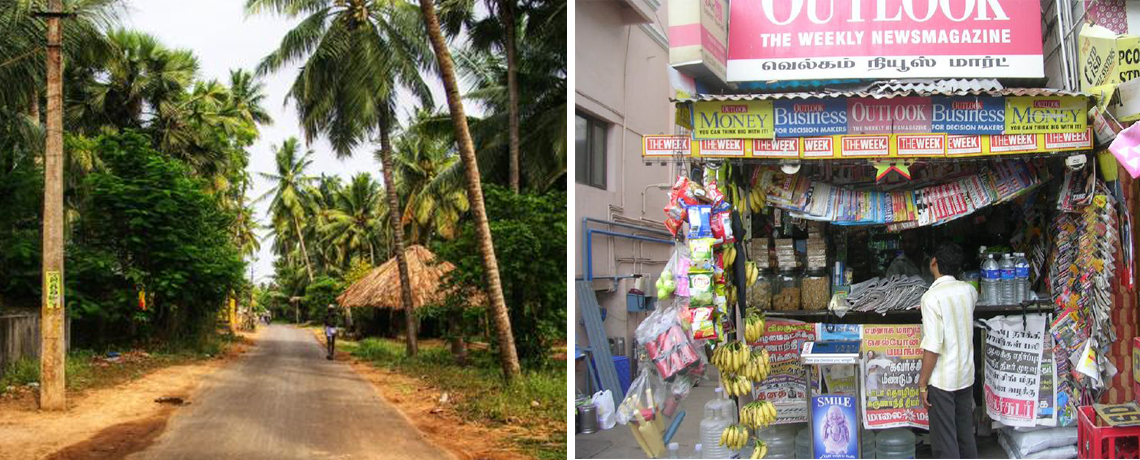 The second observation that left me marvelling was driving by spanking new, huge educational campuses, sometimes in the middle of literally nowhere. The grounds of some of these educational institutions were filled with shiny new yellow buses to ferry students to and fro. Mentally I compared the buses to the ramshackle transport used to transport city based students. Think! Just who is at a disadvantage here? At least on this count?
It was at that moment of insight that the tag line India Shining held meaning for me for the first time. Of course, if I had dug deeper I am sure I would have found that multiple, deep rooted rural problems continued to persist but the changed appearance I saw of small town India did tell a story! And explained why the Indian economy was saved from a deeper downturn after the Lehman Brothers triggered global economic crisis in 2008.
Consumer aspirations showcased in long shiny tresses
I consider myself a member of the human race and a world citizen. Growing up, however, even my highly liberal mother insisted on following a few, deep rooted Tam Brahm traditions. One of them was soaking her daughters' tresses with coconut oil and sending us to this elite school in South Mumbai in oiled, tight pigtails. In my mind they were rat tails. No amount of protesting swayed her, including the fact that I stood out like a sore thumb amongst classmates with shampooed, fashionable hair cuts.
I was, therefore, startled and bemused when I noticed that women on the streets of small town Tamil Nadu were walking around with clearly shampooed hair. Here was the much touted shampoo sachet revolution being played out! Digressing a little, I am now wondering if consumers are replacing do-good ingredients in hair oils with modern day chemicals that they will later pay a price for. No doubt some smart FMCG company will position a hair oil range of products as a hair care regime. The first step there would be packaging as sophisticated as the shampoos et. al.
The new Indian Idols
Down the years, one of the sights I have always found endearing in Tamil Nadu was the manner in which books and magazines are strung on a rope running across the entrance to small shops. These publications sway in the air along with bunches of bananas and sundry other items.
On the same road journey I have been describing, we had stopped for lunch. I am not sure but I think it was Dindigul. Stepping out after a hearty South Indian meal, I stopped in my tracks when my gaze fell on the books displayed at a kerb side stall just outside the eatery. One after the other, the faces on the covers of the books were not cine stars but business magnates such as Bill Gates and Dhirubhai Ambani. And these books were published in the Tamil language!
To my mind, this single fact was the most telling indicator of the new found aspirations of the Indian consumer. Who knows? Perhaps Narendra Modi observed these very same things on his road shows across India, leading him to campaign on a platform that struck the right chord in the heart of a majority of Indians!
Travel to learn! 
I recently came across reports that Facebook had sent teams of researchers across India to study the usage habits and unfulfilled needs of social media users in India. The study included usage on a plethora of devices. The Facebook team spent time with Indian consumers across socioeconomic strata, from rickshaw drivers to college youth. The report brought to mind my journey from Kodaikanal to Yercaud and the eye opener it was. Facebook sure knows what it's doing 🙂
Lata Subramanian, the author, is Chief Marketing Officer of Sterling Holiday Resorts. This blog was written in her personal capacity as a hobbyist writer and blogger.