Today the main mode of transportation for most international destinations is by air. We never consider the option of 'stepping' out from our country into other neighbouring countries. The immigration formalities happen in airports, so the actual borders are crossed while we are in flight.
However, crossing a physical border is a thrilling experience as and you get to feel how artificial and arbitrary nations are when you are at the line of demarcation. The land is the same, the trees are the same, the people are the same – but with just one step you are a foreigner!
India has land borders with many nations – Pakistan, China, Nepal, Bhutan, Bangladesh and Myanmar – and each border crossing has a host of stories and emotions running through them. Let us take a look at a few of them.
 Indo-Pak border at Wagah
Wagah border is based on the Grand Trunk Road, which used to run from Chittagong all the way to Kabul. This ancient prehistoric road once connected South Asia with Central Asia and is now punctuated by several borders. Wagah is one of the most emotive borders, where the pain and chaos of the partition are still felt and can palpably be seen as an open emotional wound. Every day, the Indian Border Security Force and the Pakistani Rangers have a 'Lowering of the flag' ceremony with both sides executing a blustering parade. They try to outdo and intimidate each other with giant goose stepping marches and loud stamps and ferocious eyeballing and moustache waggling.  It is quite an intense experience to witness this ceremony and see the aggression and jingoistic patriotism of the audience from both sides. Loud cries of 'Bharat Mata ki Jai' and 'Pakistan Zindabad' rend the air. These cries are especially sharp when there is tension between the two sides – after a terrorist attack or a cross-border firing, for example. It is only a few kilometres from Amritsar, and you can get there by taxi or private vehicle. Let us hope that one day the border will be a place of friendship and brotherhood instead of fury and rage.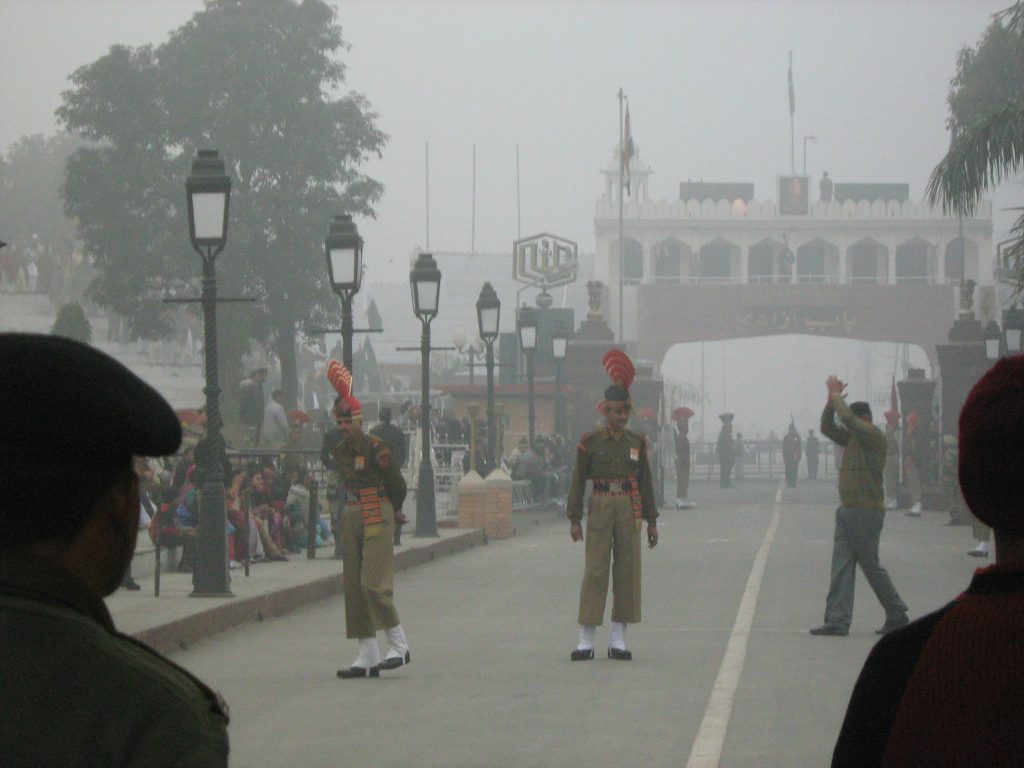 Indo-Bhutan border at Phuentosholing
The Indo-Bhutan border at Phuentosholing is the most friendly border of the Indian subcontinent with just a wall and a beautiful gate. You can get there from Siliguri. Indian citizens do not need a visa to enter Bhutan but have to show some form of ID – preferably a passport. Most of the times, citizens just walk to and fro without any issues. The Indian town of Jaigaon is dirty and grimy, but the instant you cross the border and enter the Bhutanese town of Phuentsholing, it is clean, neat, well-organized and absolutely lovely.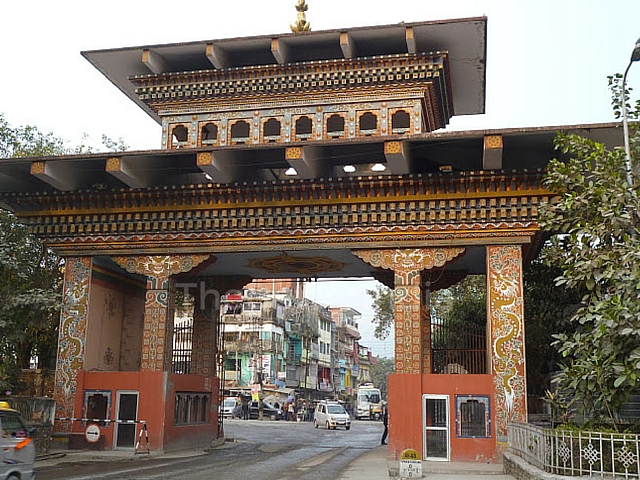 Indo-Nepal border at Dhangadi
India has a long border with Nepal, running all along UP, Uttarakhand, Bihar and West Bengal and has quite a few border crossing points. All of them are rather dirty and grubby but do not involve much paperwork unless you are taking a vehicle or goods across the border. Indian citizens do not require a visa to enter Nepal and can just walk across by showing some ID. It is always best to keep your passport with you while crossing borders.
 
Indo-Bangladesh border at Bongaon
Bangladesh has a huge border with India, which runs along 5 Indian states – West Bengal, Assam, Meghalaya, Tripura and Mizoram. One can cross at many points with Bongaon in West Bengal being the closest to Kolkata. The simplest way to enter Bangladesh by land would be to take the Maitri Express from Kolkata to Dhaka. You have to take a special visa, and undergo immigration checks at both sides of the border to make this journey.
 
Indo-Myanmar border at Moreh
One can cross from India to Myanmar at the Moreh – Tamu border crossing in Manipur. You need to get the visa from the embassy and the border crossing permit by applying through an official travel agent. This could be part of a really adventurous road trip to the North East and beyond and might end up being the most memorable border crossing you would ever do.
So next time you plan to travel across borders, consider doing it by land in order to witness the drama and emotion each border has to offer. You can also collaborate with RCI resorts to travel and explore overseas.