Munnar – discovering the history is the fourth part of Shireen Bharucha's travelogue on Munnar. In this part, Shireen is on a mission to unearth the ancient history of this famous tourist destination. She takes us through various spots in the hill town that continues to sing the tales of Munnar's glorious history.
Next morning we leave early with Jaya Shankar and driver Pawan Raj for an excursion to Marayoor, 40 km away, to discover ancient local history.  Besides history, this long drive has a lot to offer by way of natural beauty.
On the way we stop at Old Munnar, where the over a century old medieval-looking CSI Church also known as Christ Church is located.   This well preserved Protestant church was built in 1910 by British planters and opened for worship in 1911.  It is constructed in the Gothic style using rough hewn granite.  The charming interior of the church has an ornate chandelier, rosewood pews, exquisite stained glass windows depicting saints and Biblical characters and memorial brass plaques with names of prominent planters inscribed on them.  Floral streamers adorn the ceiling.  During the devastating floods of 1924, hundreds of people took refuge here as the church is on a hill.
The cemetery adjacent to the church dates back to 1894 and is located on the slopes of a picturesque hillside wooded with pines and firs.  Unusual features of this cemetery are that Protestants and Catholics are buried here and many crosses are laid horizontally as at one time wild elephants damaged upright crosses.  The origin of the cemetery is tragic.  Eleanor Knight, a young bride of planter Henry Knight was enchanted by the scenic beauty of Munnar and she told her husband that she desired to be buried here.  Three days later she died of an illness.  Her grieving husband honoured her wish and interred her at the spot where they had stood.  The cemetery gradually developed around this grave.  I clamber up the hill to look for Eleanor's historic grave which still exists, but I am unable to locate it, as there are no pointers.
Thereafter, we stop at the Lakkom Waterfalls which is part of the Eravikulam Stream originating in the Eravikulam National Park.  The Eravikulam Stream is one of the major tributaries of the Pampar River.  Entrance is Rs.10/- per head.  The falls might be spectacular during the monsoons, but not so, in January.  The location is wooded and pretty.  A little shop sells spices and other local goods.  We relax with a cup of tea at a small cafeteria on the premises.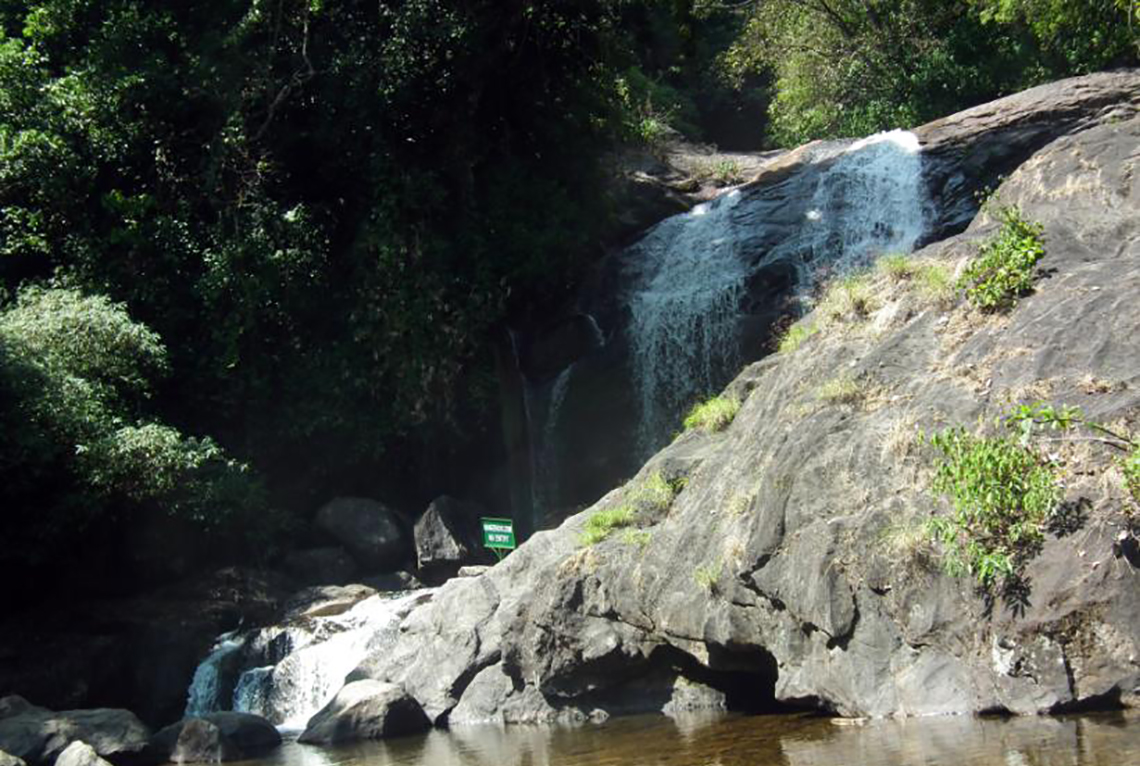 We continue our bewitching drive through tea gardens and dense forests surrounded by mountain ranges with soft clouds floating over them, until we come to the one and only natural Sandalwood forest in Kerala.  This is a reserved forest that can only be entered with prior permission from the Forest Department, which we do not have, so we have to satisfy ourselves by just driving through it.
From this point the scenery changes.  We pass through villages and see some cute bungalows.  Every resident seems to have their own poultry so clucking cocks and hens strut around.   There are banana and sugar cane plantations and palm groves with coconuts and dates hanging down enticingly
The name Marayoor has many meanings.  Marayars were a tribe who lived here about two millennia ago.  'Uru' means village so this translates as 'village of the Marayars'.  The name might also have been derived from 'mara' which means hidden and 'ur' means land in Tamil, so 'hidden land.'   This site is said to be home to a Stone Age civilization.  It is believed that the Pandavas spent some time in Marayoor when in exile, though there is no supporting evidence of this.  'Maranjirunna means 'they hide' and 'ur land – the land where they (the Pandavas) hide, hence, it was also known as 'Maranjirunna ur'.
Ezuhuthu Guha (meaning 'cave of writing'), is a prehistoric site, located inside the Marayoor forest range, where 90 rare cave paintings exist.  This site has been declared a protected monument by the State Archaeological Department and has been closed to public viewing on account of large scale vandalism.
Our final stop is at the Pandava's Rock, one of the prehistoric megalithic sites, similar to Stonehenge in England, where there are ruins of dolmens at the base as well as at the top of the rock.  Dolmens are chambers of four, or more, huge, flat, rectangular slabs of stone placed vertically, with a slab capping the top horizontally.  It is believed that dolmens were tombs for the remains of VIPs, while burial urns were used for the commoners.  These structures date from the late Bronze Age to the Iron Age.  It is distressing that this historical treasure is in a state of total neglect.    There is no explanation at the site, so as of now, this rock is of interest to archaeologists and anthropologists only – not the typical tourist.
Pandava's Rock is a huge bald rock except for some tufts of grass growing in patches.  I had to take the help of the guide and the driver to scale the top!  The view of Marayoor town and the mountain ranges, is breathtaking from the summit.  Amazing is the fact that a cowherd ambles along the top of the rock with his herd, though this should be a protected site!
If we are disappointed at not being able to enter the sandalwood forest and see the rock paintings, we are well compensated on the way back as we sight a pair of Giant Malabar Squirrels in the forest supping before dusk, leaping effortlessly from tree to tree in search of food.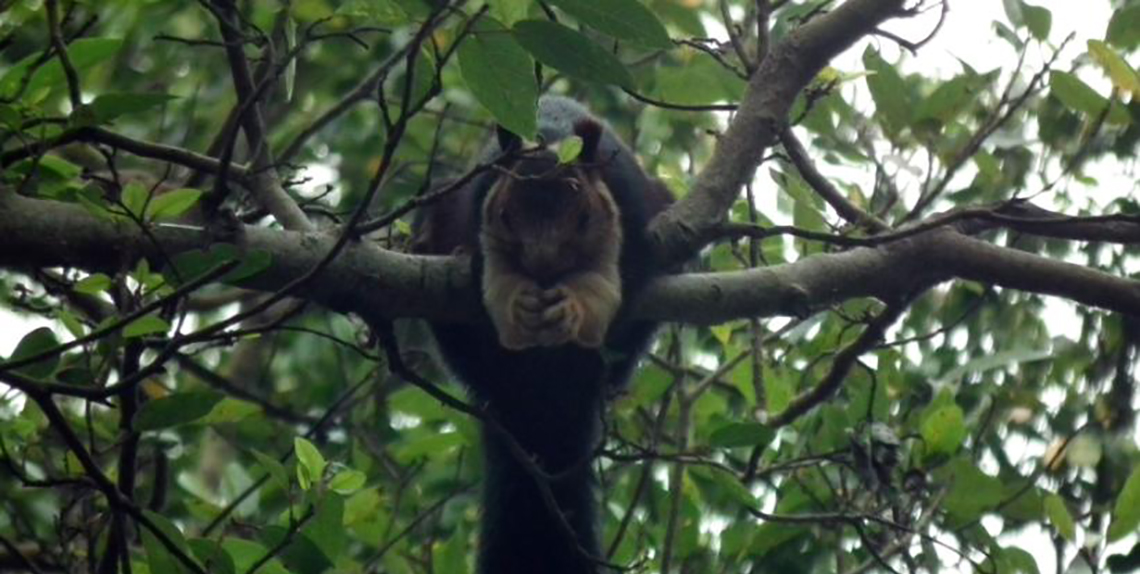 As we continue our journey homeward, we are mesmerized by the fiery gold and red of the setting sun over the mountains.  Pawan Raj drives at top speed to get us to Sunset Point which is on the way to Terrace Greens.  By the time we reach, the sun has set, but nature's canvas unfolding before us behind the hills is stunning – the colours start as pale bands of pink and orange which become deeper and darker with each passing second until the sky looks like it has been set afire with dark clouds hovering over, which resemble smoke from the huge bonfire in front of us!  The magic of this sunset is etched in my memory!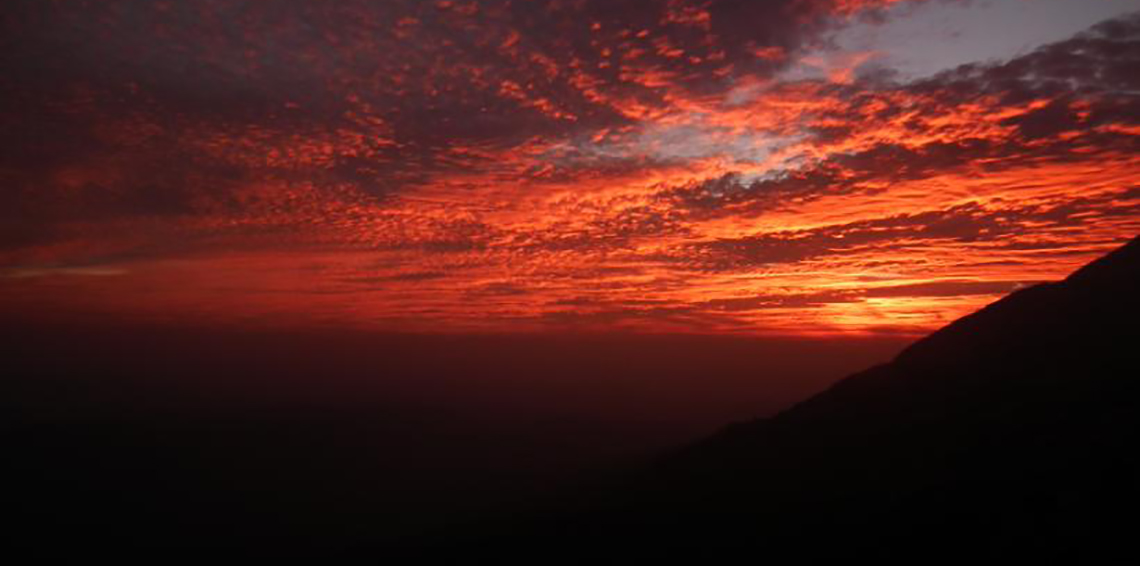 Shireen Barucha's adventures continue in the fifth and final part of her Travelogue of Munnar.
Quick Links
Part 1 – A portfolio of Munnar
Part 2 – Kolukkumalai : The world's highest organic tea plantation
Part 3 – Kerala's oldest martial art: Kalaripayattu
Part 4 – Munnar – discovering history
Part 5 – Here, there and everywhere
The views expressed by the author are in her personal capacity.