The route was deserted. It was pitch dark, pouring and the road ahead forked into two. One of them lead to Thekkady and one to somewhere else, I didn't know. Neither did the driver, we had to reach Munnar, we were about 80kms away in the jungle somewhere and it was pouring. That's how this year's edition of me chasing monsoons started.
I was in Kerala two weekends ago. Hosted by the folks at Sterling Holidays, I was in Munnar to see what the charming hill station offered to the offbeat and adventure enthusiasts. I wasn't disappointed. The winds were howling outside my room, a faint whistle caused by wind escaping through the tiny gap between the window panes was the lullaby as I drifted into a sound sleep every night. Trees swayed with such tenacity that the rustling cacophony sounded more like a raging waterfall. And when it rained, it only poured. Low-lying monsoon clouds engulfed the hills and the slopes in a white luminous blanket, far down below everything else that could be seen was fresh green. Occasionally I longed for the warmth of sun but soon the cold breeze, the rain-drenched greenery and the sweeping mist would remind me why I loved the monsoons in first place despite the lack of sunshine.
My first visit to Munnar took me to places like Matupetty Dam, Top Station and such and it was safe to say I wasn't really charmed. My second visit took me to Munnar on my cycle and I enjoyed the brilliant winding roads quite a lot but still I wasn't charmed. It was only during my third visit, I got to experience the mystical side of Munnar, and what better time than the monsoons to be here. So without further ado, let me tell you what the offbeat side of Munnar is like!
A hike to a lake steeped in legend – Sita Devi Lake
Also known as Devikulam lake, this pristine sparkling water body is far away from all the crowd and the litter that comes with the reputation. It was a delight to walk along the unspoilt trail, soaking in the strong aroma of lemon grass and taking in views of sprawling tea gardens down below and unkempt wilderness above. Legend has it, that Sita devi bathed in this beautiful lake, which is why this lake is considered sacred by the locals. Going by the number of lakes that are known to involve Sita, I'd say she was quite the traveller! The British used to spend their weekends here fishing it seems. Surrounded by hills and tall trees, this lake was exactly how I had imagined hill stations to be, much before I ever visited any. I had imagined hill stations to be places of wild natural beauty without any shops lining the shore, without litter and without any people. As the mist rolled in and out, I could catch a glimpse of the Devikulam Tea Estate on the far end. Only me and my guide were there at the lake, while I was busy enjoying the lake and the rain, my guide kept a watchful eye on the surroundings, apparently the waterfall that originates from this lake is a big hit with the gentle giants!
At a distance of 22 kilometers from Munnar, a visit to this lake requires permission from Tata Tea Estate Officer. The hike starts from Chinnakanal and is an easy one hour effort, quite suitable for beginners.
A sip of tea at the world's highest organic tea estate – Kolukkumalai Tea Estate
I have to tell you, I am not a big fan of Tea Estates. All it does is to remind me of the dense wilderness that was cut down to make way for the estates. However, this particular tea estate managed to catch my interest. After all how many times have I seen a tea garden dwarfed by high mountains, dense wilderness right by the side of the plantations, rugged mountains and deep valleys? At 8000ft, this has to be the world's highest organic tea estate. The backbreaking journey to reach the Kolukkumalai tea estate is totally worth the effort for the views are extraordinary. There is only a jeep trail to reach this estate and it is as bad as it can get. We climb over a mountain side and cross over to the other side at the top to reach Kolukkumalai. From here, we can see the mountains and villages in Tamilnadu. The tea factory here has been standing since 1930s and is still in use to produce tea in the orthodox seven step process. A tour of the entire tea making process at the factory can be availed. The sad part is almost all of the produce is exported. I had a cup of tea and it tasted divine, but considering the cold and the rain, any hot cup of tea would've delighted my taste buds.
At a distance of 32 kilometers from Munnar, the last 10kms ride to through this estate is quite bumpy and backbreaking but the views totally make up for it. Strictly only 4 wheel drives can tread on this trail. Jeeps are available at the start of the trail to reach this estate.
A humble moment with our ancestors – The Dolmens of Marayoor
To begin with, dolmens are prehistoric structures believed to ancient burial chambers. Characterized by four stones and a fifth cap stone on the top, these structures are found across the world but the origins and intentions of building these remain unclear till date. In Marayoor, these are locally known as Muniyaras and several dolmens can be seen on a stone hill to the left of the Pambar River. We reached Marayoor almost as the sun set, passing through the spectacular natural sandalwood reserve. A school is at the base of the hill and strewn all across the hill are ancient dolmens. As it rained intermittently, I walked barefoot on the cold stone to explore several of these fascinating yet dilapidated stone structures. Surrounded by high mountains on all sides, with crazy wind blowing and the constant drizzle, it was a mesmerizing evening, to be in presence of something built by our early ancestors belonging to Iron Age. A church prominently stood, brightly painted, amidst the greenery of Marayoor, the clouds were playing with the mountain tops, Pambar River was flowing down below and loud bhajans from a temple nearby filled my ears even as the winds howled. Just behind the mountain are primitive tribes who believe in animism resisting contact and fostering their own traditions and culture. Standing on the hill top, it was a magical heady mix of nature, beauty, religion and beliefs that transcended timelines. In short, that evening was spectacular.
At a distance of 40 kilometers from Munnar, Marayoor is a must visit for those interested in its rich ancient heritage and natural beauty. Without the context, the primitive stone structures and the rock paintings by the Pambar river might look ordinary but they are hardly so.
So these were my offbeat experiences at Munnar. Have you been to any of these places? 
Do you have any more suggestions to go the off the beaten path at Munnar? 
I stayed at Sterling Holiday's Munnar Terrace Greens Resort at Chinnakanal [20kms from Munnar]. Far away from the crowd of Munnar, Chinnakanal is home to few resorts, offering scenic views surrounded by tea gardens, rocky mountains and pristine lakes. Any season is a good time to visit here, even monsoons as you can see. And I would like to specially mention Mr. Balu from Holiday Activities at the resort, he is quite knowledgeable of the many trek routes around Munnar, if you are up for a good trek, he can arrange for it.
*Note – I travelled to Munnar as a guest of Sterling Holidays. 
Find Neelima Vallangi on Twitter via @i_WanderingSoul and on blog via www.travelwithneelima.com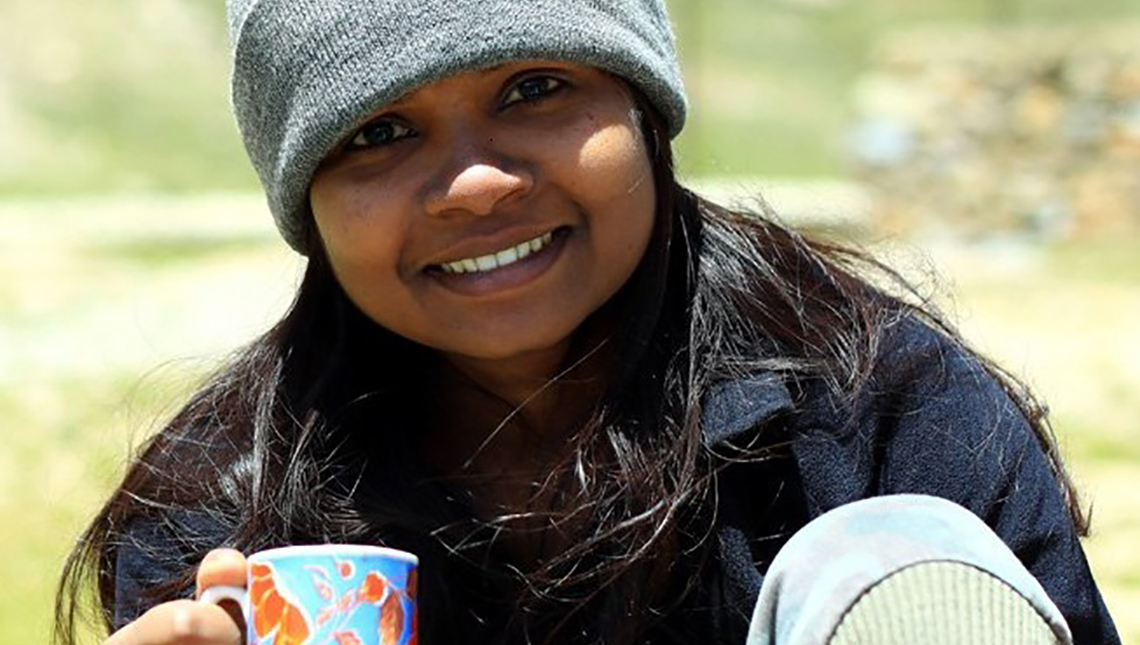 Neelima visited Munnar as a guest of Sterling Holidays and stayed at Sterling Munnar Terrace Greens Resort. She had a great time visiting off-beat places at Munnar and here is a travelogue by Neelima Vellangi.