"The best love is the kind that awakens the soul and makes us reach for more, that plants a fire in our hearts and brings peace to our minds", Nicholas Sparks declares in one of his best romantic novels of the century – The Notebook. Yes, the only thing that makes life worth living is 'true love' and only 'true love'.
Starting from Dev Anand pleading to his beloved as "Abhi na jao chodkar yeh dil abhi bhara nahin" (don't leave me now as my heart still needs to be completely filled with your love) to Aamir Khan rejoicing in his first love as "Pehla nasha pehla khumar" (intoxication of first love), to people around the world declaring, confessing, and proposing their love to their 'most special and loved one'; 'Love' is truly a state of being lost in a wonderful world.
Romantic Holiday Beats is a medium to convey your feelings to that 'special someone'. Tell your loved one how much you love her/him and rejoice in the beauty of romance. Announce to the world about your feelings through a lovely romantic beat. Participate in the Sterling Holiday Beats contest and dedicate a love song to your 'special someone'.
Here is a fantastic and unique opportunity to surprise and please your partner.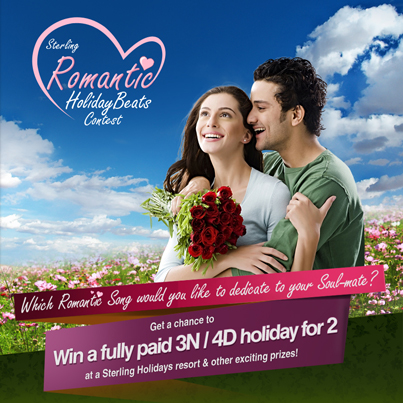 To enter the contest, all you have to do is log in to Sterling Holidays' Facebook contest page and choose a video of a romantic song according to you, enter the url or choose from the videos that we have lined up for you and dedicate a song to your loved one. Imagine the bright smile blooming on your beloved's face!
There is more to come. Get a chance to win a fully paid vacation for three nights/ four days for two, to an awesome romantic Sterling destination. Grab this chance and make the most of it.