Travelling with a toddler is not easy and it's particularly difficult when the trip is to a holy place like Shirdi. If you are a loyal devotee to Sai Baba, Shirdi should be in your bucket list and the demanding toddler around our hips should not stop you. The good news is that a lot of people pay a visit to this Hindu pilgrim destination with their family and kids, so you are not alone. Read on, to learn more about the right places to visit in Shirdi, with a toddler.
Samadhi Mandir
The Samadhi Mandir is the resting place of the Saint Sai Baba and is the main center of attention for all Sai Baba devotees at Shirdi. It consists of a huge captivating shrine which holds the last remains of the Saint and is distinguished by his beautiful iconic statue, carved in Italian marble. The whole place has a very divine feel to it. The enchanting sounds of temple bells and the blissful chorus recitation are guaranteed to fill you up with tranquility. Your toddler will definitely enjoy the vibrant colours, the ecstatic music and of course, all the melodious bells.
Shani Shingnapur
The temple of Shani Shingnapur is not only a must-visit destination in your Shirdi trip; it also comes with an added lesson to learn which can hugely benefit your toddler. This temple is devoted to the Lord Shanidev who is also known as the Saturn God. This God is believed to be protecting the neighboring village of Shani Shingnapur. The residents of this village are pure devotees of Lord Shanidev and do not believe in having doors at their places as they are under the protection of the Lord. It is a great place to take your kid to instill in him, faith and trust and teach him about the negative impact of stealing.
Wet N-joy Water Park
Visiting the Wet-N-Joy water park can be a refreshing change from your pilgrim-centric trip and it is the perfect place to just let go and unwind with your toddler. The 60,000 sqft wave pool, Whizzardmat 3-course water slide, the Crazy River ride and the Coaster-Blaster water roller coaster are a must in your to-do list.
Dixit Wada Museum
The Dixit Wada Museum was set up by Kakasaheb Dixit on the occasion of Ram Navami and is an excellent place to visit to understand the life of Saint Sai Baba. It has all the personal belongings of the Saint on display including his robes, pipes, footwear and cooking utensils. Toddlers and kids particularly love visits to museums as they provide the perfect balance between learning and fun.
Lendi Baug
Lendi Baug is a small garden that is believed to be watered and maintained by Sai Baba daily. According to popular belief, the Saint used to rest under the Neem tree in this garden. People visit this place not only to see the garden but also because of spiritual faith. Visiting this place with your toddler will be like a breath of fresh air with the open lawns and beautiful greenery.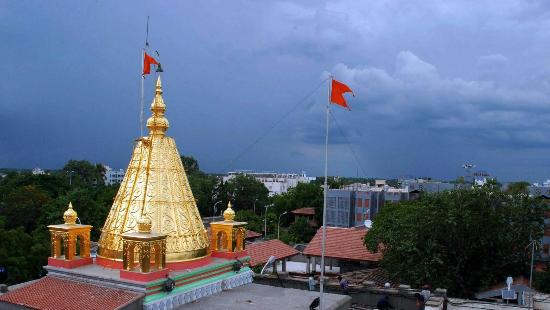 Chavadi
The Chavadi is a significant place of worship for staunch Sai Baba devotees as it is believed to be the house in which the Saint lived in every alternate night. Apart from being a place of devotion, the Chavadi is also considered as a historically important place and is still believed to house the seat and wheelchair which was used by the Saint. Again, a great place for toddlers and kids to understand the way of living of the great Saint.
Sai Heritage Village
This village is a recreation of old Shirdi at the time of Sai Baba and houses several beautiful statues. The entry ticket includes a train ride which can be joyous for your kid. You get to see a magic show as well which can be a treat for your toddler.
Dwarkamai Masjid
This Masjid is open to people from all religions as Sai Baba himself respected all religions. It is believed that anyone who enters this place receives blessings. It is a good place to visit with your family because of the secular environment it exudes. It teaches you and your kid the beautiful message of diversity in devotion.
If you have been meaning to visit Shirdi for a while, wait no more. Have a fun trip exploring places in Shirdi with your toddler! With a mixture of fun as well as spirituality, it can be a memorable experience for both of you. Ensure a pleasant stay with our luxurious and kid-friendly resort, Shirdi Sai Wada. Book your holiday now!