Images of James Bond suavely sliding across snowy slopes in various avatars is sure to set off currents of thrill and romance in any adventure junkie. Skiing gracefully and agilely on white mountain slopes is the stuff of dreams that many people have. Skiing always conjures up images of exotic winter ski resorts in France and Switzerland, but it is heartening to note that skiing in India is indeed a reality and there are many places in India where one can indulge in this adrenaline pumping adventure.
India has the Himalayas, which indeed is a heaven for skiing. Skiing is mostly confined to the northern states of India. There are many ski resorts in the states of Jammu & Kashmir, Himachal Pradesh and Uttarakhand. Skiing is emerging as a popular sport and slowly gaining in importance. However, the infrastructure leaves much scope for improvement as compared to the facilities available in other countries. In India skiing is administered by the Indian Mountaineering Foundation.
Top Skiing Destinations
The Himalayan states have some places which are famous as ski resorts that provide a safe haven for skiing enthusiasts. They have facilities for experienced skiers as well as novices. Here are a few of these places where one can strap on the skis and whiz down a snow covered slope.
Kufri
Kufri, a small and scenic hill station located just 13 km from Shimla, lies at an altitude of 9000 ft. It is the most sought after destination, especially for honeymooners, and an incredibly friendly place for ski lovers.  It also offers panoramic views of 2,000 miles of the great Himalayan along with a few attractive sightseeing spots. The ideal time for skiing in this region is from the months of November to February. If you are visiting Kufri, make a reservation with us at  The White Ridge, which is splendidly designed keeping in mind your need for a breathtaking holidaying experience.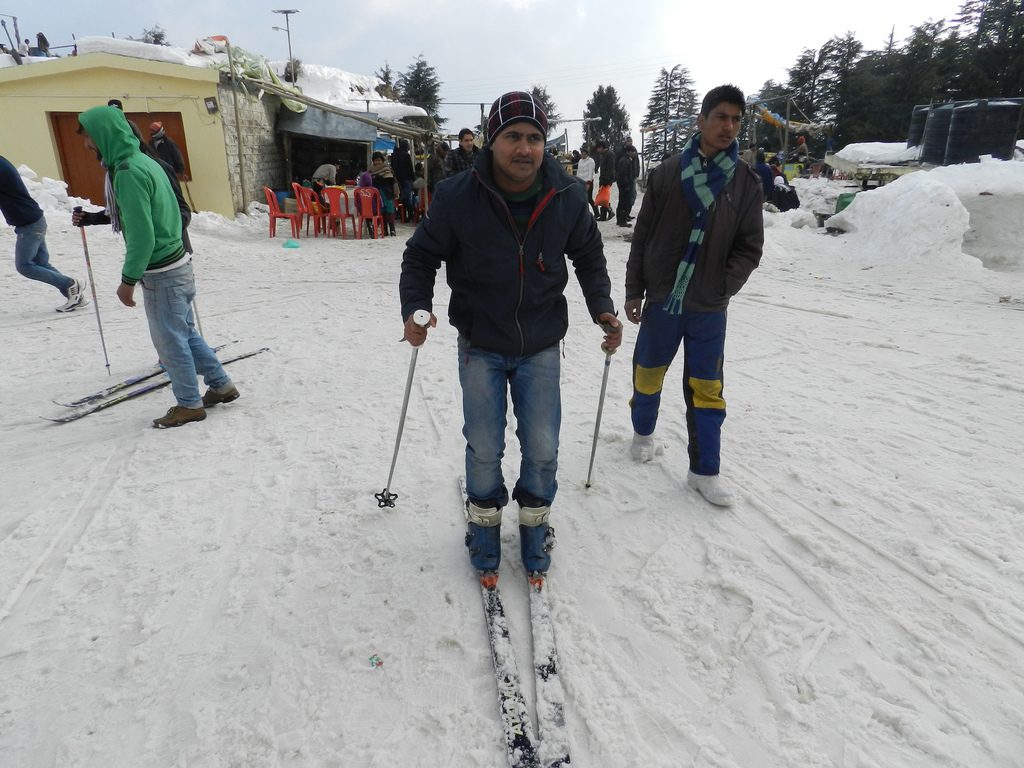 Gulmarg
Gulmarg is situated in the state of Jammu & Kashmir, which can well-nigh be called as the Switzerland of India. It lies about 56 kilometres from Srinagar, at an altitude of about 8, 694 feet. It forms a cup-shaped valley and is an ideal place for skiing. Gulmarg has hosted the Indian Winter Games many times. Skiing, tobogganing and heli-skiing are popular here. A breathtaking Gondola ride takes one from Gulmarg to the summit of Mt. Apharwat. The ropeway is one of the highest in the world and reaches a height of 3,979 meters. Gulmarg has 5 ski lifts, a chairlift that can seat 4 people and two surface lifts. The ski season in Gulmarg is between December to March. However, the best time to visit is during the months of January and February, which is when Gulmarg receives the most snow.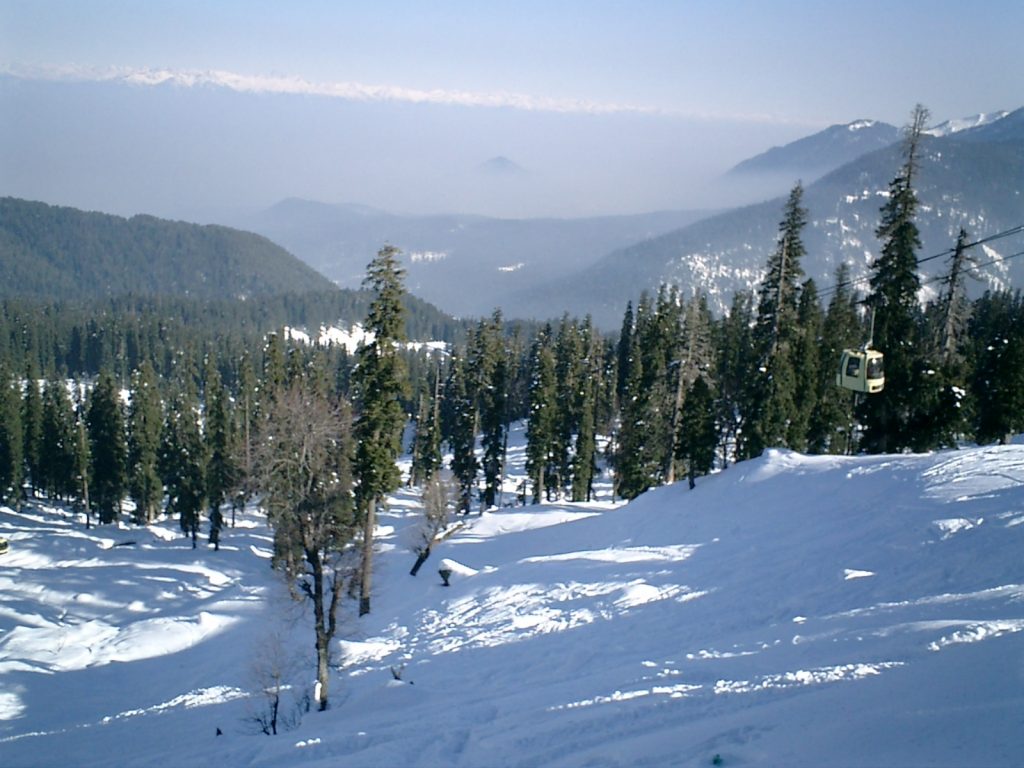 Solang
14 kilometres away from Manali, on the way to the famous Rohtang Pass lies a beautiful and pristine valley tucked away amidst the Himalayan peaks. This place is called Solang Valley, and it is situated in the state of Himachal Pradesh. Come winter the valley is covered by a thick blanket of snow and transforms into a skier's paradise. Ski equipment and the services of ski guides are available in the valley. There is a vertical drop of about 500 meters from the top which is guaranteed to send the adrenalin racing. For the beginners, there is a button lift with a soft slope at the centre of the valley. The thrill of skiing surrounded by beautiful landscapes of mountain peaks, flowing rivulets and swaying fir trees is an experience to cherish for a lifetime. The best time to visit Solang Valley is between the months of December to February.

Auli
Auli is one of the most popular skiing destinations in India. It lies about 270 kilometres from Dehradun in the state of Uttarakhand. It is a place that offers excellent facilities for both novices as well as expert skiers. The setting for skiing is really exhilarating with panoramic views of the Himalayan peaks of Nanda Devi, Duna Giri, and Kamet and a white carpet of snow waiting to be trod on. Auli is also the venue of the National Skiing Championships which take place during the months of February and March. Auli has a Ski school with qualified instructors and equipment on rent. The best time to visit Auli for skiing is during the months of November and March.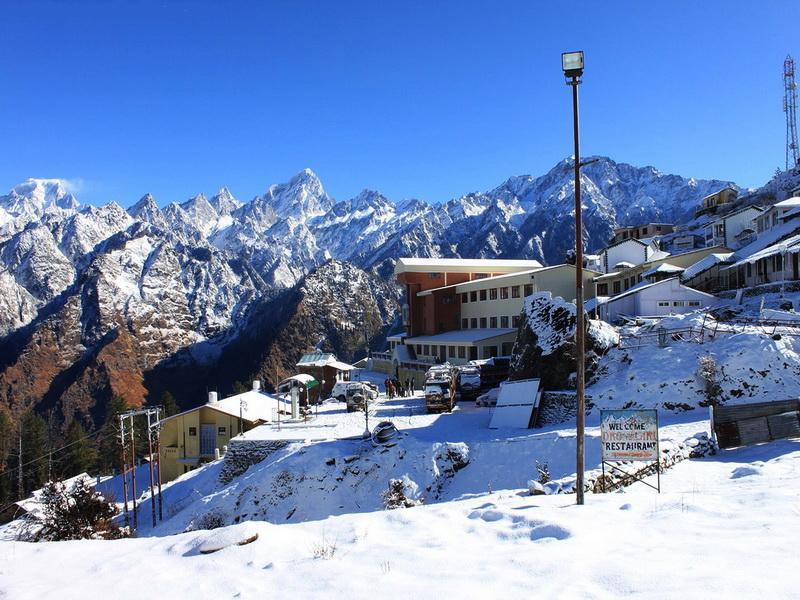 Munsiyari
Munsiyari is a picturesque little town that lies at the base of the Himalayan ranges. It is the gateway to some epic treks into the interior of the Himalayan regions. Perched at the height of about 7,200 feet, the place emerges as an idyllic skiing destination. Skiing opportunities abound at Khaliya Top, which is about 7 kilometres and at the height of about 3,500 meters. The graded snow slopes offer an ideal location for skiing to ones' heart's content. Another place for skiing is Betulidhar which is situated about 5 kilometres from Munsiyari and involves a trek through meadows filled with rhododendrons. The skiing season in Munsiyari extends from December to February.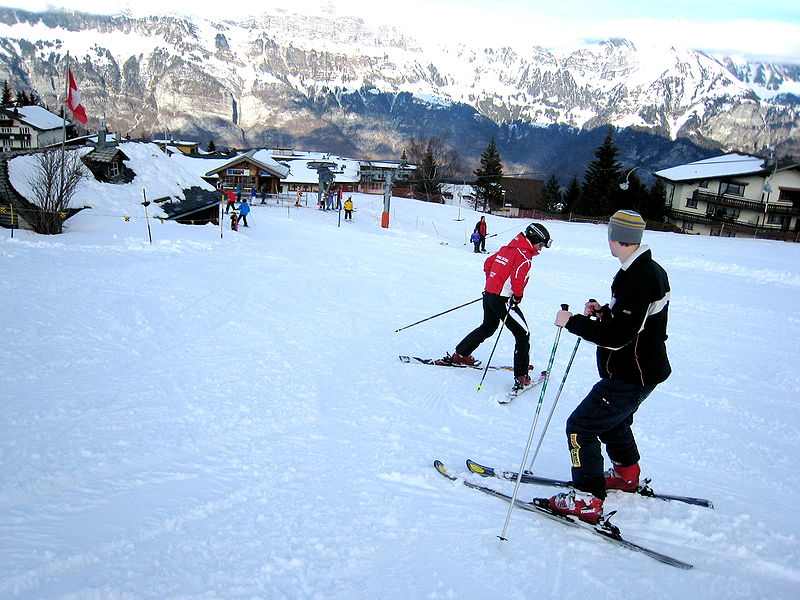 Skiing in India is coming of age, and the majestic Himalayas are an ideal backdrop to indulge in ones' skiing dreams. There are many more places that have emerged as skiing destinations and these dots the northern Himalayan states of India. These include Pahalgam in Jammu & Kashmir, Dayara Bugyal, and Mundali in Uttarakhand. So what are you waiting for? Book your holiday now!