India is a land of various religions, customs and different cultures. A number of religious temples and holy destinations like Vaishno Devi Temple in Jammu and Kashmir, Anant Padmanabhaswamy Temple in Kerala, St.Stephen's Church in Ooty, Basilica of Bom Jesus in Goa and Lord Venkateshwara Temple in Tirupathi exist in India. One among them is the  famous temple in Puri which is dedicated to Lord Jagannath.
Puri Jagannath Temple located on the coast of the Bay of Bengal in the state of Odisha is the centre for one of the most prominent events – Rath Yatra. This celebration is usually done   in the month of July. Lord Jagannath, his elder brother Balabhadra and sister Subhadra are placed on festively decorated Rathas (chariots) and are pulled by fervent devotees.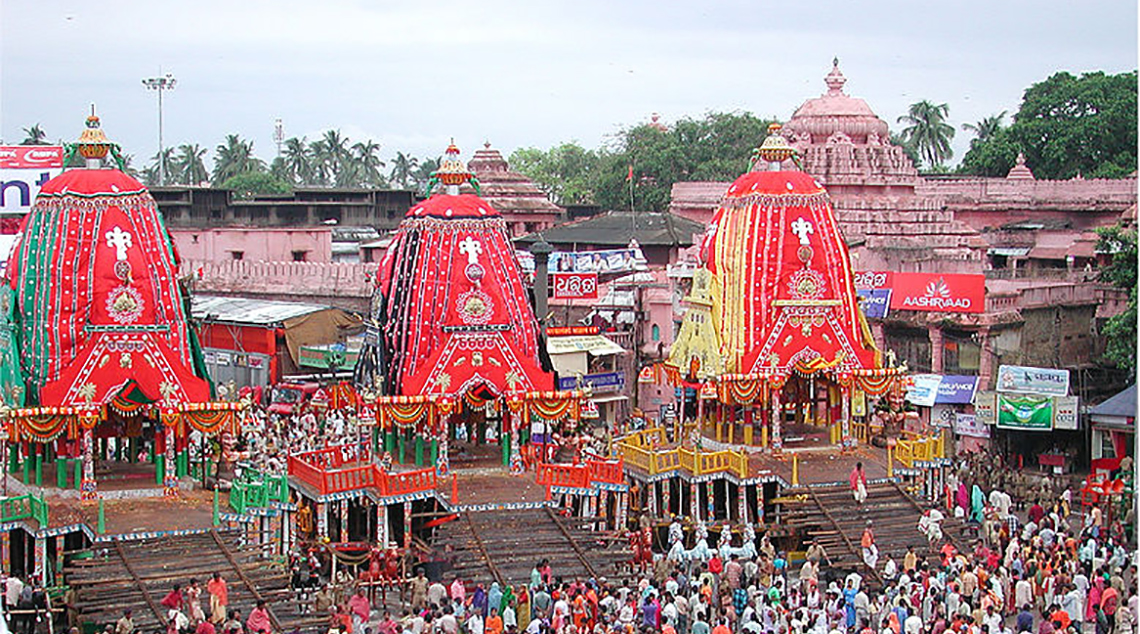 Though Rath Yatra is a combination of many rituals and festivities, spanning several days, the main task involved in the yatra is the making of chariots.
Chariots of Deities
Every year for all the three deities, new chariots are constructed with wood of trees like phassi and dhausa. After choosing the wood, only those carpenters who have hereditary privilege bring them from Dasapalla.

Then the logs are set afloat in the Mahanadi River. Near Puri, these are collected from the river and then taken for construction. The chariots are built based on the traditional scheme followed for centuries.
Several artists, tailors, decorators, artisans and painters are engaged in the mammoth task of constructing and painting these chariots. Traditional colours of red, yellow, blue are used and various religious motifs are painted.
Nandighosa – Lord Jagannath's Chariot
With a height of forty-five feet and forty-five feet square base this chariot runs on sixteen wheels which have a seven-foot diameter. Nandighosa is adorned with gorgeous red and yellow cloth. Many bright yellow stripes are painted on the canopy of Nandighosa.
Taladhwaja – Lord Balarama's chariot
Taladhwaja is the chariot with a Palm Tree motif on its flag. This chariot also has fourteen wheels which are of seven-foot in diameter each. Red and Blue are the colours used to decorate this chariot. It is equal in height to Lord Jagannath's chariot.
Dwarpadalana/Padmadhwaja–Devi Subhadra's chariot
Dwarpadalana meaning 'trampler of pride', is a forty-three feet high chariot which belongs to Devi Subhadra. It has twelve wheels. Each wheel is seven foot in diameter. Red and black are the colours used in decoration of this chariot.
Painted wooden images of nine Parsva Devatas are present on each chariot. Four horses are attached to all the three chariots and there are three charioteers too. Lord Jagannatha has dark coloured horses and Daruka as charioteer. Lord Balarama has white coloured horses and Matali as charioteer. Similarly, Devi Subhadra has red coloured horses and Arjuna as charioteer.
Sanctity of the Yatra
From centuries, many saints, religious heads and poets have described the sanctity of the Rath Yatra. It is the firm belief that just a touch of the ropes of chariots will lead to salvation since during this yatra the chariot, the wheels and the ropes everything associated become Lord Jagannath himself. Pilgrims from far and wide reach Puri to take part in this magnificent event.
Apart from being a spiritual spectacle, Rath Yatra is a means of support to many artists and artisans. It also makes Puri as a dream destination and helps to boost tourism industry. Government of Odisha provides excellent facilities and guidance to every devotee who wishes to seek Lord Jagannatha's blessings. A visit to Puri and to witness this marvel is a once-in-a-life time experience for every person.