Goa, the land of gorgeous beaches. Goa, the land of rhythm and music. Goa, the land of a rich Portuguese heritage. This is the Goa that springs to the minds of most people. But did you know that there is another side of Goa that is guaranteed to appeal to your gastronomic senses? It is the street food of Goa which like everything else in Goa has a unique and special character of its own. It is an exotic mix of the best of Portuguese, Konkan, and other local cuisines. Dishes like Pork Vindaloo, Beetroot Samosa, and Rawa Fried Fish will vie with each other to entice you with their flavours and aromas.
So the next time you head to Goa for a vacation, don't forget to earmark some time to explore the street food of Goa. To help you in your quest for the best street food in Goa, here are some of the top street food joints to visit in Goa.
Michael Lobo's Centre

A food stall with a 28-year history, this is situated very near the Candolim market. The food cart operates from 4 PM onwards. The stall sells some awesome Vada Pav and Mirchi Pave. For the non-vegetarian palate, there are Chicken Lollipops, egg chops, and Prawn Chops. The food is not only tasty but is reasonably priced too, making it great value for money.
Haji Ali's Shawarma in Panjim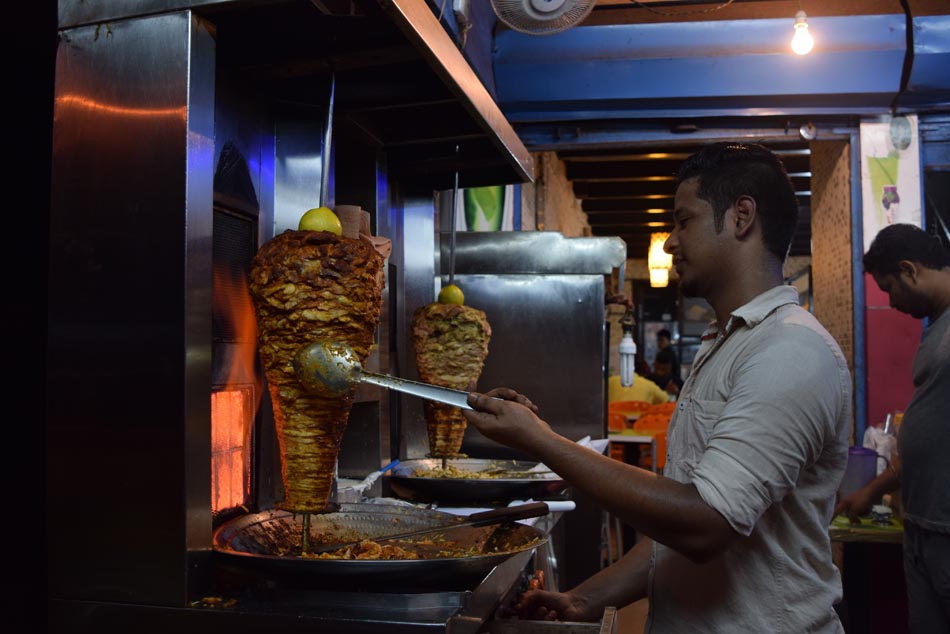 This is a joint located in Panjim near the Caculo Ford Showroom. The joint is famous for its Chicken Shawarma. The stall serves two types of Shawarma. One is with a regular marinated chicken while the other option is to have a chicken that is marinated with an extra dose of spices. After this, the chicken is sliced straight off the grill and mixed with mayonnaise, french fries, onions and other green salad. This concoction is then rolled inside a thin paratha wrap.
Umao Fast Food At Santa Cruz

This is a neat food cart which was started some 25 years ago. The stall which springs to life in the evening specializes in Cutlet Bread which is a popular Goan street food. The Cutlet bread consists of Beef, Pork, or Chicken Cutlets filled in Goan bread and layered with mayonnaise and a spicy curry. The stall has a wide range of dishes to choose from including Beef Roast, Pork Stew, Fish chops and many other.
Alankar Fast Food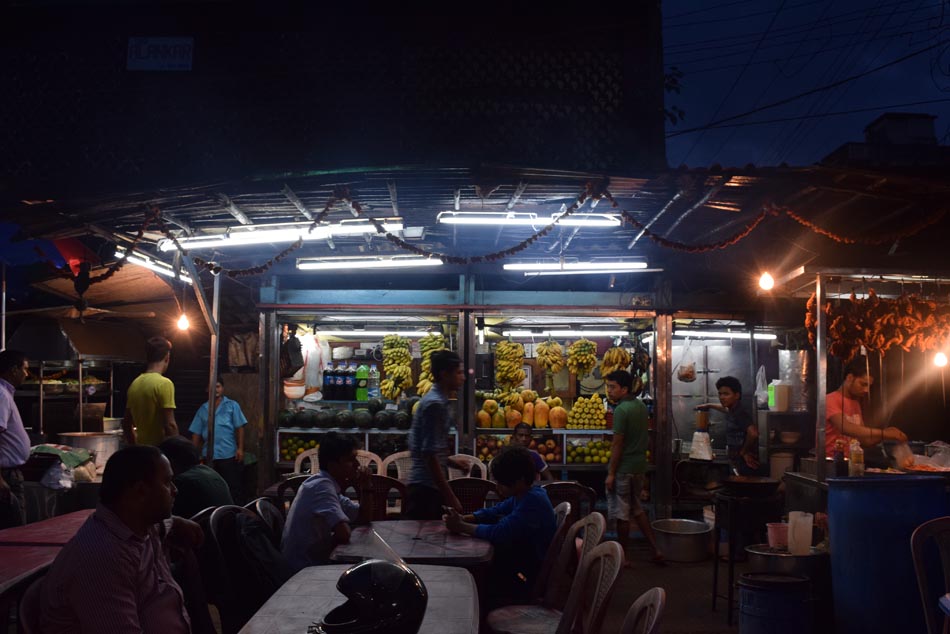 This is actually an informal food court that has sprung in front of the Alankar Theatre in Mapusa. This place serves some of the most lip-smacking street food in Goa and comes to vibrant life after dusk. There are around eight food stalls situated here and they whip up a delightful medley of food which includes Chicken, Gobi Manchurian, a variety of Milk Shakes and other local Goan delicacies.
Ravi Ras Omelette

A food cart has been standing near the Panjim Church for over 25 years. The cart is now managed by Ravi whose father started the business years ago. The food available at this vintage food joint includes its famous Ras Omelette, Chicken Masala, and boiled eggs. This is a very popular place in Panjim to grab a quick and tasty bite.
Food Street at Miramar Beach

If you are crazy about Mumbai street food and cannot do without it even in Goa, then the place to head to is the food street beside the Miramar beach. It is a collection of colourful stalls that churn up some mouth-watering fare. Around 15-20 stalls vie with each other to lure you with their wares. The food available here include all the famous chats of Mumbai apart from the ubiquitous Vada Pav. Be it Sev Puri, Dahi Puri, Pav Bhaji, or Ragda patties, this is the place to head to for your chat nirvana in Goa.
These are just a few enticing bites of the delicious street food that awaits you in Goa. Enjoy your stay at the Sterling Goa-Varca or the Sterling Goa-Bardez from where you can embark on your explorations of the top street food joints of Goa.