If you are planning to take a break from the mundane and monotonous city life but do not want to go for just another road trip or mountain hike, then we've got just the right activity for you – Snorkelling. This fun and relaxing sport is an excellent way to detach yourself from the hustle of everyday life and get lost in wanderlust, exploring marine life beneath the ocean's surface. If you think that you need to travel to some exotic and expensive faraway destination abroad to enjoy this activity, then you are wrong. There are many spots in India where you can enjoy snorkelling. Since most waters in India are not very cold, you don't need a wetsuit. All you need is some basic snorkelling gear and you are good to go.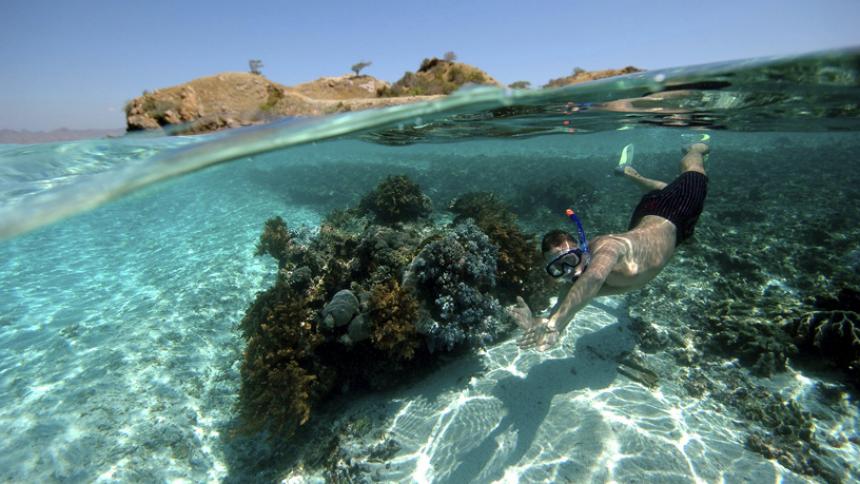 Goa
Goa is one of the most popular beach destinations in India. Some of the well-known spots for snorkelling are Grande Island, Bay of Bounty, Cove of Shelter and Wreck of Suzy. Squirrelfish, the parrot fish, sea cucumbers, snappers, lobsters, sea urchins and hawksbill turtles are some of the regularly spotted sea-life in these locations. Some parts of the sea are a bit cloudy especially in the rainy season which can affect visibility. Make your trip more memorable by staying at the Goa Villagio or Goa Club Estadia for remarkable amenities and welcoming hospitality.
Andaman and Nicobar
Andaman-Nicobar Islands are home to one of the richest coral reef Eco-system in the world. Turquoise waters, beautiful underwater rock formations and white sand beaches makes Andaman a perfect destination for snorkelling and scuba diving. Havelock Island, the Cinque Islands, Passage Island and Elephant beach are some of the places for sightings of corals, turtles, octopi, colourful fish, eels, remains of wrecked sea vessels and underwater rock formations. The virgin rainforests, clear blue waters and white sand beaches are enough to make you want to stay here forever.
Netrani Island, Karnataka
Netrani is a small island off the coast of Karnataka; one of Karnataka's hidden secrets. Also known as the Pigeon island, it is accessible from Mumbai, Goa and Bengaluru. On a good day, you can spot butterfly fish, manta rays, parrot fish, eels and sea turtles. Netrani Island is not too far away from Karwar, which a paradise for watersport lovers as well. While you are here, you can stay at Karwar Emerald Bay, located near the backwaters of Kali River, for an unforgettable vacation.
Tarkarli, Maharashtra
Another hidden gem and the only destination for snorkelling in Maharashtra is Tarkarli. The clear waters of Tarkarli have a variety of exotic fishes and plants amidst rich corals to offer. The best time to snorkel here is at 10.30-11.00 a.m. when the water is at it's clearest. Since it is not very well known yet, Tarkarli is one of the cheaper places to try snorkeling, if you are on a budget.
Pondicherry, Tamilnadu
Pondy, as it is fondly called, is popular with tourists for its French colonial architecture and its cafes.  But this little town has an abundance of marine life which is hidden away. You can spot Lion fish, King fish, Moray eels, Eagle and Manta rays, Parrot fish, Sea Snakes and Tiger fish to name a few.
Lakshadweep
Kadmat Island, Agatti, Kavaratti and Bangaram in Lakshadweep have snorkelling and scuba diving facilities. Agatti Island is known for it's multi-coloured coral and fish. Other marine life spotted here are sea cucumbers, rays, crabs and sea turtles. Some of the sites you can visit in Agatti Island are Sting Ray City, Japanese Garden and Dolphin Reef. The best time to visit this location is between November to April when visibility is at its best. You can also visit Princess Royal which is a shipwreck that attracts a lot of marine life. There are many diving schools here offering classes for beginners and professionals but make sure you have a permit before you enter the water.
If you are an adrenaline junkie then snorkelling is meant for you. Pack up your gear and get ready to wander into the deep blue sea with nothing but the clear ocean and breathtaking sea life around you.