Shimla! We were there some time back and I remember the amazing weather – the wonderful weather right in the middle of May, where my part of the world would be sweltering in the abominable heat. Shimla was cold; so much so that I thought the AC in the room was on and asked my better half to switch it off! In fact, I think for the rest of my life, I would rue the fact that I could not make Shimla my working capital in the summer like the British did.
Shimla is exactly like what you have read about or seen in our movies. A picturesque hill station town, with innumerable homes dotting the green slopes, the clouds descending on Earth to say a warm hello and the sheer beauty of nature that assaults your senses. Shimla, Kullu, Manali is the golden trio that featured on our itinerary and we were very happy about this trip.
But there was a fourth name on everyone's lips, which was a must-visit, and that was Kufri. We were a little short of time, but we still gave in to Kufri; we are happy that we did! Read on to see why Kufri is unmissable!
Less Chaos. More snow. Fun at its peak!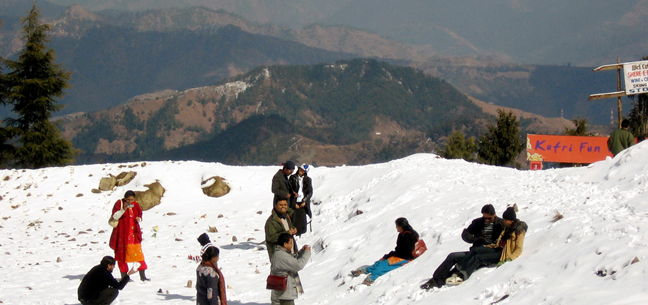 Kufri is 13km away from Shimla and at 2800 metres above sea level. While Shimla can get a trifle crowded at times, Kufri is the perfect place to play around in the snow, take pictures, soak in the beauty of the snow-capped peaks of Badrinath and Kedarnath that you can enjoy from Shimla's highest point.
Horse ride to the Mahasu Peak – When no one can stop you from horsing around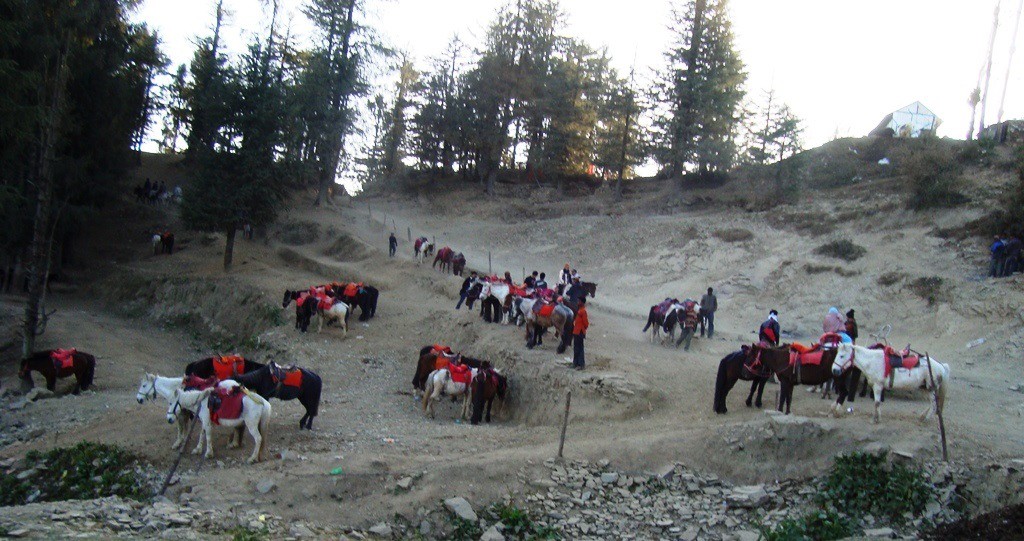 Mahasu Peak is the highest peak you will find in Kufri. As you keep going up to the highlands, the terrain makes it difficult for any kind of travel other than a horse/mule. The horse owners will ensure that your journey on the horseback will be an experience you will always remember. It's amazing to see how the horses navigate their way up the narrow, muddy slopes to reach Mahasu. Leave it to the horse; you just relax and enjoy the ride! And don't forget to look around and enjoy the apple orchards around you and the peak views ahead of you.
Kufri Fun World – Want fun, will have!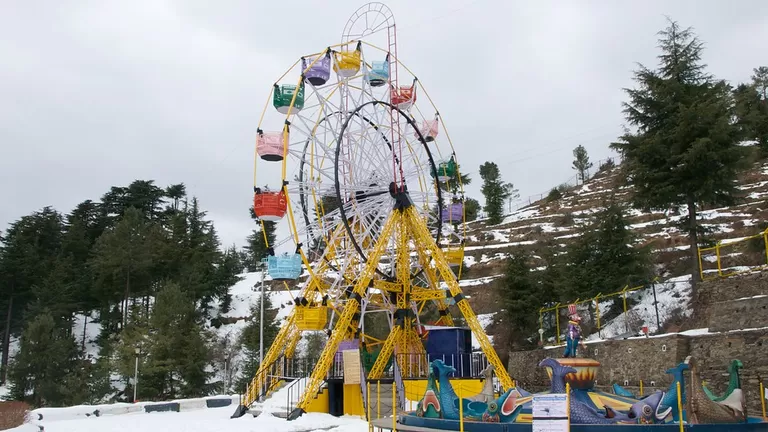 Man-made marvels never fail to amaze us. Even at 2800 metres above sea level, Kufri has an Amusement Park that is designed and built for you to have the time of your lives. With the thrilling, unbeatable rides for young and old; Kufri Fun World has fun written all over. For those who like a high dose of adventure, for those who love to let down their hair and for the little ones who love to be amused by some cute fun and games; Kufri Fun World has it all. The highest go-karting track in the world is also here and it can prove to be an exhilarating experience. Go kart or go have fun. Kufri Fun World awaits with its arms wide open.
Kufri – Skiing capital up in the mountains
If skiing reminds you of the milky white tempting slopes in the Alps, Kufri is no less. Kufri lays down the white carpet (of snow) for you. With the snowy white mountains, slopes, highs and lows, Kufri is the perfect ski destination for thousands. This snow capital is flooded with skiers right from the first flakes of snowfall in the winters up to the time the snow starts melting. Stepping on the skis and trying your hand at skiing even if you are a novice, is an experience not to be missed. For the more determined ones or expert skiers, the milky white slopes are theirs to conquer. The perfect time to plan a ski-cation in Kufri is from mid-December to February. But that's not all. For adventure lovers, Kufri has a whole lot to offer – right from horse-riding to yak riding to zip lining to tobogganing. If you are up to it, Kufri adventures will thrill you.
The Himalayan National Park – Of wonderful birds and rare mammals
The Himalayan National Park is a delight to nature and wildlife lovers. Over a hundred species of birds reside here in harmony with very rare species of mammals. To truly partake of the bounty nature has to offer, it is recommended that people do the 5 to 8-day treks. However, trekkers need to be fully armed with travel insurance. Trek organizers and conductors have all things well planned including emergency evacuation by helicopters.
Kufri's name comes from the word Kufr which means lake or pond. Kufri and the surrounding areas were earlier a part of Nepal. During the British Raj, the area became a part of India as per the Sugauli Treaty.
Kufri has a pleasant climate throughout the year. Summers are the most popular months when tourists flock here, thanks to the amazing weather that does not cross 19 degrees C. Surprisingly though, the rainy season too, is a good time visit as this region receives very little rainfall and the weather stays wonderful at 10 degrees C.
Kufri, like many other places, needs to be stayed in and enjoyed. The best place to park yourself here is Sterling Kufri – a haven of comfort, luxury and nature.
Have you planned your holiday here yet?