When people travel, they expect two things: Memories and Experiences. Now, you cannot mix these two up. Memories are what you create, it's a bond that you share with the place you travel to.  On the other hand, experiences are the life lessons you learn from the place and the people you meet on your journey. This is what Hampta Pass is all about. Whether you are travelling to visit the best places in Manali or indulging in a delightful road trip from Manali to Leh, The trek from Manali to Hampta can give you experiences that are worth 1000 words of wisdom, and the memories, well, they are priceless beyond words.
Hampta Pass is that one place that overlooks two valleys: Kullu and Lahaul. The change in the landscape of the valleys is drastic, sudden and will snatch your breath away and get your mind spinning in a whirlpool. The lush greenery of Kullu valley is surreal. The pretty flowers in red, pink and yellow, swaying in the Himachal breeze will get you in a cheerful mood. Then comes a different world altogether – the Desert of Lahaul. The view of the barren landscape is panoramic and enthralling. Hampta pass is that one place high in the mountain with a riveting twist so sudden that it will change your perspective forever.
So here is the itinerary of this splendid trek.
DAY 1
Jobra is where you will have to reach for the trek to Hampta Pass. You can reach Jobra from Manali by road, after conquering more than 40 soul-stirring turns that give you a heavenly view of the Kullu valley. After you reach Jobra, you can trek to a campsite at a distance of 30 minutes after crossing a forest beautified by Pine and Maple trees. At an altitude of 9,800 ft, the adrenaline starts pumping with anticipation.
DAY 2
Jobra to Jwara trek is of 7km and will take up 5-6 hours of your day. Rani Nullah will keep you company right from Jobra till it freezes at Hampta Pass. The trek may seem hectic with an easy walk till Chika, followed by 2 hours of ascent through a rocky landscape, 1.5 hours of descent, and an easy walk. You get to witness beautiful meadows with cows and sheep lazing around in the serenity, amidst the Pine and Maple trees. This section of the trek will leave you spellbound with a theatrical view of the snow-clad peaks of Dhauladhar range and waterfalls to get you refreshed. Oh, and did I mention that you have to hop on the boulders and cross the icy cold Rani Nullah to step to Jwara at an altitude of 11,072 ft? *shivers*
DAY 3
Reaching Balu ka Ghera at an altitude of 12,411 ft from Jwara will be a moderate trek. This trek will stun your senses. The view is pleasurable. The Rani Nullah leads you to a valley filled with colourful flowers. A picturesque location! You can also see the snow clad mountain beyond which hides the Hampta Pass. After you cross the valley you need to keep crossing rivers and hopping rock till the land flattens and you reach a landscape prominently determined by sand and dust, Balu ka Ghera.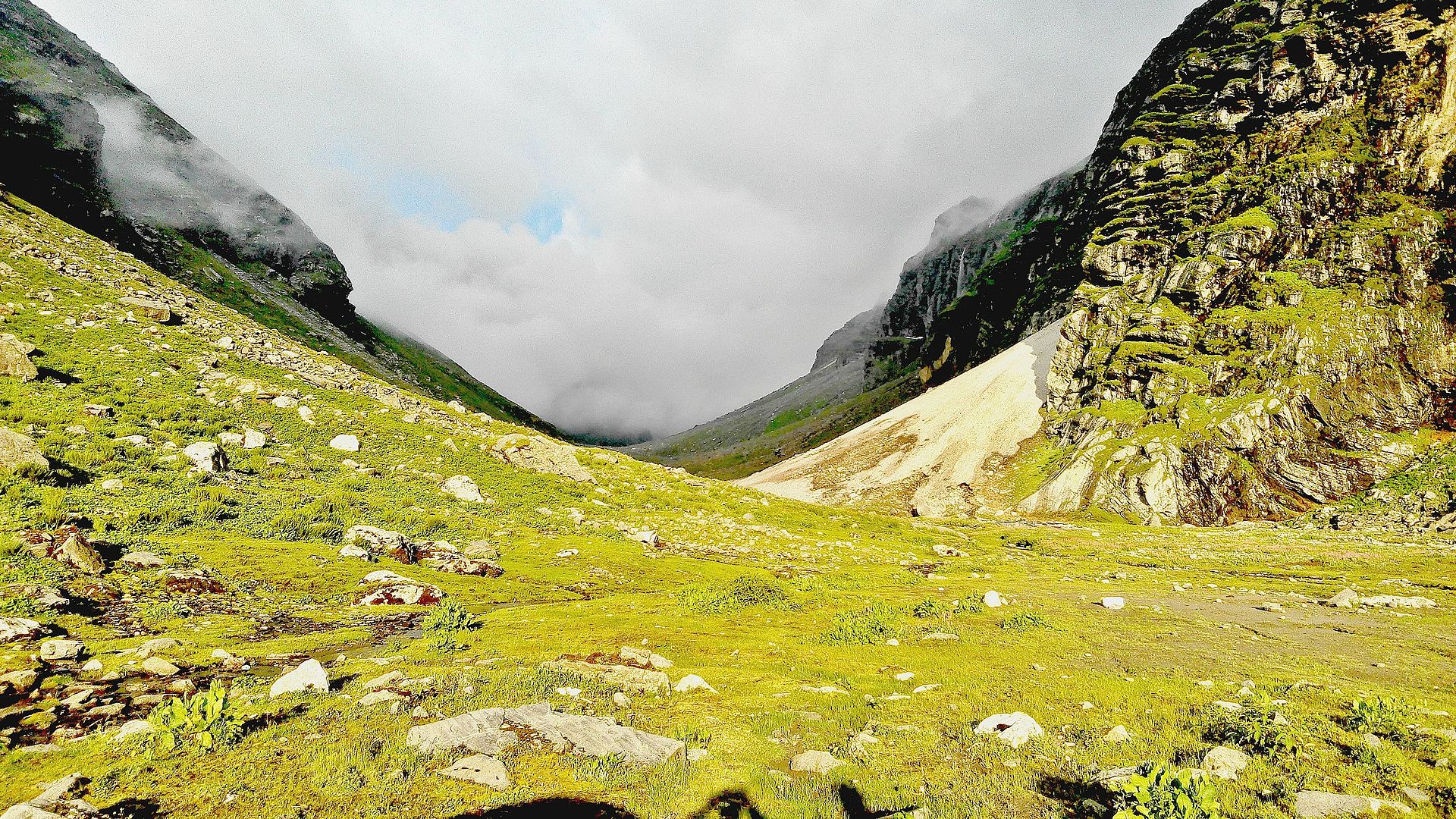 DAY 4
Balu ka Ghera to Shea Goru via Hampta Pass will take from an altitude of 12,411 ft to 12,254 ft via 14,035 ft. A series of gradual ascents, steep descents and flat plains are what this part of the trek demands. To reach Hampta pass, you will have to conquer the ascent to Deo Tibba Peak and then another ascent till a ridge from where you see the Hampta Pass. The ascents are quite challenging at this point. When you walk through the first ridge, you get a view of the stunning mountain peaks surrounding you. The view is intimidating in a way that makes you feel humble. After descending the ridge, you have to take up a vertical climb which leads you straight to Hampta Pass. Hampta Pass gives you a phenomenal view of Lahaul. To reach Shea Goru you have to descend snow-covered slopes, which can get quite slippery and exhausting due to the snow. You find your guide river once again by the time you reach Shea Goru. There! You have crossed the Hampta Pass!
DAY 5
Shea Goru to Chhatru demands a lot of energy as the descend is tricky due to slippery soil and the chances of sliding down with full speed. To reach Chhatru you would need to cross Chandra river and find a decent camping spot with the availability of fresh water. When in Chhatru, at an altitude of 10,898 ft, you might as well take a detour and drive to Chandratal. This is where you find the moon lake, which is that one location you wouldn't want to miss when in Spiti. Chandratal, being at a height of 14,100 ft, gives you a stunning view of the peaks clothed in snow and beauty. The view of the lake and its moon shape can never be erased from your mind. Ride back to Chhatru with happy and content vibes.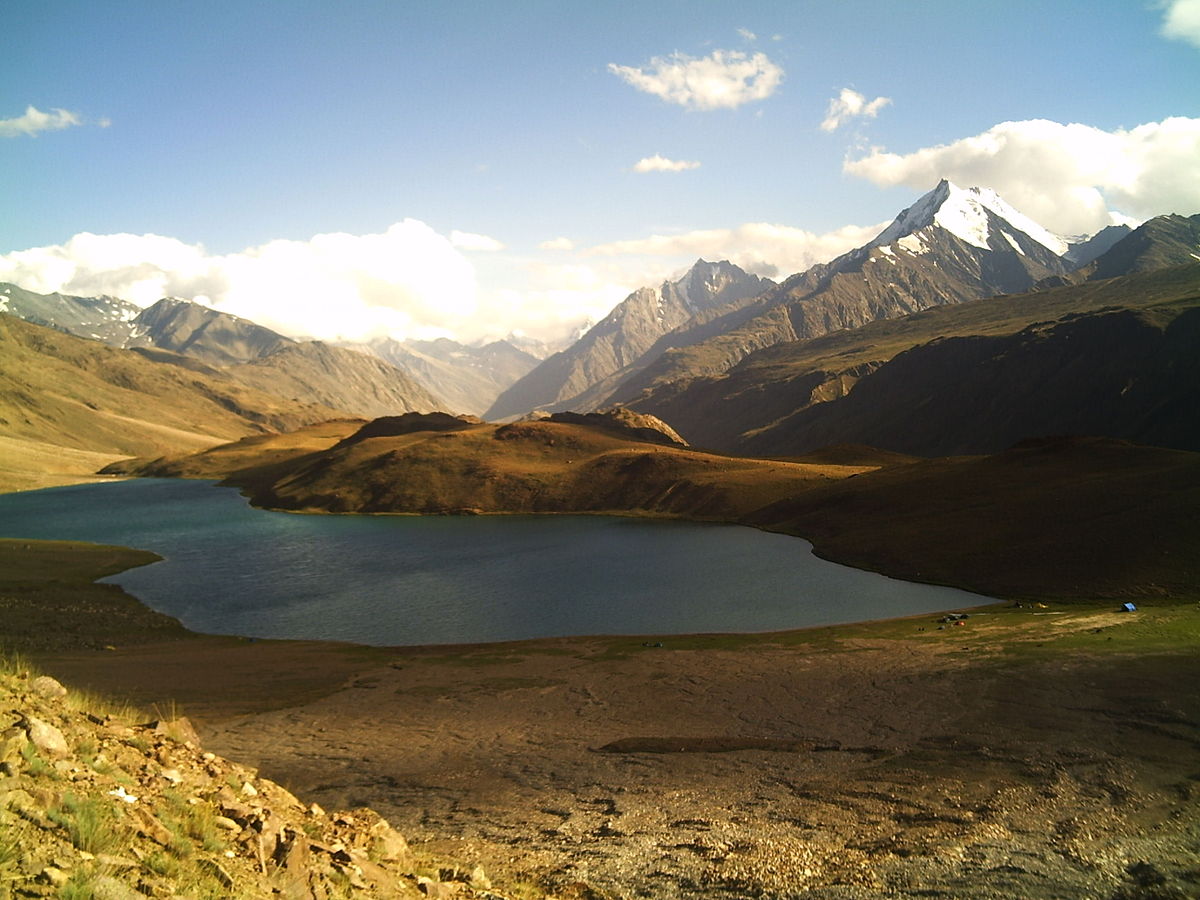 DAY 6
Head back to Manali via the scenic Rohtang pass from Chhatru and bid your farewell to Spiti. The entire journey is full of photogenic locations which look good from every angle and will fill you with wonder and awe.
The entire trek is an enchanting experience in itself. And when you trek with a group you realize that the memories are a treasure. The untouched, scenic and intimidating locations that you pass by on your trek will occur in your dreams every night and will leave you craving for more. This stunning trek is a difficult one to take but it's one of a kind and is worth all the pain and effort. While you are here, complement your trip with a memorable stay at White Mist from Sterling Holidays and treat your family and friends to luxurious living.