The idyllic town of Ooty instantly conjures images of misty peaks, clean air and pristine nature. This 'Queen of Hill Stations' as it is fondly called is truly a paradise for nature lovers, with its beautiful botanical wonders and picturesque lakes and dams. If you are looking for a spectacular view of this gorgeous hill station, then the highest peak in the Nilgiris, Doddabetta is the place to be.
Doddabetta in Kannada literally translated means big hill. And big it is! It stands at a height of 8,650 feet. The lofty peak lies at the juncture of the Western and Eastern Ghats. Its closest competition is the Chamundi Peak to the north and Kattadadu to its west, both visible on a clear day. Rhododendrons, towering pines, sholas, sub-alpine plants and herbs cover most of Doddabetta.
The Doddabetta range of hills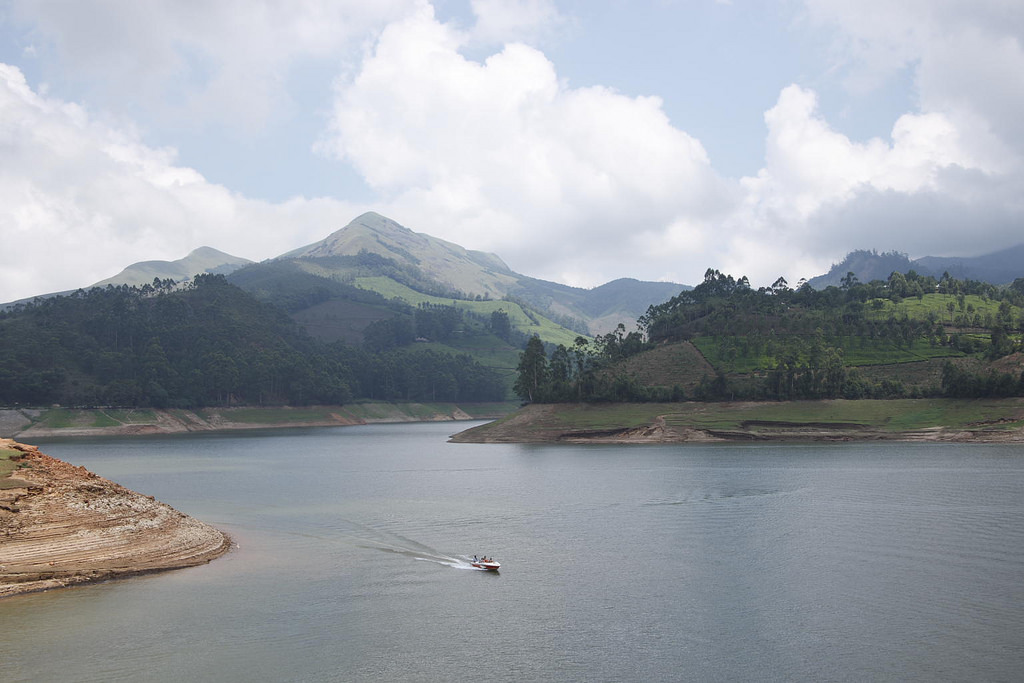 Being the highest peak in the Nigiris means that you will have the best bird's eye view and that is enabled by a telescope on the top. Trekking to the top is not particularly difficult. It can be categorized as easy to medium. Whether you are a seasoned trekker or a novice, one cannot deny the pristine beauty of the Nilgiris. Walking past cascading waterfalls, dense vegetation and crystal clear lakes are some of the benefits of this trek. The rich smell of eucalyptus fills the air as you climb up. Once you reach the top, you can gaze at the highlands around Mysore and Bandipur National Park. If trekking is not your thing or you have any physical ailment that stops you from walking to the top, you can grab one of the shuttle jeeps that goes up with passengers. And as if view is not enough, you can enjoy the grandeur with a cup of tea. The Doddabetta tea museum teaches the visitors the evolution of tea, the history and its origins.
While Doddabetta is the highest peak in the Nilgiris, it is the fourth highest peak in South India, the others being Mannamalai, Anamudi and Meesapulimala. Kulkudi at 2439 metres, Kattadadu at 2418 metres and Hecuba at 2375 metres are the three mountain ranges closely linked heights in west of Doddabetta. Other hills in this area are Club Hill, Elk Hill and Snowdon. A smaller version of this peak is called Chinna Doddabetta.
Apart from lofty peaks, the Udagamandalam area is also known for its lakes. Ooty Lake, the most popular amongst tourists is actually an artificial lake constructed by John Sullivan. It was originally built for fishing and ferries, but now it is used for boat rides and as a lake park. Surrounded by eucalyptus trees, this lake is used for boat races in summer. Kamaraj Sagar lake is a manmade lake known for fishing. It is located on the slopes of the Wenlock Downs in Ooty on the way to Pykara. This watering hole is a favourite tourist spot and movie shooting location.
Emerald lake is another lake around Ooty which is known for its emerald blue waters. Unlike the crowded Ooty lake, this lake is fairly untouched. It is a paradise for bird watching and views of the Nilgiri. The lake is part of the Silent Valley National Park. Bellikkal Lake is favored by wildlife enthusiasts and bird watchers alike. This stunning lake is also a great spot for mountain biking. Another lake that needs to be added to this list is the Avalanche Lake. A massive landslide in the year 1823 formed this lake giving it a name for its origin. The lake is a source of water supply for Kundah Hydro Power station. It is also famous for trout fishing after monsoon. Wild animals like leopards, Nilgiri Thar, Nilgiri Langur, deer and even tigers call the surroundings their home. Surrounded by flowers and rhododendrons the neighbouring areas are considered as a sanctuary for its flora and fauna.
Pretty as a picture, Ooty has so much to offer. Sterling Ooty Elk Hill and Sterling Ooty Fern Hill are an amazing mix of comfort and tranquility. Whether you choose to explore this sleepy town or just sit out on the balcony watching the clouds go by, the resorts have got it covered. Daily treks are organised to Lovedale and Cairn Hill for high rope adventure activities like burma bridge, beam climb, free fall are organized to get your adrenaline pumping. Which one would you want to stay at?