When I was growing up in Chennai, my family made it an annual ritual to travel to Kodaikanal and Ooty during the summer. Sometimes we'd go twice a year, just for the weather.  I enjoyed my trips to Kodaikanal mainly because every time we were there we would head to the Kodaikanal Lake and spend the day there. My father and I would start by riding the horses for a bit, while my mother stood watching, unable to mask her panic very well. We would then hire bicycles and pedal around the lake, in modest bursts of competition, which he would always let me win. After we'd completed a full circle, father would buy us all roasted corn and boiled peanuts; at that age a magnificent treat to end our day trip.
Visiting Kodai also meant going to every possible tourist spot, every year, no matter how many times we'd seen it already. Be it strolling through Coaker's Walk spotting monkeys,  praying at the Kurinji Andavar Temple for an unnatural bloom of the Kurinji flower,  sitting on the rocks watching Fairy Falls or missing the sight of the Pillar Rocks because the mist just covered it, Kodaikanal was now routine and predictable. Which is why, when I decided to visit Kodaikanal last month, I wasn't too excited about seeing the regular sights.
After reaching Kodai road by train, we boarded the car that would take us to Kodaikanal. I fell asleep on the way, and when I woke up, my eyes fell on the lake, bringing back memories of a content childhood. I realized I hadn't seen the lake for nearly 10 years. Everything seemed familiar yet unfamiliar all at once.  As always, I was keen on trekking and discovering new places, but being Kodai, I was incredibly skeptical since everything worth seeing might have already been discovered and abused as a tourist spot. Nevertheless, I spoke to some locals, and eventually a few of them revealed a spot more popularly known as Elephant Valley.
A couple of descriptions of the place, and I was smitten by the thought of going there. With a 6AM departure scheduled, I dragged a friend into joining me on this adventure. A 20-km trip into the Palani hills by car, and we reached a village, where we parked our vehicle and began the journey into the Valley. A quick walk downhill and the road opened out into a clearing where we were welcomed by the sight of a gurgling, bubbling river in the middle of a thick jungle. We crossed the sparse stream of water barefoot, jumping across moss-stained rocks, for lack of any bridges. The next thing we knew, we were walking through the jungle, in a single file, treading a narrow path that begged to retain its identity, the foliage rapidly taking over.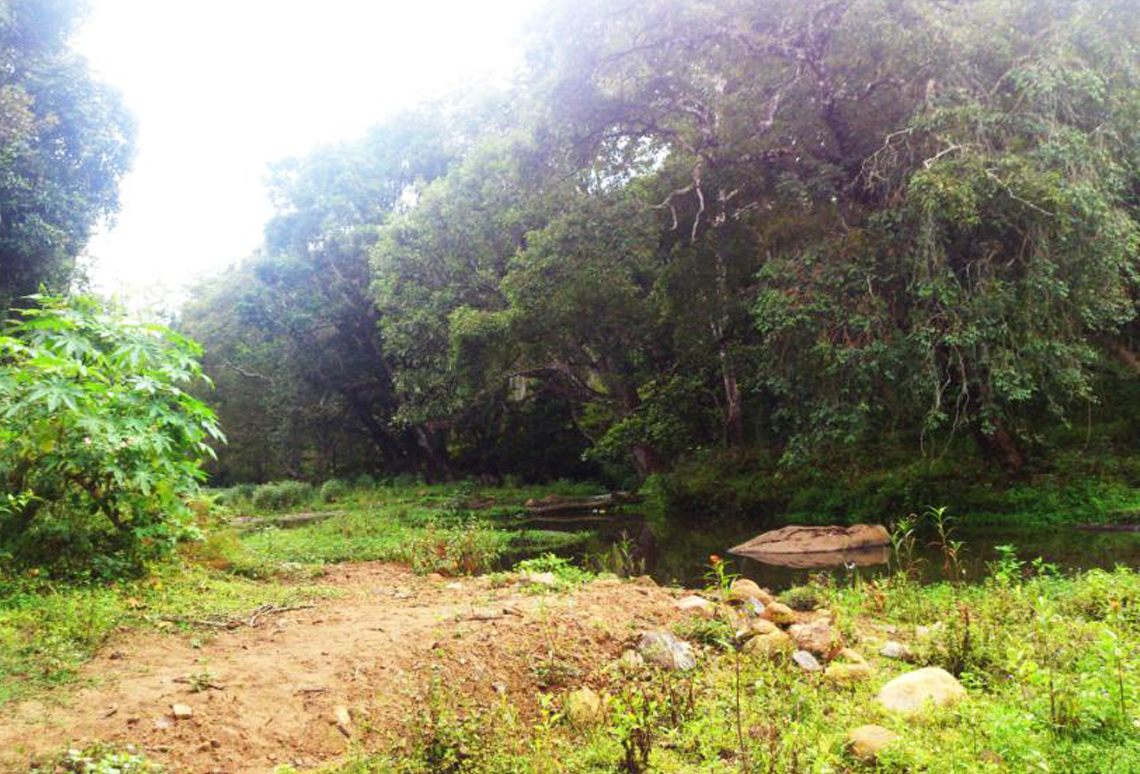 We trudged along the mostly flat path for about fifteen minutes, curving and bending along the course of the stream, jumping over elephant and bison dung every ten metres. Eventually, we hit another clearing.  This time, the clearing revealed a broken dam of sorts, and the water flowing through it, and off the mountain, into a waterfall.  If it takes you a few seconds to register this, I understand, because it took me a few minutes to realize, that we were in fact standing atop a waterfall; the frothy currents running right through us, before they leapt off the cliff and into the deep pool below, resuming their course through the mountains.

There wasn't too much water –  the lack of rainfall and depleting water levels to blame – so we could sit contently on the rocks in the middle of the waterfall, letting our legs dangle into the rock pools formed by lightning strikes.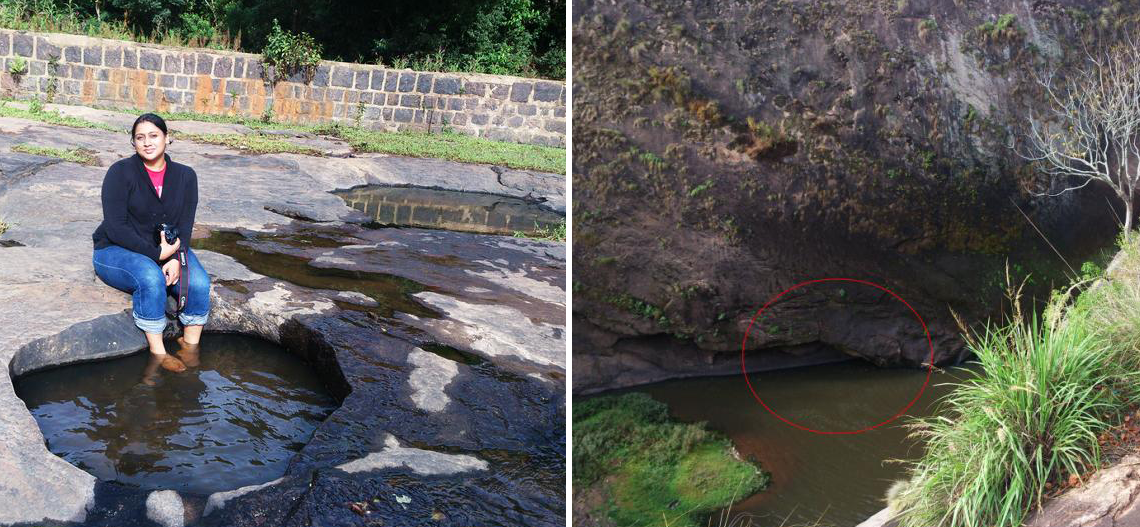 Our local guide informed us that there is another trek further from there that takes you down to the base of the waterfall, to the pool, where one can enjoy a lovely swim. However, beware the Cave of Death – an infamous local legend about a cave at the base of the waterfall, whose air pressure sucks you in violently, trapping you between the rocks, making it impossible to escape. Even the locals refuse to take you there. Unfortunately (or fortunately!) we didn't have the time to visit and see this place. Hopefully, I can uncover the truth about this place, on my next trip!