"Water is the driving force in nature." Leonardo da Vinci Shapeless, formless, colourless, yet of all the elements on earth, water is supreme. We are inspired, awed, fascinated by water in many forms, be a mighty ocean, surreal lake, little pond, vast river or the magnificent waterfalls.
India has been blessed with abundance of water and is home to several spectacular waterfalls. Given here are some of the best waterfalls of India.
10. Thalaiyar Falls
Let us start with an unexplored pristine falls. This beautiful falls, which is also known as Rat Tail Falls (as it appears as a silver line from long distances, resembling a rat's tapered tail), is situated in Dindigul district of Tamil Nadu. One can admire the straight plunge of Thalaiyar falls from Bathalagundu- Kodaikanal road on a clear day.
9. Dhuandhar Falls
Situated in Madhya Pradesh, this beautiful falls were captured in the movie 'Ashoka' in a dance number by Shah Rukh Khan. Visitors can access the falls from Jabalpur city. The best part about the falls is looking at it along with the rocks in moonlight, is truly mesmerizing.

8. Attukal Falls
With beautiful greenery around and tranquil in appearance, this fantastic falls is a major attraction of Munnar, Kerala. Tourists can enjoy trekking in the nearby hills and have loads of fun.
7. Nohakalikai Falls
This list is incomplete if of the state of Meghalaya is not included here. Situated in Meghalaya are the breath-taking Nohakalikai waterfalls, near to one of the wettest places on earth – Cherrapunji. The sheer height of this falls is mind blowing.

6. Dudhsagar Falls
Goa is not just beaches, sand and sun. This sea of milk is one of the main attractions of Goa. With brilliant white colour and unique trajectory, Dudhsagar Falls has captured hearts of many visitors in just a single glance.

5. Kune Falls
In the heart of the beautiful Lonavala – Khandala valley of Maharashtra, you find this gorgeous beauty adding more attraction to the scenic Khandala region. A visit in the monsoon will help you see the falls in its full majesty. It is a must-visit for everyone who is on a trip to Lonavala.
4. Vantawng Falls
North-East region of India is literally heaven on earth. In the Serchhip district of Mizoram, lies this magnificent falls, surrounded by lush forests and dense bamboo trees. The falls are a photographer's delight indeed!

3. Barehipani Falls
A picturesque waterfall situated in the Mayurbhanj district of Orissa, this falls is situated amidst dense wilderness. The falls have a beautiful two-tiered appearance and they are one of the major attractions of Odisha.

2. Athirapally Falls
Nature lovers don't need any introduction to this beauty. Extremely famous for the spectacular locale and sheer magic, this falls is the pride of Kerala. It has attracted many film directors and has been featured in many movies. Read more about this falls here : Athirappilly Falls – The Niagara of India.
1. Jog Falls
Famous with its stunning drops of Raja, Rani, Rocket and Roarer, this falls of Shimoga district of Karnataka just marvels all the visitors. Karnataka has been blessed with many waterfalls; Jog Falls heads the list without any competition for sure. Read more about this falls here : Jog Falls – One of the Highest Falls in Asia.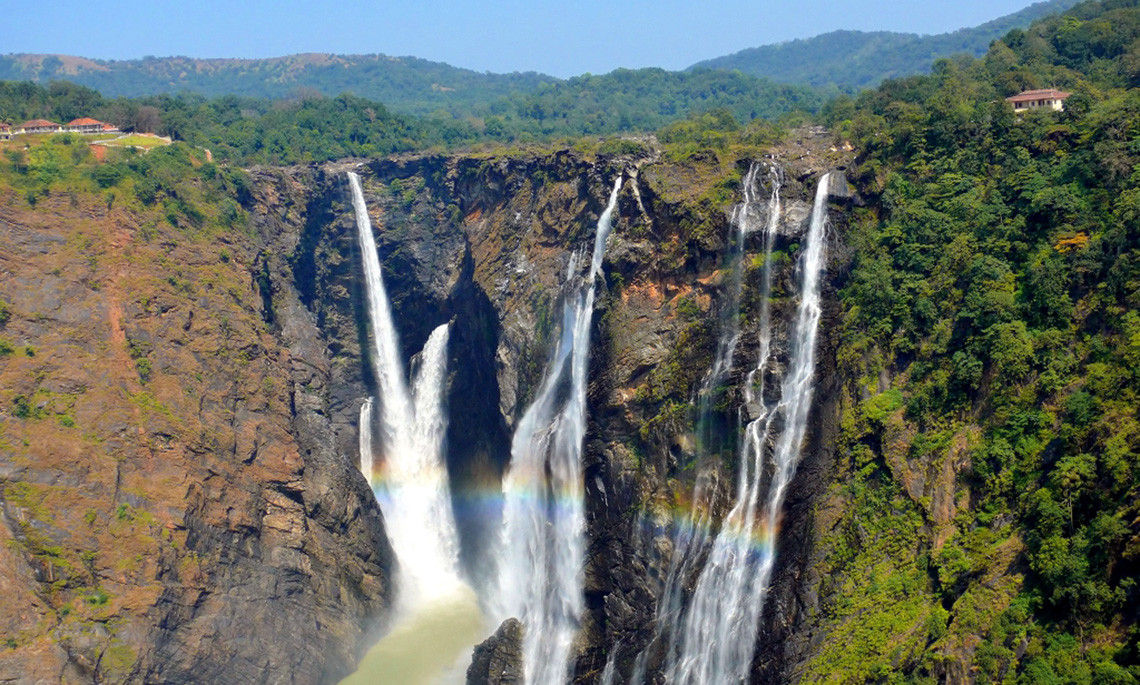 The above list is by no means complete. There are several other falls like Meenmutty falls of Wayand – Kerala, Kempty falls of Mussoorie, Kunchilkal falls of Shimoga – Karnataka, Langshiang falls of Khasi – Meghalaya, Iruppu falls of Coorg – Karnataka, Hogenakkal falls of Dharamapuri – TamilNadu, Shivasamudram falls of Mandya – Karnataka, Courtallum falls of Tirunelveli – Tamil Nadu and many more.
So in almost every state of India, people can visit a waterfall and admire the magic of Mother Nature. Include a visit to a waterfall in your next travel schedule to escape from the city, in the caressing touch of water.