The stories and legends told about Neelakurinji are truly fascinating and what's more fascinating than that? Witnessing the story unfold itself in front of you. You heard that right. Nature has bestowed upon us the opportunity to witness this miracle not in the next 12 years but in fact this year, the year of 2018! The neelakurunji season is back this year and everybody is going gaga over this event. This is definitely once in a lifetime experience (well, once-in-12-years-experience) but shouldn't we all live in the present and make the best of it? Grab your bags and speed off to Munnar for a quintessential back to nature trip. Read on to know when and where the best time to witness this wonderful miracle is.
The story of Neelakurinji
The old myths and legends have it that once in 12 years, the Gods come down to Earth and explore the beautiful creation of theirs. The Gods bring prosperity and good luck in abundance and so, in turn, the Earth as a welcome gesture, blossoms into this spectacular bluish pink flower carpet. These flowers are the 'Neelakurinji'. This mesmerising stretch of blossoms transforms the mountains into shades of blue giving 'Nilgiris' rightly its name- Blue mountains. It's so special because it blossoms only once in 12 years making it the rarest of sights in the world.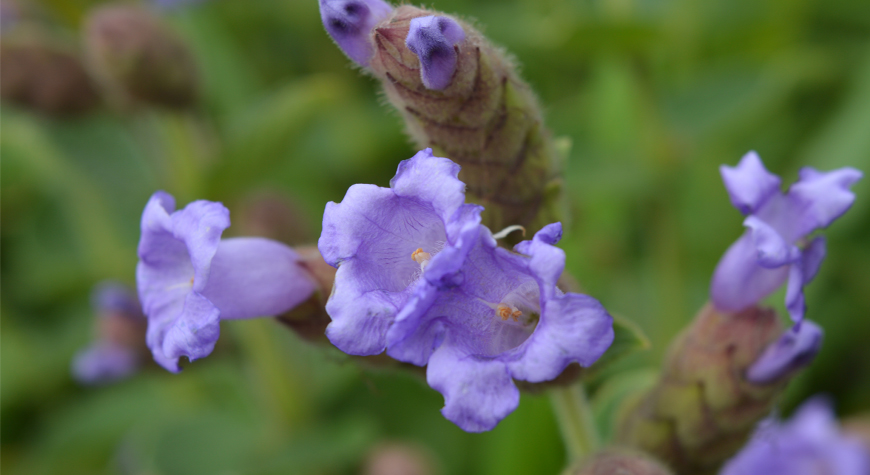 Where can you see these rare beauties?
Neelakurinji is found in the Nilgiris hills of Kerala and Tamil Nadu. You can find the blossoming predominantly in Munnar which is a true beauty on its own. Within Munnar, there are several places where nature has bestowed upon us the opportunity to witness this miracle. One of these places is Kurinjimala sanctuary. It is the core habitat of the neelakurinji flower, located in the Kottakamboor and Vattavada villages of Devikulam Taluk in Munnar. Otherwise, you can visit a beautiful place called Eravikulam National park to spot these blossoms.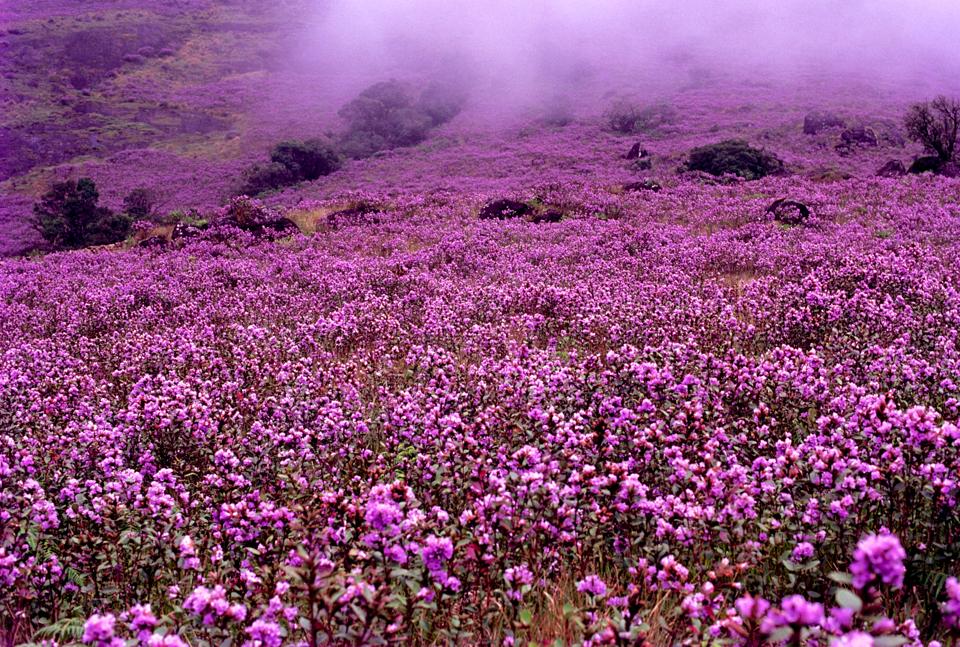 According to the folklore and literature of the region, it is believed to symbolise love. The tribes of these regions consider this blooming as an auspicious event and believe that the extinction of these flowers will bring bad luck to the people residing there.
When is the best time to see these blossoms?
To witness the mountains painted with these bluish pink flowers is a hard sight to miss. The rareness of this marvel adds on to the overall attraction to this place. It appears once in every 12 years and luckily 2018 is that year. The last time this flower bloomed was in the year 2016 in Munnar at Neelakurinji fest. From August to October is the best time to behold these beauties. Plan a trip with your family or friends and see for yourself the best that nature has to offer.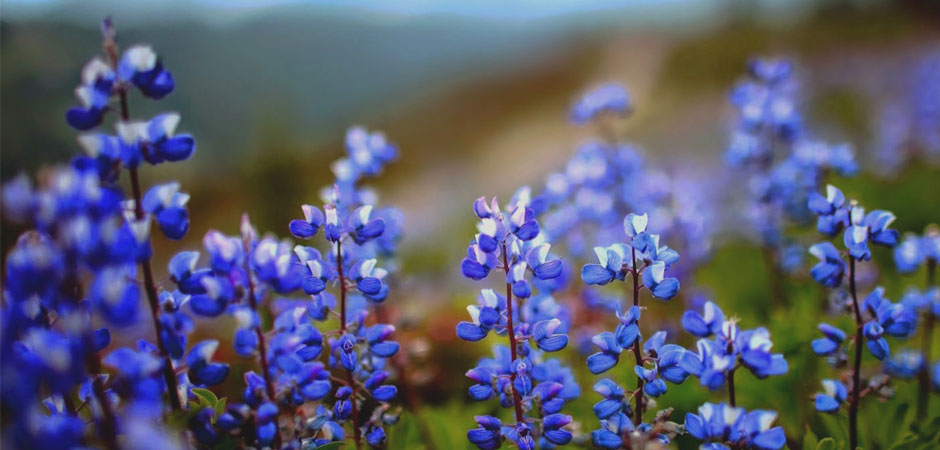 Nearby attractions
In addition to witnessing this alluring flower carpet in its complete glory, you can also visit the nearby tourist attraction while you are in Munnar. Munnar is a spectacular hill station in Kerala nestled comfortably at a height of 600 ft in the midst of the thick green forests of Western Ghats. It's a home to a plethora of worthwhile attractions like tea plantations, tea museums, breathtaking waterfalls and the Anamudi trek to the peak. One of the top things to do in Munnar is to spend an evening at the Mattupetty dam for a calm and peaceful time.
Carmelagiri Elephant park in yet another famous tourist spot in all of Munnar. It's a private park located on the Munnar hill station highway that offers elephant rides through the hilly parts of the region. It will make a fun and engaging venture for the kids.
You can also spot a few endangered animals in the Nilgiris hills like the mountain goat, Nilgiri Tahr. Mountain goats taking a stroll down the Neelakurinji flower valley make for an enigmatic sight that you definitely do not want to miss.
Tips for your visit to Neelakurinji blooming season 2018
Start planning your visit well in advance as this time of the year, Munnar tends to pull in a lot of tourists. As it's also the Neeelakurinji season, Kerala tourism is expecting a lot more visitors. It's advisable that you book your hotels and resorts in Munnar well ahead. Sterling Munnar is the best option for its top-notch hospitality and provides the most scenic views of Munnar.
Also, plan your trip to this flower-filled range in the dawn. The blanket of flowers covered with mist and rays of sunshine gleaming through makes it a surreal experience altogether. Make sure you do not pick out flowers as it's a serious violation and you might be charged a hefty sum for it. Enjoy the offerings of nature visually and do not cause any damage to them.
So, what are you waiting for? It's not every day you get to see the entire Nilgiris mountains dressed in bluish pink flowers. Plan a trip to Munnar right away with your friends and family but make sure to book with Sterling for a pleasant stay.