Mesmerizing panoramas, lush green forests, spice plantations, mountain tops covered with mist; the picturesque hamlet of Thekkady is the perfect idyllic paradise. This lovely town never disappoints the onlooker. It sends back the traveller with happy memories and a sense of calm. While immersing yourself in this tranquillity, doing nothing is what most people come to Thekkady for. However, there's a whole lot of people on the other end of the spectrum. The adventurers and adrenaline junkies who want to take advantage of the scenic beauty and go hiking, trekking and more. For those restless souls, we recommend bamboo rafting in the Periyar river.
Choosing your vehicle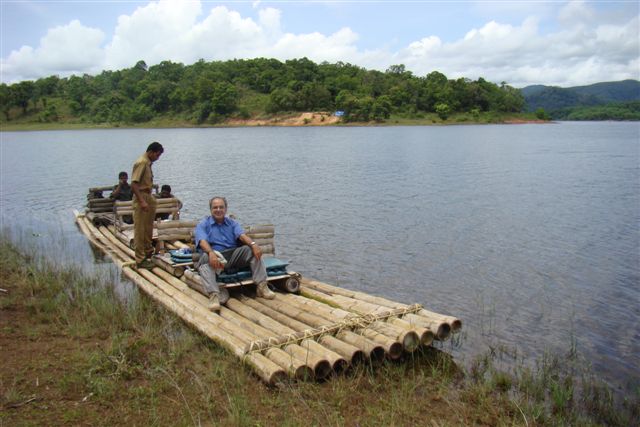 If you have never been heard of this fun activity before, a bamboo raft is made up of bamboo stems tied together and is peddled through the river. The raft is strong enough to hold five to ten people. You can opt for a full day rafting trip or a half day one. The best time to raft is early in the morning or around sunset. Watching the sun go down while being surrounded by nature at its best is a fantastic feeling. People who are fit enough can choose the self-pedal variety whereas others can choose a guided one.
Get up-close and personal with nature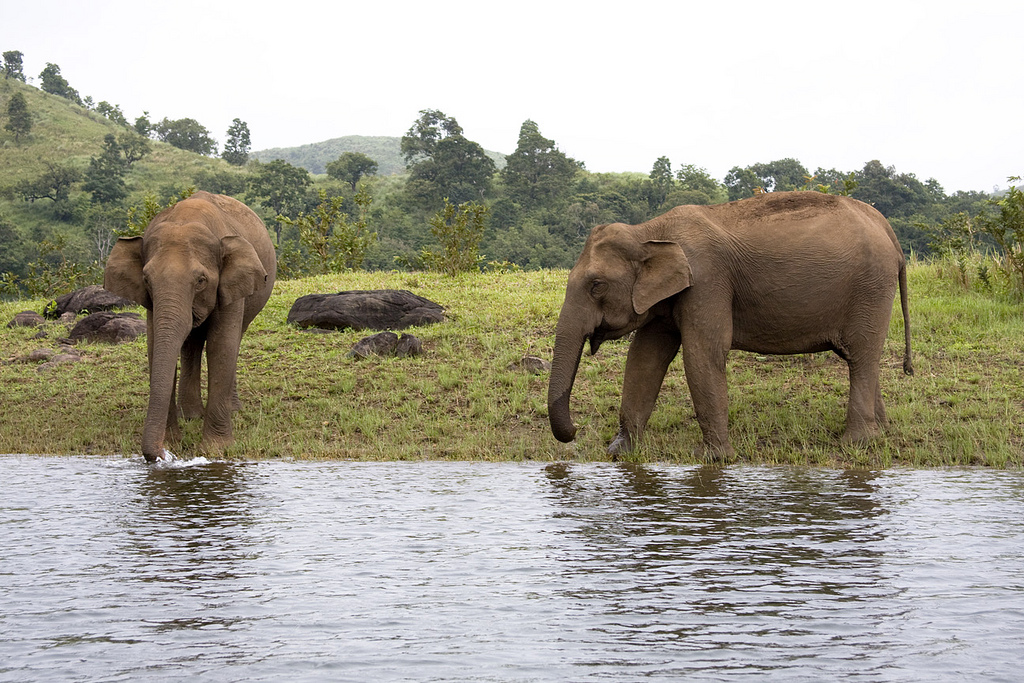 Rafting through the river through the thick forests can give you the opportunity for bird watching and wildlife spotting. If you are lucky, you can spot deer, peacocks, langurs, elephants, waterbirds. During summer you can spot animals who come near the banks of the river to drink water. A pair of binoculars is a must. A few rafting trails take you through areas with small rivers containing submerged trees that are still alive. Some claim these trees have been alive for over 100 years below the water level. Swimming is prohibited here. The full-day rafting trips involve disembarking the raft to continue on foot for hikes.
Do's and Don'ts for bamboo rafting in Thekkady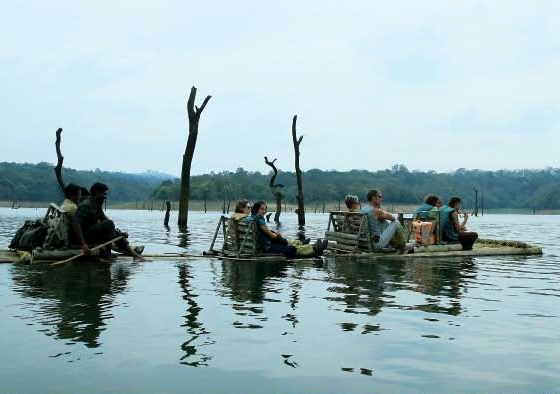 Do not enter the forest without a guide.
Do cover your feet. Do not wear open-toed shoes like sandals or chappals. Since you might be hiking, it is advised that you wear sports shoes or hiking shoes.
Carry some snacks and water with you. But make sure you do not litter. Take care of our environment.
Do not wear yellow, red or white clothes. When visiting a forest, it is best that you wear dull clothes that camouflage.
Sunlight can be harsh in the afternoon even in winter. Wear a cap and sunglasses.
Stay with your group. Straying far away from your group can be highly dangerous.
Understand that wildlife spotting is not guaranteed. Do not go with high expectations or argue with your guides if you do not spot any animals.
Put on a mosquito repellent and reapply. More often than not, people put a mosquito repellent cream on early in the morning and forget to reapply.
Do not provoke any wild animal.
Buy an entry pass from the forest department before going into Periyar sanctuary.
Make sure you are up to the hike physically, before taking up the full day rafting trip. If you are travelling with children, it is better to opt for the half day tour.
Looking for a place to stay in Thekkady? Sterling Woods and Spice located near the perimeter of the Periyar Wildlife Sanctuary is a fantastic location for experiencing local culture and going for activities like bamboo rafting. The cherry on the top is the most dreamy swimming pool ever, right in the middle of a wildlife setting. It also features a multi-cuisine restaurant which has it all; from the local delicacies to Chinese and continental. If the rafting trip wears you out, there is also a spa where you can rejuvenate and replenish.
Have you ever been bamboo rafting? How was your experience? Let us know in the comments below.