Kerala is known for its beautiful backwaters, serene hill stations and mouth-watering cuisine. It is considered one of the best destinations for a peaceful, rejuvenating holiday, away from the hustle of everyday routine. In other words, to people who love to explore and embark on adventures, it is a 'boring' destination and is often at the bottom of their places to visit list. However, what most people are not aware of is that the hill stations of Kerala are well known for their adventure sports activities and beautiful campsites. They are loved by hikers and trekkers and stand in for paradise for paragliding professionals.
There are also numerous kinds of festivals and events that embrace the world of adventure sports, one such example being the International Paragliding Festival. It is held every year for a period of 1-2 months in Vagamon, also known as Wagamon, a quaint hill station located in the Kottayam and Idukki districts of Kerala. Despite there being a large number of paragliding hotspots strewn over the country, Vagamon is considered one of the very best spots. It's ideal weather conditions and desirable wind speeds make for a fun and safe paragliding experience.
What is the International Paragliding Festival?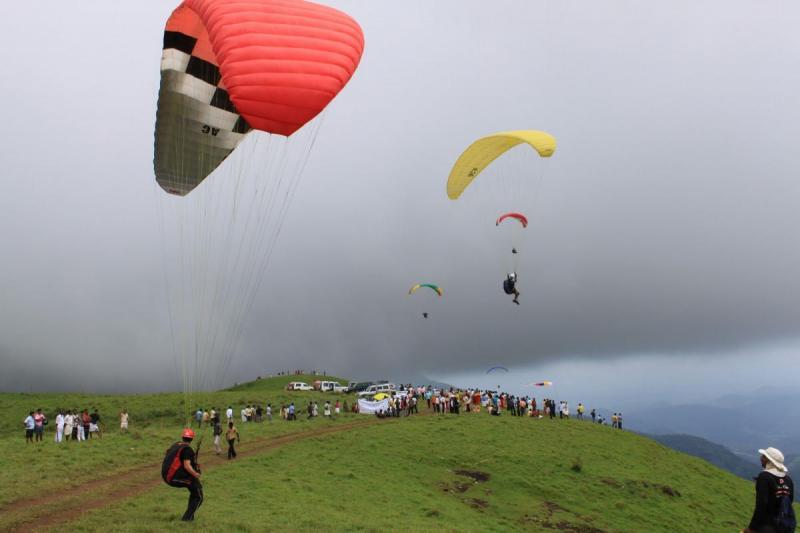 The festival is held in the months of January and February every year and attracts enthusiasts from all around the country. It was first hosted in 2006, organised by ASSTA – Adventure Sports and Sustainable Tourist Academy with help from Kerala tourism as a means to promote tourism and the culture of adventure sports in Kerala. There were several test rounds that were conducted before the initial festival to ensure the safety and well-being of participants. Every year, hundreds of brightly colours paragliders dot the skies above the Grassland Shola Forests of Kolahalamedu near Vagamon.
What happens?
Aside from the actual paragliding, there are plenty of workshops conducted to equip beginners with the skills required to paraglide. These workshops include professionals coming in to train people in gliding and other aero sports. There are also sessions held on other adventure sports activities and the explanations of the physics that goes behind them. There is an adventure arena that incorporates sport related games to entertain visitors and also cultural events including music performances, art displays and stand up and theatre acts. The festival brings together people from a variety of fields owing to the wide range of activities and events that take place in association with the main paragliding events.
Other things one can do when in Vagamon
Vagamon is every nature lover's paradise and comprises of a number of places worth visiting when there. It is also known for its small restaurants and their finger-licking menus, making it an attractive option for food lovers as well. Here are some places one must visit when in Vagamon:
Pine Forest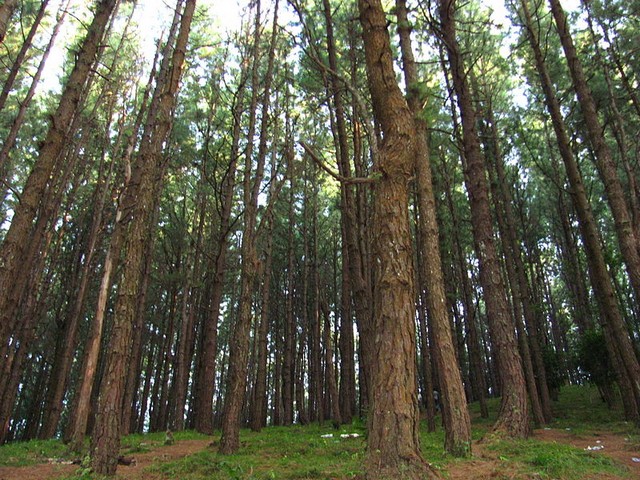 Vagamon Pine Forest is an ethereal location situated at the edge of the Western Ghats in Kottayam. The pine trees that line the forest stand tall and overlook the edge of steep cliffs making it an ideal destination for hikers and trekkers wishing to explore nature's bounty. It is usually left untouched by commercial life and temperatures tend to drop below 10 degrees at nights and early in the mornings.
Barren Hills and Thangal Hill
Barren Hills, also known and Vagamon Meadows is known to the locals as 'Motta Kunnu' which translates to 'egg-like shapes'. It consists of around 10 grass covered low hills and is a popular picnic destination for tourists. One can expect to find deer grazing in the wilderness and other interesting birds and small mammals.
Thangal Hill is a large rock that provides the perfect location for rock climbers and trekking enthusiasts. The height of the rock makes for the peak to be a beautiful viewpoint and allows for a panoramic view of the hills around it.
Vagamon Lake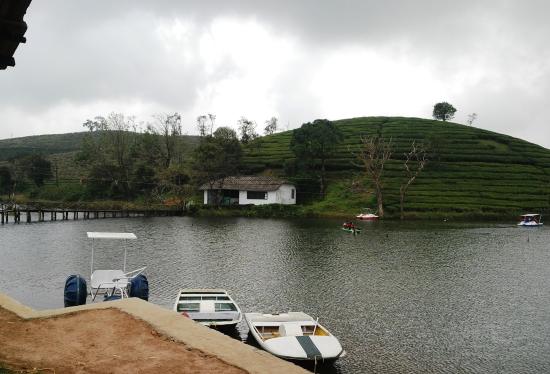 A tiny lake overlooking the lush tea gardens (another must-see) whose banks make it a great picnic location and space for quiet family time. The lake also provides a space for boating and fishing and numerous small rowboats and motorboats dot the waters in the early months of the year.
One could also visit the beautiful Vagamon falls that presents a breathtaking view of water trickling down the rocks onto bigger boulders. The Mundakayam Ghat, Orchidarium and Pattumalai Church are other spots that attract tourists to these beautiful hill station.
If the Paragliding festival didn't convince you then these beautiful destinations definitely will. Grab a rucksack, pack light and put on your headphones before you embark on an expedition into nature's bounty for an experience that could change your life. Munnar, Thekkady and Ponmudi are other hill stations you can keep in mind when planning a trip to God's own country – Kerala. Don't forget to book your stay with Sterling to make your holiday truly memorable!