Sweltering summers and a long weekend; a combination you don't usually get, and when you do, you grab the opportunity by its horns. The organized traveller marks these long weekends in the first week of the year itself.  A mini vacation opportunity like the Eid long weekend demands that you pick out a destination closer to home. Somewhere you can just hop in and out of, all in a matter of 3-4 days. Majority of the travellers look for the closer to home options, involving a small train journey or a drive down.
If you are living towards the north of India, then you have some good destinations that are well connected to major cities nearby, either through the road or the rail network. Considering the heat that you intend to escape from, the place to visit is surely a hill station. You can take your pick from the popular ones which include Nainital, Mussoorie, Manali, and Shimla. Then there are those which are offbeat but are resplendent with nature's artistry in abundance. These include Dharamshala, Mashobhara, Nanded, Lansdowne, Kufri, Kanatal, and Kandaghat.
For the fellas down south, the beauty of Yercaud, Ooty, Kodaikanal, and Munnar beckons you this long weekend. Be a little adventurous, and try hill stations like Idukki, Kotagiri, and Ananthagiri Hills. If you stay in the northeast and are a lazy traveler, you can explore places like Darjeeling and Gangtok.
India is a country flanked by hill stations on all sides and so the people in the Western region need not be disappointed at all. We have wonderful options like Lonavala, Matheran, Khandala and Mahabaleshwar in the west. There are several lesser explored, but equally beautiful places like Toranmal and Rajmachi in Maharashtra. Let's see what some of the best ones have to offer for this Eid long weekend.
North- Manali
The place literally puts you in a trance, transporting you deep into the serenity of the mountains. Surrounded by the fresh green meadows of Solang Valley, the pristine valleys of Lahaul and Spiti, and the hot springs of Manikaran, it is all and more, than one can ask for on a vacation. Rejuvenating to the senses, Manali is the perfect long weekend getaway destination. The Mini Switzerland of India Khajjiar is just a 6-hour ride from Manali and can be a part of your trip if you are up for some road travel. While there, you can book a luxurious room at Sterling Resorts, Manali available at reasonable prices. Manali is well-connected by road to Delhi, Ambala, Chandigarh, Dehradun, Haridwar, Shimla, Dharamsala, and Dalhousie. Volvo luxury coach services are also available from Delhi.
South- Idukki
Idukki is one of the most mesmerizing hill stations in South India. The place is a treasure trove of sanctuaries, tea gardens and national park, and spice plantations. It is known for its panoramic view which relaxes the mind and the soul. Idukki is home to the Idukki dam, which is world's second and Asia's first arch dam. The magic woven by the place bewitches you more as the place is marked by a quiet ambience, broken only by the sound of water. You can enjoy the elephant safari which takes the visitors through the tea plantations. There is train service between Bangalore and Kottayam, which is 123 km from Idukki. The cities of Bangalore and Cochin are also connected via a flight to Ernakulum Airport which is 98 km from Idukki.
North East- Darjeeling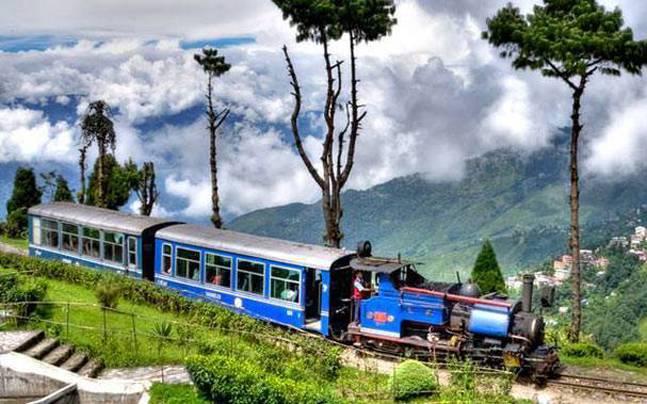 One of the most popular hill stations in India and the land of tea plantations, Darjeeling is a fascinating choice for the Eid long weekend. Since by the end of June Darjeeling starts to get a lot of rains, this weekend is just the perfect time to go there to enjoy mild showers. If lucky, you may also see the full bloom of flowers like rhododendrons, roses, dahlias, etc. The place is marked by thick forests of oak, maple, chestnut, walnut, pear, cherry and cardamom plants; perfect for the jungle walk. Make space in your bags to carry back with you, some of the aromatic and spicy Darjeeling tea. Closest station from the Darjeeling station is Siliguri which is 80 km away, and New Jalpaiguri is located 88 km away. You can book your stay at Sterling Darjeeling and enjoy the beauty of the mountains from your rooms.
West – Lonavala
This is the best place to be when you have something like a long weekend in hand. Check out the top places to visit in Lonavala. With its proximity to Mumbai and Pune, Lonavala sees its fair share of people on long weekends. Waterfall, dense forests, dam alongside lakes; all the requisites of a relaxing trip are present in Lonavala. Load up on a lot of chikki and fudge while you stroll along the Bushi and Valvan lake in your just-bought kolhapuri chappals. Sterling Lonavala will give the perfect stay in Lonavala with its plush rooms overlooking the grandeur of nature outside.
Plan your perfect weekend getaway with Sterling and have the best time of your life!