"To me a lush carpet of pine needles or spongy grass is more welcoming than a luxurious Persian rug", remarked Helen Keller. Fresh grass, exotic hues of flowers, sunlight playing through the gaps in branches, hard gravel amidst soft soil, rich and complex aroma of the earth, brown and green shades around, winding paths and tough trails – nature walks are more beautiful than you can imagine
Nothing in the world is more satisfying than a leisurely walk, relishing the essence of Mother Nature. To the delight of nature enthusiasts, we have many fantastic nature trails in India. In fact, taking a walk through the arms of nature's beauty is an important activity that is widely promoted in many hill stations and wildlife sanctuaries.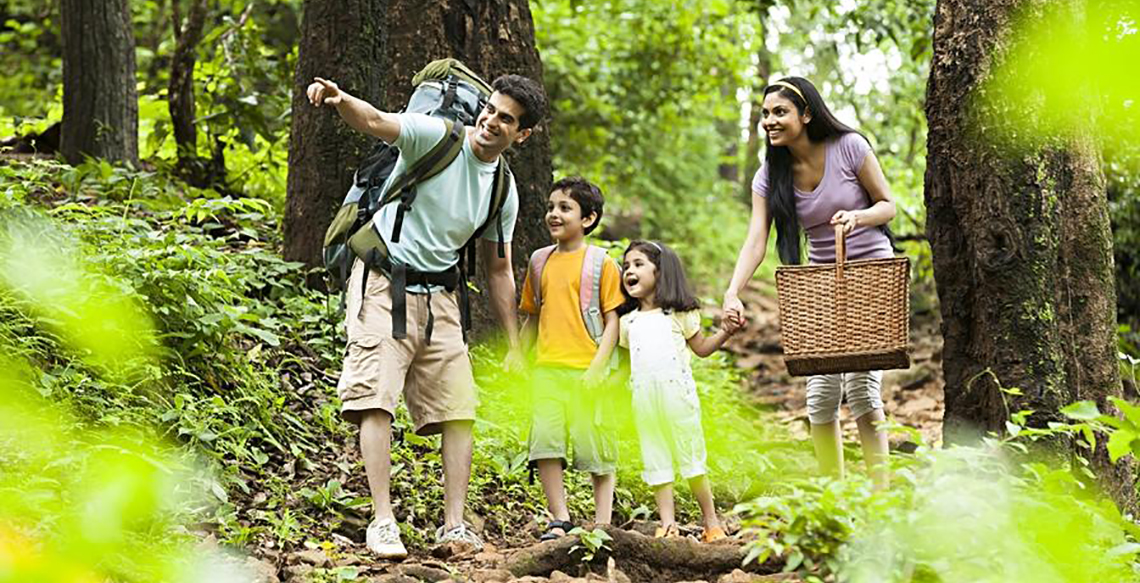 Nature walks can benefit both elderly and children a lot as it stimulates the brain and keeps you fit and active. Easier than trekking or mountaineering, nature walks can be experienced and enjoyed by kids. A walk with your little ones beside you is the best way to spend quality time with them and make them aware of Mother Nature. Here are five fun activities by which you can engage, entertain and educate your kids on a nature walk.
Treat to senses
Nature walk is the best way by which senses of a child can be sharpened. Ask your children to walk for 10 minutes in absolute silence during which  they should focus  on the surroundings.
When you stop, let them share what they heard, felt and experienced. Similarly, let them touch (not pluck) different leaves, plants, soil etc. Later ask them to describe how each thing felt (like silk, smooth, rough etc.).
Play with vocabulary
After completing the walk, relax in a scenic place, prepare a list of words like 'wet', 'sweet', 'dark' and so on and ask them to fill both synonyms and antonyms. All the words must describe something which your group encountered in the walk. For ex: A wet path near a pond, sweet aroma of a flower. Ask the children to recall where they encountered those words.
A novice painter contest
The beauty of nature often leaves us spell-bound. Immediately after the walk, after having a sumptuous lunch, ask your little ones to paint a scene which attracted them the most during the walk. Let them take their time and encourage them to use a number of colours. Painting nature is an awesome activity which is highly satisfying.
Do-it-Yourself activity
Before going to walk give a small eco-friendly bag to your children. Take that chance to explain why you have not given a plastic bag. During the walk, tell them to collect ten items like fallen leaves, flowers, twigs, seeds etc., (do keep an eye so that they don't pick from the plants). Tell them beforehand that whatever they collect will be used to make an article like a leaf garland, a  floral brooch, a flower vase.
After the walk, let them explore their creativity and make an article of their choice. Provide glue, paper, thread and other necessary material and guide them. Display their artwork; ask them to pose as 'Nature Artists' and take a snap.
Mimicry maniacs
Let everyone sit in a circle. The center of the circle is the stage and each one should try to mimic a sound which they heard during the walk. As a parent, take the lead and perform first. Encourage them to perform and have healthy fun. It takes out stage fear and develops an appreciation of talent in them.
Environment is extremely vital to human survival and nature walk is one of the best activities to develop affinity towards ecology, to educate kids on nature and is a relaxing family activity. On the next holiday, pursue this activity with your loved ones and have fun.