The spread before you is enticing. It is a seductive medley of flavours, aromas, and colours. Something that is an indulgence and feast not only for taste buds but also a visual treat with dishes of different colours spread out on green banana leaves.
If you are wondering what we are talking about, you will instantly relate with the word Sadhya which is the iconic feast that is one the top dishes from Kerala which will keep you wanting for more.
Deciphering Sadhya
Sadhya which literally means banquet in Malayalam is as much a part of the lore associated with the state of Kerala as its mystifying mangroves and whimsical sunsets. Sadhya is the meal or feast that is prepared and served during Onam, weddings, and other special occasions. The Sadhya consists of only vegetarian dishes and is served in the traditional way on banana leaves.
Did you know that, usually, Sadhya consists of about 28 different dishes? In some cases, Sadhya can have as many as 64 dishes! The Sadhya that is prepared on the occasion of the Aranmula Boat Race consists of as many as 64 different dishes.
Dishes that Make Up The Sadhya
Vegetarian dishes that amalgamate different flavours and aromas of the land make up the Sadhya. The anchor dish is of course boiled rice which is followed by an assortment of different curries apart from Sambar and Rasam. The Sadhya is a symphony of tastes and flavours as one dish follows the other, bringing with it a unique experience. There is Avial which is a delectable gravy of vegetables and coconut, Kaalan which is a gravy of yoghurt and coconut with a vegetable, Thoran which is another coconut based vegetable curry. Then there is Olan which is a mild dish made of white gourd or black peas, Kootukari consisting of vegetables like Yam or raw banana cooked with coconut and black pepper.
A mind-boggling array of pickles, chutneys, and side-dishes satiate the finest senses of the connoisseur. There are other crunch accompaniments to the meal too like traditional papadam and the ubiquitous banana chips. As the different pickles and curries tingle your taste buds, there is ample curds or buttermilk to cool of. The piece de resistance of Sadhya, the dessert is in the form of different varieties of traditional Payasam. A typical Sadhya consists of around three different types of Payasam. Some of the more popular Payasams are Pal Payasam and Ada Pradhaman. It is interesting to note that there is a difference between Payasam and Pradhaman. The latter has a base of coconut milk while the former is made of cow's milk. The Pradhamans also come in different varieties. The Palada Pradhaman has cooked rice and coconut while the Parippu Pradhaman is made of green gram. These Payasams and Pradhamans leave the palate with a sweet taste that lingers in the mouth and the mind for a long, long time.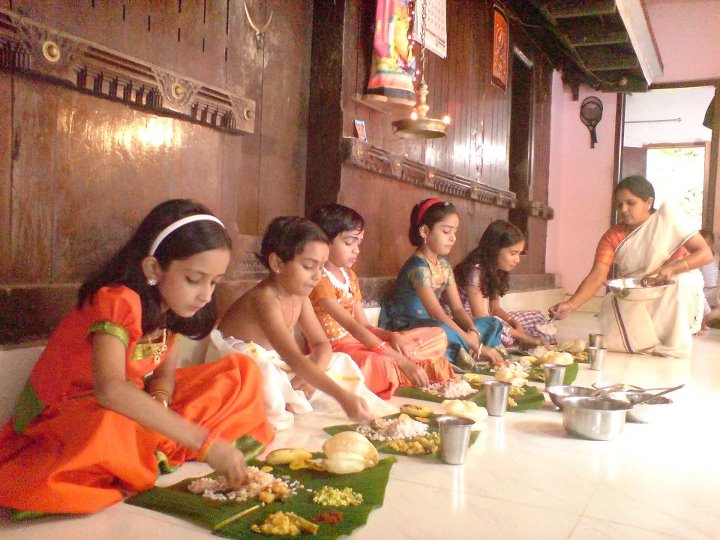 Some Interesting Facts About Sadhya
Sadhya is usually a feast that is served at lunch
Each dish is served on a pre-defined portion of the banana leaf
There is an order in which the different dishes are served
The cooks preparing Sadhya keep utmost purity in mind and body and a banana leaf with all dishes of Sadhya is first offered to God
The Sadhya is served to people in Panktis or groups of people sitting cross-legged in rows on the floor
Once the meal is completed the banana leaf is folded and closed in, the direction in which it is closed signifies satisfaction or dissatisfaction with the meal
Sadhya – A Divine Meal In God's Own Country
Sadhya is food that seems to acquire a divine taste, and why not after all it is an integral part of God's own country. The preparation of the Sadya itself is approached with purity of mind and complete devotion. The food is prepared as if it is food that would be literally served to God. This attitude blends with the spices and vegetables of Kerala to conjure up a sumptuous feast that borders on the divine.
Sadhya is best experienced in God's own country, Kerala. Traditional and authentic Sadhya is made at households across the state. Though restaurants too serve this iconic meal, the real essence of Sadhya needs to be experienced in a traditional household in Kerala.
Has Sadhya mesmerised you with its wide-ranging allure? Then you need to head to Kerala – the best destination for your next family holiday – for a bite into the divine meal known as Sadhya. Sterling awaits in the pristine environs of Kerala to host you as you holiday differently.