Dudhsagar Falls : Experience the Sea of Milk
See why Goa's Dudhsagar falls is called 'a sea of milk' and why this spot makes nature enthusiasts go crazy.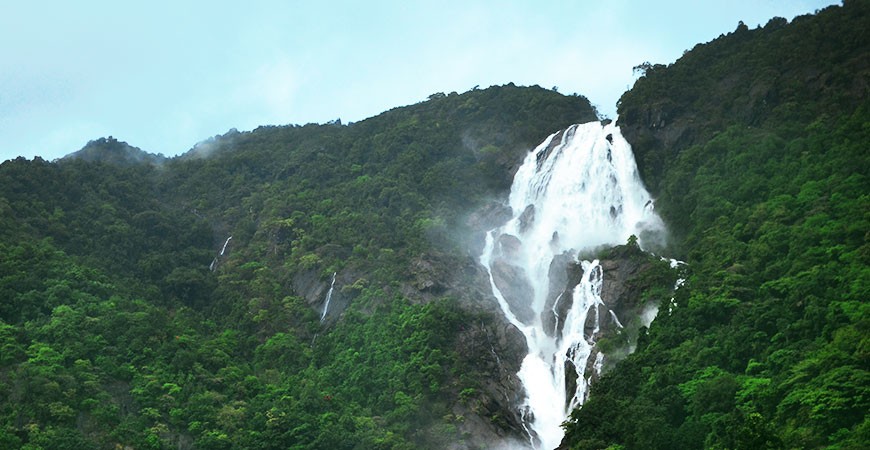 A four-tiered gigantic waterfall on the mighty Mandovi river, Dudhsagar is one of India's tallest waterfalls. Dudhsagar literally translates to "sea of milk" and you'll know why the name is appropriate when you see it. Rolling down the high peaks of the Western Ghats, this 1000 feet tall waterfall flows with all its might, creating an illusion of foamy, milky-white streams.
The walk to this waterfall is tough but magical. It involves winding railway tracks, dark tunnels and undulating hills – but the sight that awaits you at the end of the journey is worth every weary step. The sheer majesty of the four-tiered silver cascade gushing down forcefully over glistening boulders is humbling. At the bottom of the waterfalls, you'll find an emerald green plunge pool that not only looks beautiful but also inviting. Go ahead to take a dip and splash around.
There is something about the biodiversity and its raw unbridled form that is awe-inspiring. The Dudhsagar falls are less of a view and more of an experience. They are a treat to the eyes and ears in a way that only a few other creations of nature are. 
Contact the front desk of Sterling Goa for a day's trip to the falls and other details.
Good to know:
Location: 58 km from Sterling Varca, 80 km from Sterling Bardez