STERLING SUBUTHI SPA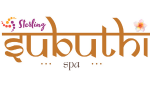 The Subuthi Spa at Sterling Holidays offers you a chance to experience serenity as you relax and reconnect with your inner self. Derived from two Sanskrit words Su (good) and Buthi (existence of the mind), Subuthi focuses on reconnecting your body, mind and soul. Escape into bliss as the magical healing powers of our signature spa rituals and ancient world therapies combine the five natural elements to relax, energise and rejuvenate you. Come, discover holistic healing at Subuthi.
Thank you
Thank you. Our customer representative will get back to you within 3-4 working days.
Know more about Sterling Membership
OUR OFFERINGS
Science of Life - Ayurveda Wellness
Ayurveda adopted the physics of the elements - Prithvī (earth), Jal (water), Agni (fire), Vāyu (air) and Ākāśa (sky) that compose the universe, including the human body and emphasize on the balance of the same in the human body. Our signature spa rituals aim to bring back this Vedic balance in your body in a luxurious environment.
Subuthi Signature Massage
Relax your mind, body and senses with our holistic signature massage. This treatment is a combination of rhythmic soothing strokes applied with a medium to firm pressure, excellent for releasing muscular knots, increasing circulation and releasing stress and tension from the body. Customized to fit your specific needs. This massage has a cleansing effect on mind and body, leaving you refreshed, relaxed and rejuvenated.
Our signature skin brightening facial is designed to improve skin tone, enhance skin clarity and create a healthier appearance. Powerful exfoliants smoothen the skin while antioxidants reduce the damage by free radicals and minimize the appearance of age spots. This facial is recommended for all skin types.
Soothe your senses and pamper your body with this ultimate stress buster. Choose from either the classic Swedish Massage or an intense Deep Tissue Massage to release seated tension and relax the tired muscles as well as improve circulation. Combined with a 30-minute Head Massage and a 30-minute Foot Massage helps you re-energise and feel rejuvenated.
Invigorate your senses with a choice of either Swedish or Deep Tissue Massage (60 minutes) to release tension and relax your muscles, improving circulation. Give your skin a natural glow with a Nourishing Vitamin Facial (60 minutes).
Together times are special times. Why wait for an anniversary to celebrate togetherness? Luxuriate and rejuvenate together with a choice of Swedish or Deep Tissue Massage (60 minutes) and Nourishing Vitamin Facial (60 minutes) for both of you.
Calm your senses, restore your inner beauty and envelop in a sense of wholesome tranquility. Indulge in our Cholkola Scrub (45 minutes) which is great for exfoliating and giving your skin a new glow. Follow it up with a 60-minute Aromatherapy Massage to leave a shine and feel great the whole day.
Indulge in a journey of body and mind with a 45-minute Shirobhyanga. This treatment is designed to open and balance your Ajna Chakra unveiling consciousness. A 30-minute Shirodhara followed by a 15-minute Foot Massage, you feel balanced and restored.
The ultimate holiday spa package. Take a break and discover yourself again. Avail any 5 massages of 60 minutes each (Swedish/Deep Tissue/Abhyanga/Aromatherapy Massage) and indulge your senses at our spa.
Visuddhi – Powerful Indian Oil Massage
For centuries, people in India have been used to taking powerful invigorating massages. Experience this rustic massage with our special blend of natural herbal oil, which helps to relieve pain and tone the muscle tissues.
Abhyanga – Indian Relaxation Massage
A medium pressure body massage which uses traditional, long energising strokes. Our enriched herbal oil has a cooling and detoxifying effect on the body, and it also tones up the skin. This massage soothes the nerves and enhances blood circulation.
Potali - Ayurveda Poultice Massage
Our unique massage is based on the Ayurvedic application of healing and warmth. The body is massaged with linen Potalis stuffed with essential herbs, which results in detoxification and rebalancing the natural body energy.
Shirodhara - Indian Ayurveda Massage
A therapy that involves a consistent pouring of warm oil over the forehead, especially on the 'third eye'. This is the chakra point just above and between the eyebrows and is said to be the seat of human consciousness. The oils are allowed to flow over the scalp and through the hair. Experience a blissful sensation with this Ayurvedic Oil Massage.
Through deeper therapeutic work, this massage alleviates chronic muscle tension and relieves activity-induced soreness. Highly customized for your needs, this full body massage will focus on relieving pain from tight muscles and tendons.
This gentle to medium pressure full body massage is designed to relax, energise and rejuvenate. Choose from our blend of essential oils which assist in balancing body, mind and soul and create an all-over sense of relaxation.
Traditional Swedish Massage with regulated pressure, excellent for releasing muscle tension, increasing blood circulation and promoting mental & physical relaxation.
Our Anti-Cellulite Massage involves a deep pressure technique that helps in breaking up the fat deposits that form beneath the skin and flushing them out through the body's lymphatic system. This treatment is highly recommended for weight loss and improving circulation.
Combining anti-oxidant rich products with specialised facial techniques, this facial will work on restoring the moisture, balancing your skin and reducing the appearance of fine lines. We recommend this facial for normal to dry skin.
Skin Brightening Organic Facial
This organic facial spa treatment provides deep nourishment for your skin. Experience the luxurious bio-glow facial treatment with our integrated techniques of deep cleansing, gentle massage and organic skin brightening face mask. This facial is suitable for all skin types.
A lightweight, fresh, non-oily and easily absorbed formula designed to balance skin moisture levels and control excess oil secretion. The use of spirulina and tee tree oil helps to protect the skin against free radicals and environmental damage. This facial is recommended for oily skin.
This facial is designed for all skin types. Rich in vitamin C, from acerola fruit extract, our products and techniques will help to slow down the signs of ageing, leaving your skin looking young and refreshed.
Lavanya Vitamin Enriched Facial
Experience our active detoxifying face treatment, rich in essential skin vitamins. The rejuvenating pressure point massage relaxes your facial muscles and improves blood and lymph circulation making your skin look younger and brighter.
Enliven your day with active detoxifying facial treatment enriched with essential skin vitamins. Our healer will softly relax your facial muscles and gently enhance blood circulation leaving you with a supple skin for an everlasting youthful look.
Our choice of effective body scrubs is designed to exfoliate the skin, removing dirt and impurities, while improving blood circulation. This treatment will help you to achieve healthy and glowing skin leaving you looking vibrant and youthful.
Flora Mist Floral Body Polisher
The spa treatment brings to you a misty fusion of aromatic oils, saffron and special floral extracts that will make you glow and help to maintain the suppleness of your skin.
This chocolate-based skin exfoliator hydrates and makes your skin silky smooth. This delicious body polisher is high on anti-oxidants and increases natural skin collagen. It is the epitome of indulgence.
A luxurious creamy treatment that leaves your skin soft and supple. This aromatic mixture provides essential hydration and conditions the damaged skin leaving your body with a delicate sweet fragrance.
Our choice of body wraps is designed to improve the texture and appearance of the skin by helping rid the body of excess fluids and toxins. This treatment will help in detoxification, boosting the lymphatic system and metabolism.
Sukesh Indian Hair Massage
Our masseur will pamper you with a pressure point head massage. It will then be followed by the application of our unique Indian Triphala Rasayana hair mask that promotes deep conditioning and makes the hair healthy.
Champi Indian Head Massage
This ancient Indian technique relieves stress and tension from the head and upper back. Our signature blend of oils will help in invigorating the body, balancing the chakras and infusing calm and relaxation.
This massage has its origins in the Far East. Our masseur uses a variety of techniques to soothe your stressed back and shoulders and relieve sore muscles. This stimulating massage will leave you charged for the rest of the day.
This soothing foot massage is based on the principles of reflexology. The treatment balances the flow of energy in your body and removes system blockages. Indulge in this after a long day of walking or standing.
Based on the techniques of reflexology, our masseur works carefully on your tired feet - perfect after a long journey. This treatment helps in balancing the flow of energy in your body and removes system blockages.
Pada Mardana Foot Reflexology
This massage uses the principles of reflexology. This treatment helps in balancing the flow of energy in your body and removes system blockages. Indulge in this after a long day of walking or standing.
Travel Energizer Combo of Foot and Neck and Shoulder Rub
The perfect combination of a foot massage and a back massage that is a quick fix relaxation for your body. Our traditional foot massage based on the eastern techniques of reflexology, followed by a de-stressing massage on the upper back, neck and shoulders is a soothing experience that relaxes you.
Spa experiences and therapies vary from resort to resort. For further details, promotions and offers, please contact the individual resort.
Subuthi Spa is available at Sterling Alleppey, Anaikatti, Corbett, Darjeeling, Gangtok - Orange Village, Gir, Goa-Varca, Kodai-Lake, Kodai-Valley, Kufri, Manali, Munnar, Mussoorie, Ooty-Elk Hill, Ooty-Fern Hill, Puri, Wayanad and Yercaud.