A Tryst with Goa's Mangrove Forests
Goa has much more than beaches, parties and feni to offer. Take time out to explore the mangrove forests on the mighty Mandovi river.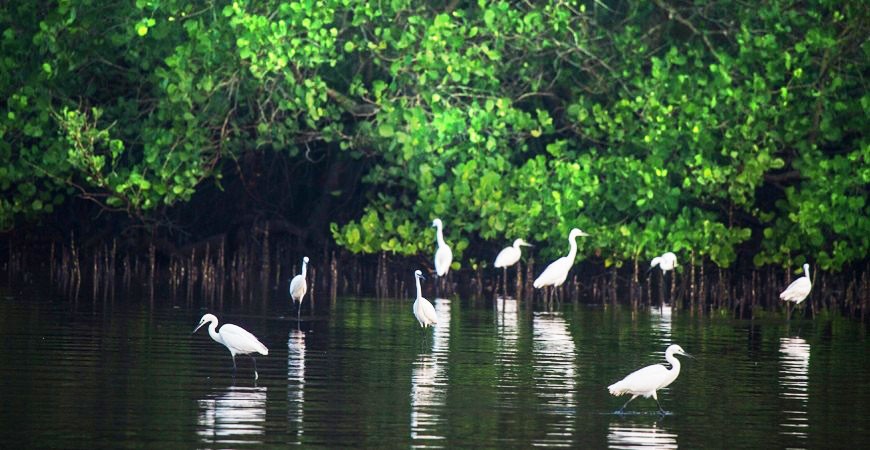 Goa is famous for its beaches and parties, but it is also one of the greenest states in India with over one-third of the area covered with green tropical forest. With the mighty Mandovi river giving life to the surrounding mangrove forests, Goa's biodiversity is remarkable.
Hop on a boat or canoe and explore the world of mangrove forests on the slow-moving waters of the Mandovi river. The sight of the crocodiles lazily lounging about in the mangrove swamps of the island of Chorao is similar to that of Amazonian jungles.
Within walking distance from the ferry wharf at Chorao, is the prestigious Dr Salim Ali Bird Sanctuary. It is open to visitors throughout the year. However, this requires prior permission from the Chief Wildlife Warden of the Forest Department to visit. Once the formalities are completed, you're all set to explore the sanctuary. Apart from a large variety of coastal and migratory birds, this sanctuary is also home to flying foxes (fruit bats) and jackals. A watchtower has also been constructed in the sanctuary, for a panoramic view. Chorao island is truly a haven for nature lovers and photography enthusiasts.
Sterling Goa will be delighted to organize this experience for you.
Good to know : 
Location: 12 km from Sterling Bardez, 46 km from Sterling Varca
Follow the guidelines for photography. Keep children safe.