Somnath Temple
Often called the Pride of Gujarat, it is one of the most important pilgrimage sites for Hindus in India. It is believed to be the first among the twelve Jyotirlinga shrines of Lord Shiva.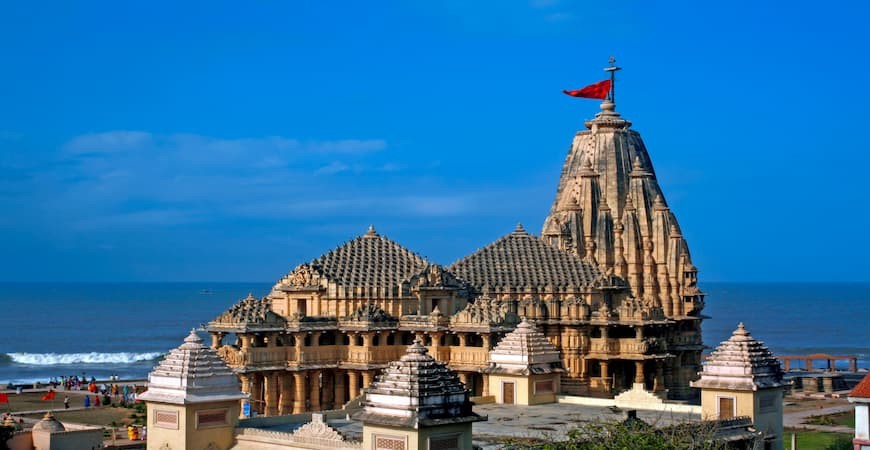 According to tradition, the Shivalinga in Somnath is the first among the 12 jyotirlingas in India, where Lord Shiva is believed to have appeared as a fiery column of light. The jyotirlingas are taken as the supreme, undivided reality out of which Lord Shiva partly appears. The site of Somnath has been a pilgrimage site from ancient times on account of being a Triveni Sangam (the confluence of three rivers: Kapila, Hiran and Saraswati. Soma, the Moon god (Chandradeva), is believed to have lost his lustre due to a curse, and he bathed in the Sarasvati River at this site to regain it. The result is said to be the waxing and waning of the moon.
Reconstructed several times in the past after repeated destruction by several Muslim invaders and rulers like Mahmud of Ghazni, Alauddin Khilji and Aurangzeb, the present temple is built in the Chaulukya style of temple architecture and reflects the skill of the Sompura Salats, one of Gujarat's master masons. The temple's shikhara, or main spire, is 15 metres in height, and it has an 8.2-metre-tall flag pole at the top.
The temple is situated at such a place that there is no land in a straight line between the Somnath seashore and Antarctica, such an inscription in Sanskrit is found on a pillar erected on the sea-protection wall. The pillar mentions that it stands at a point on the Indian landmass, the first point on land in the north to the South Pole at that particular longitude.
Good to Know:
Location: 44 km from Sterling Rudra Gir
Timings: 7:30 – 11 am, 12:30 – 6:30 pm, 7:30 –10 pm