Diu Island
Visit the pristine island of Diu to experience its ultimate natural beauty. It is without a doubt one of the most beautiful beach destinations in the country.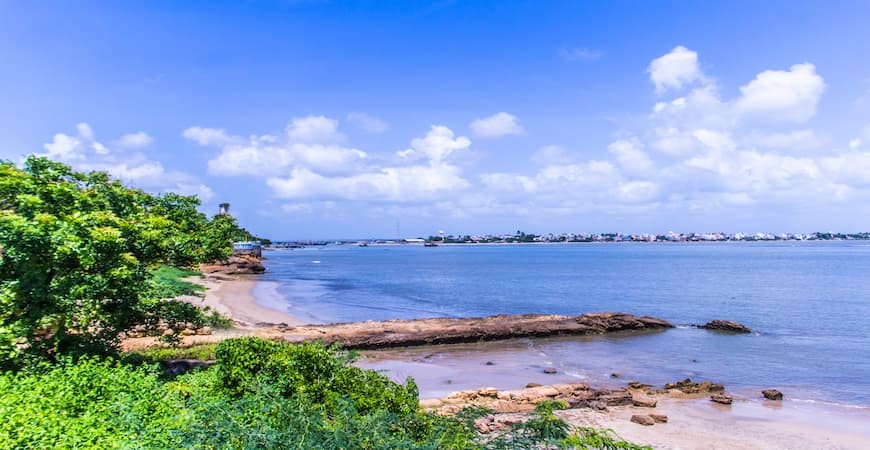 When in Gir, don't miss Diu, a beautiful tiny island with a coastal length of 21 Kms in the union territory of Dadra and Nagar Haveli and Daman and Diu. It is best known as a place that mixes tradition with modernity, which is evident in its architecture, with a number of historical monuments and structures. Diu is mainly known for its white sand beaches. Most famous of the beaches is Nagoa beach. Other beaches are Ghogla, Jallandhar, Chakratirth, and Gomtimata. Adventure water sports are quite popular at the beaches.
The Diu fort is the most visited landmark in the district. The fort and the Basilica of Bom Jesus in Old Goa were chosen as the two wonders from India, among the seven from across the world, out of a list of 27 monuments built in 16 countries during the Portuguese rule.
There are three Portuguese Baroque churches, with St. Paul's Church, completed in 1610, being the only one still in use for its intended purpose. The Church of St. Francis of Assisi is now used as a hospital and St. Thomas' Church is used as a museum.
Naida Caves are near Jalandhar Beach. The origin of the caves remains a mystery but it is believed that they were formed either by geological forces or by quarrying done by the Portuguese.
There is a dinosaur park with life-sized dinosaur structures and large play area for children right on the bay. There is also a bird watching sanctuary, a sea shell Museum, a summerhouse and Lovers' Point.
Another unique specialty of Diu is the Hoka trees - a type of palm tree not found in any other part of India.
Good to Know:
Location: 98 km from Sterling Rudra Gir. Diu is linked to the mainland by a bridge.
Unlike Gujarat, which is a dry state, alcohol is served in Diu.