Mukurthi Trek: Nature's Balancing Act
Discover the treasures of the Shola Forest in Mukurthi National Park. Trek up to a stunning view of the peaks in the Nilgiris.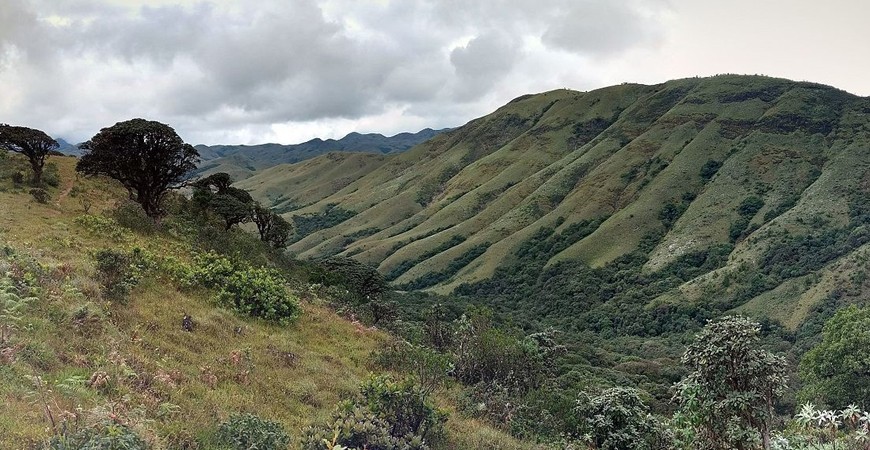 Behind Mukurthi National Park is a bittersweet story of how a pristine Shola forest was reduced to grasslands. It then fell prey to invasive wattle plantations. It is also a redeeming tale of how nature rushes in to restore balance with a little help from humans.
The stunning Mukurthi National Park has a unique microclimate with near-freezing temperature in winter. It has a large variety of flora and fauna. The rolling grasslands, the sparkling streams, the dazzling butterflies and fascinating wildlife make it unique. For centuries, the Toda people have grazed their buffaloes in these hills and subsisted on the forest. They understood the inherent connect between man and nature, but this changed when the British arrived here. Massive felling of the indigenous trees resulted in the near-destruction of the Shola forests. This was further aggravated by the introduction of invasive foreign species like the wattle and the eucalyptus. Today, the forest and the grasslands are a mere shadow of their former self, but whatever remained is now guarded and protected. This is why tourism is also tightly controlled in Mukurthi National Park. Trekking, with due permission, is allowed.
The trek begins with a scenic drive to the famous Radcliffe Fishing Hut. It is advisable to take a guide along, as the trail is dense and tricky. A glittering stream halfway through the trek is a great place to taste water as nature made it - clear, sweet and pure. Beyond the stream, the trek begins to get a little tough. Other big peaks that are visible from here are Avalanche hill (Kudikkadu), Kolaribetta, Pichalbetta, Mukurthi peak, and Derbetta.
With some luck, trekkers can spot the elusive Nilgiri Tahr, perched on a vertical rock face. The woods are full of sambar deer, martens, langurs, gaur, giant squirrels and elephants. The royal Bengal tiger, another endangered species, lives in these forests. This park is also home to many birds. The Nilgiri laughingthrush is always heard but seldom seen, while the woodcock makes a visit from the distant Himalayas. And the best part about the trek is the ever-changing landscape.
The trail ends quite suddenly, and the world opens up to a beautiful sight. Vast stretches of green grasslands dotted with small lakes and clumps of fir forests roll out in the distance.
Good to Know :  
Location: 2.5 km from the Sterling Ooty - Elk Hill resort, 4 km from the Sterling Ooty - Fern Hill resort.
Timings: 9:00 am to 5:30 pm
Entry fee: As applicable
Follow the guidelines for photography. Keep children safe.