Jain Mandir: Soul and Solace
The Nasiyan Jain Temple, greatly revered by the Digambara sect of Jains, is dedicated to the first of the 24 Tirthankaras, Lord Rishabhdev.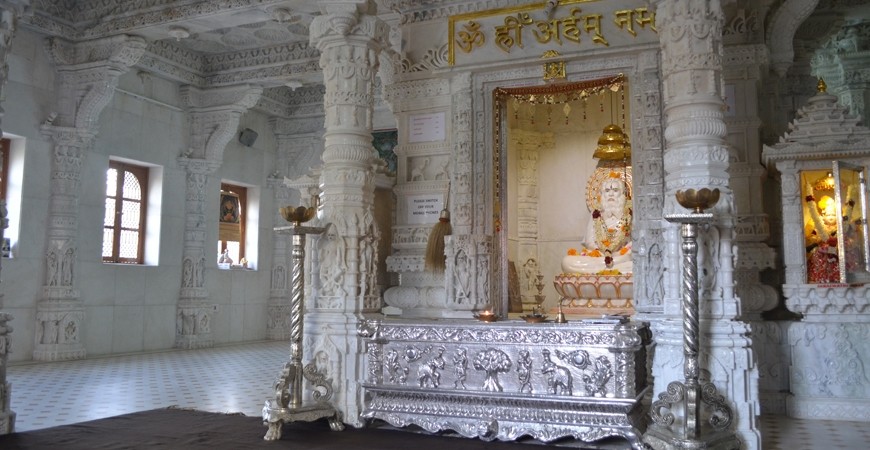 Jainism has existed in India since the first century BCE. Truth and non-violence are its core values. Jains take the concept of non-violence to its logical progression by extending their kindness to all living beings, including insects.
It is well known, especially in Tamil Nadu, that Jains have contributed to classical Tamil literature and poetry. It is said that one of the greatest Tamil epics, Silapathikaram, was written by a Jain prince-turned-monk called Ilango Adigal. The Nasiyan Jain Temple of Ooty is bound to catch one's attention for its spectacular white marble architecture and intricate carvings. The imposing facade has a massive arch. The temple's interiors are cool and reminiscent of a cave-dwelling saint. The construction of the temple started around 1864, and it was opened to the public in 1895. The temple is run by the Digambara sect, and is dedicated to the first Tirthankara, Lord Rishabhdev.
Jains believe that life is sacred. Inside the temple, it certainly feels so. There is an immediate sensation of peace and clarity which only deepens with every passing moment. Visit the temple to experience this.
Good to Know : 
Location: 3 km from the Sterling Ooty - Elk Hill resort, 5 km from the Sterling Ooty - Fern Hill resort