St. Stephen 's Church: A Reminder of Colonial Heritage
Made from wood stripped from Tipu's Palace at Srirangapatna, St Stephen's Church follows the Gothic style of architecture and has beautiful stained glass windows.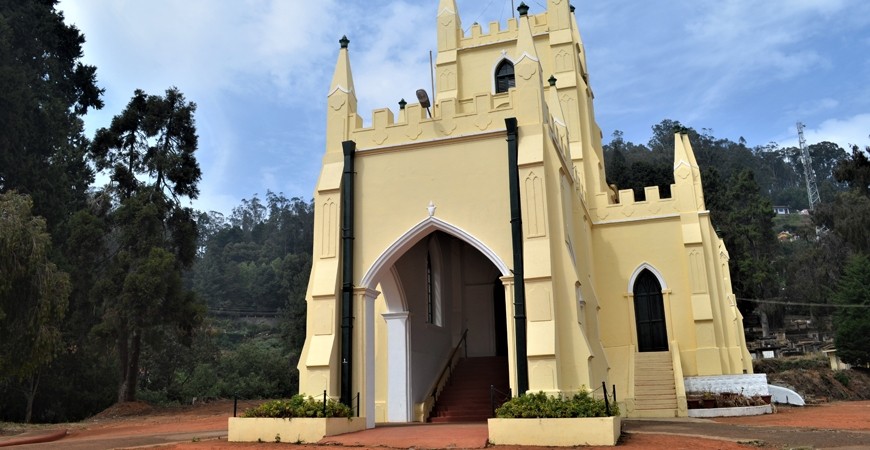 In many ways, Ooty was a blank slate given to the British planters. It is said that when they first arrived in Ooty, they were struck by its resemblance to their motherland. It made them homesick, and they built a town here that resembled their home.
St Stephen's Church is a reflection of this yearning. The British began to settle in Ooty in the 1820s. By this time, they had already taken over the kingdom of the fierce and independent ruler Tipu Sultan. J.J. Underwood was given the task of constructing a church in Ooty. He decided to use the wood from Tipu Sultan's palace in Srirangapatna.
The foundation for the church was laid on 23rd April 1829 to mark the occasion of King George IV's birthday. It was opened to the public on 3rd April 1831. The church built in Gothic style, has beautiful stained glass windows and paintings on the walls. In place of a bell tower, there is a unique arrangement of wooden beams and hammers that produce a kind of musical tone when engaged.
The Sunday service alternates between two kinds: the sombre, traditional ceremony and the more playful choir service.
Good to Know :
Location: 3 km from Sterling Ooty - Elk Hill resort, 4 km from the Sterling Ooty - Fern Hill resort
Timings: 10:00 am to 5:00 pm (Closed on Sundays)