On Toda Trail - Glimpses of the Earliest Inhabitants of the Nilgiris.
The Todas, an ethnic group who used to live in the Nilgiris, migrated here more than 2000 years ago. Anthropologists believe that they evolved in seclusion.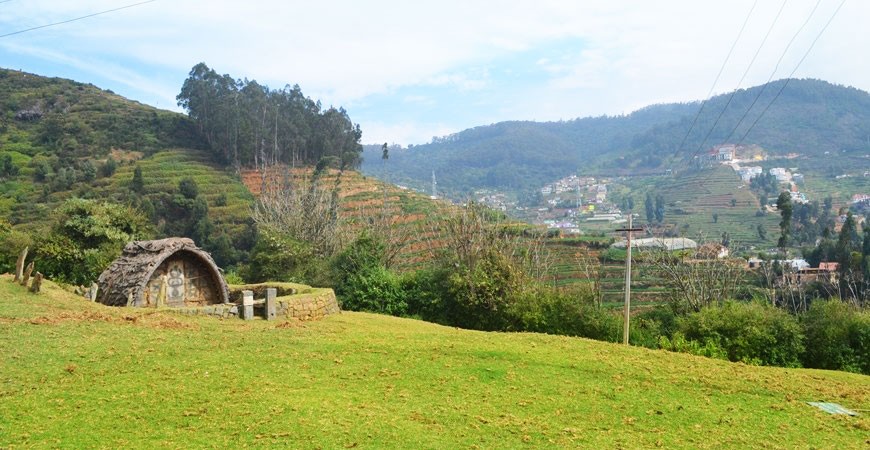 In today's modern times, there is often a longing for the simplicity of earlier times. The Toda village in Ooty will give you one such experience.
This small pastoral community living in the Nilgiri plateau offers an excellent insight into a world quite unlike our own. Out of the many tribes that have inhabited Nilgiris over the years, the Todas and Kotas are probably the most significant. Anthropologists believe that the Todas migrated to the Nilgiris more than 2000 years ago and evolved in seclusion. In the loose caste-like system that was prevalent in the Nilgiris before the arrival of the British, the Todas were ranked at the top of the tribal pyramid.
The Toda people reside in small hamlets called Mund, which have about ten half-barrel shaped huts. Toda huts, also known as Dogles are peculiar constructions with no windows. They are rectangular in design, with a barrel-vaulted roof that reaches down to the ground. The entrance of the hut is rather small, to protect the family from the weather and wild animals. The front walls of the huts are adorned with patterns and motifs central to the Toda faith and belief. The Todas have long existed as dairy farmers, raising hill buffaloes, trading cheese and milk with the neighbouring tribes. A trip to any of the Toda settlements around Ooty is bound to be a one of a kind experience.
Sterling Ooty would be delighted to organise a culture trail to the Toda village for you.