Manikaran: Parvati's Lost Earrings
Manikaran is a beautiful and serene area around Manali. It is sacred to both Sikhs and the Hindus. Apart from the Gurudwara Manikaran Sahib, the area also has a natural geyser which is used for cooking.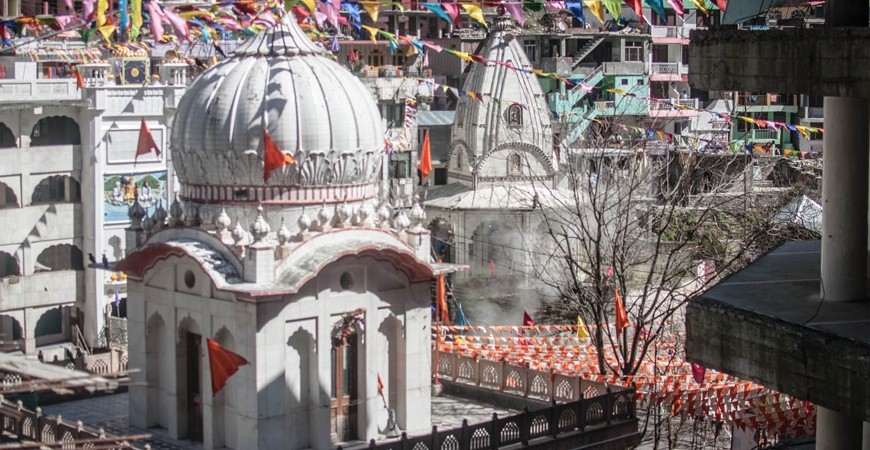 Manikaran, just 3 km from Kasol, is sacred to both Hindus and Sikhs. It is well-known for its Gurudwara, hot springs and Shiva temple.
There is a legend behind the name of this place about Goddess Parvati and her lost earring. In Hindu mythology, once when Lord Shiva and Goddess Parvati were walking through the valley, the Goddess dropped her earring or Mani. The serpent deity, Shesha, seized the jewel and vanished. When he refused to return the ornament, Lord Shiva performed Tandava, the dance of destruction. It led to grave consequences. The earth split and spewed steam and along with it, Parvati's missing earring.
Sikhs have their own belief around the hot water spring here. The much-revered Gurudwara, Manikaran Sahib, is located in this area. According to the Sikhs, Guru Nanak came to this place in 1574 with his disciple Bhai Mardana. Guru Nanak sent Mardana to collect food for the community kitchen nearby. Mardana managed to get the flour to make rotis, but there was no fire to cook it on.
Guru Nanak then instructed Mardana to lift a stone. As Mardana followed the instructions, the hot spring appeared. Mardana put the rolled rotis in the spring, but they sank. Guru Nanak then asked him to pray to God saying that if his rotis floated up, he would donate one roti in His name. Sure enough, all the rotis started floating up duly baked. It is said that all items given in the name of God, float right up.
To pay homage to Guruji and seek spiritual rejuvenation, this gurudwara is thronged by countless devotees every year. On a visit to this holy site, do not forget to savour the sacred langar and take dips in the pious hot water springs, which are famous for their healing properties.
There are other temples of the Hindu gods Rama, Krishna and Vishnu, in the area too. A school of thought believes that once a Hindu visits Manikaran, his pilgrimage is complete. There is no need to visit Kashi after that.
Good to Know :
Location: 79 km from Sterling Manali
Timing: 8:00 am to 6:00 pm

Duration: 5 Hours

Seasonality: Year-around

Price: Starting from Rs.3500

*Taxes extra as applicable *Terms and Conditions apply