Hidimba Devi Temple: A Temple for the Demon Goddess of Yore
Discover a mythological story from the Mahabharata about the mighty Ghatotkachha and his mother Hidimbi at this temple in Manali.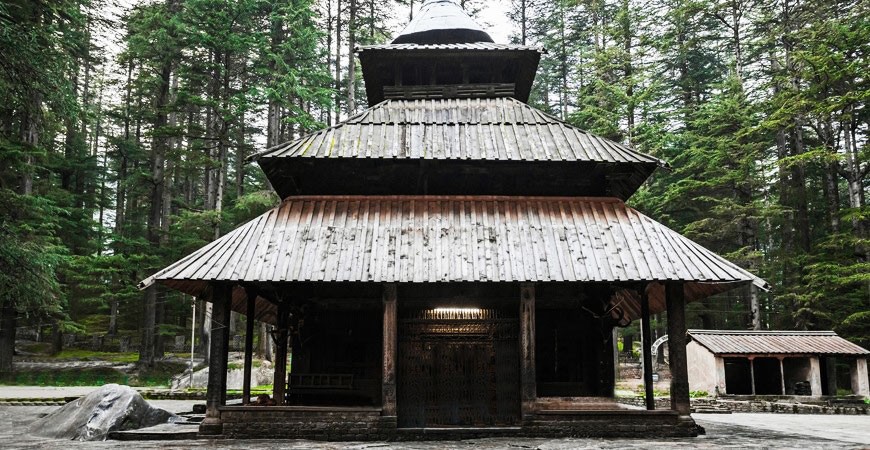 Hidimba (also known as Hidimbi) Devi Temple and the shrine dedicated to her son Ghatotkacha, are signs of Manali's ancient and mythological origins. The story takes us back to the days of the Mahabharata, at a time when the Kauravas had built a lac palace and planned to burn the Pandavas alive. The Pandavas, however, escaped through a tunnel. After their ordeal, they found themselves in a beautiful forest ruled by the Rakshasa King Hidimba. The mighty Pandava Bhima slew the Rakshasa king and married his sister Hidimbi. They had a son named Ghatotkacha. When Ghatotkacha grew up and became a warrior, Hidimba retreated into a cave in the inner hills for meditation. She undertook penance to attain the blessings of Lord Shiva.
This temple is built around the same cave, in the middle of a beautiful cedar forest, at an elevation higher than the town of Manali. The temple is built in the traditional wooden architectural style seen in the Indian Himalayas, with intricate designs on the doors and walls. The Ghatotkacha shrine has an idol, and it is decorated with offerings and tribal artefacts, including skeletons of goats.
Good to Know :
Location: 7 km from Sterling Manali
Timing: 8:00 am to 6:00 pm
Duration: 2 Hours
Seasonality: Year-round
Price Starting from: Rs.1000
*Taxes extra as applicable *Terms and Conditions apply