Hampta Trek and Picnic: Your balcony to the world.
Dramatic views, excellent company and sumptuous food. You'll never forget a picnic at the gorgeous Hampta Pass.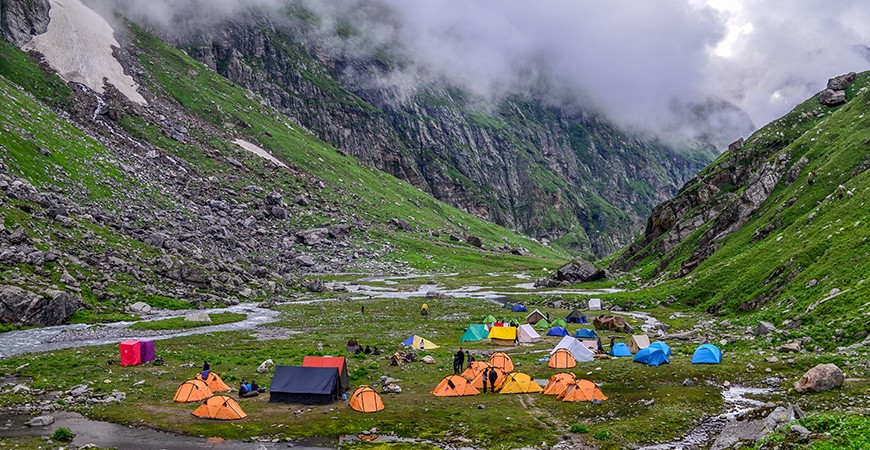 As you leave behind alpine forests, emerald lakes, icy glaciers and lush meadows on your way to the scenic Hampta Pass, there's one thought that keeps crossing your mind. Could it really get even more beautiful, as you go further? The exotic birds and rare flowers that greet you at almost every step, seem to be saying yes.
Hampta Pass, climbing out of the lush green valleys of Kullu to a perpendicular overhang high in the mountains, is indeed even more spectacular than the journey you took to get there. Sterling Manali facilitates trips to Hampta Pass from where you can enjoy high altitude treks and fun picnics. And what makes this experience even more special is the hot, sumptuous lunch Sterling can organize for you that makes the high altitude cold experience extremely enjoyable.
As you look down on the sweeping deserts of Lahaul, with Lahaul valley sprawled ahead, there's one thing that hits you.
This has to be a balcony to the world, and the dramatic panorama that lies before your eyes, has to make this the most unforgettable picnic you've ever had.
Good to Know :
Location:

Timing: 7:00 am to 10:00 pm

Entry fee: As applicable

Duration: 6 Hours

Seasonality: Year Around

Price Starting from: Rs.1000

*Taxes extra as applicable *Terms and Conditions apply