Vashisht Village: Temples and Hot Springs
A small village off the Manali-Leh highway, Vashisht is named after the great sage. Visit this place for the Vashisht temple and the natural, hot water springs.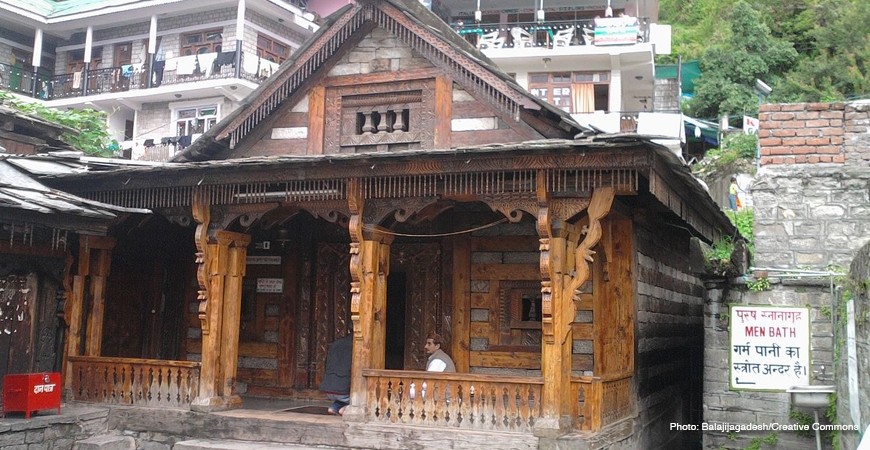 Vashisht valley is a quieter and more compact version of Old Manali and a popular travellers' hang-out. It has numerous rest houses, restaurants, and souvenir shops. The natural elevation offers great views of the lower valleys and the Beas river. However, there is more to Vashist than just the views.
The primary attraction in Vashist is the natural hot water spring. Though there are many in this region, this one is of Hindu mythological significance. Sage Vashist, one of the Seven Great Rishis, and guru of Lord Rama's Ikshvaku dynasty is believed to have meditated here. The village is named after him. There is a wooden temple, near the hot water spring, that is dedicated to him. The spring is very popular and always crowded. In winter, hot steam rising from the spring while it snows, is a sight worth seeing.
Jogini Falls is a short hike away from the village. This is a set of two falls that drop to about 700 m. In winters they are calm and beautiful, while during the monsoons the waters fall violently.
Good to Know :
Location: 6 km from Sterling Manali
Timing: 8:00 am to 9:00 pm
Duration: 2 Hours
Seasonality: Year-around

Price Starting from Rs.1000

*Taxes extra as applicable *Terms and Conditions apply
Follow the guidelines for photography. Keep children safe.