Elephant Junction: Play Time with the Gentle Giants
Make a memory of a lifetime by interacting with elephants that live in The Elephant Junction. The mahouts supervise the interactions to make sure that there is nothing to be afraid of these friendly giants.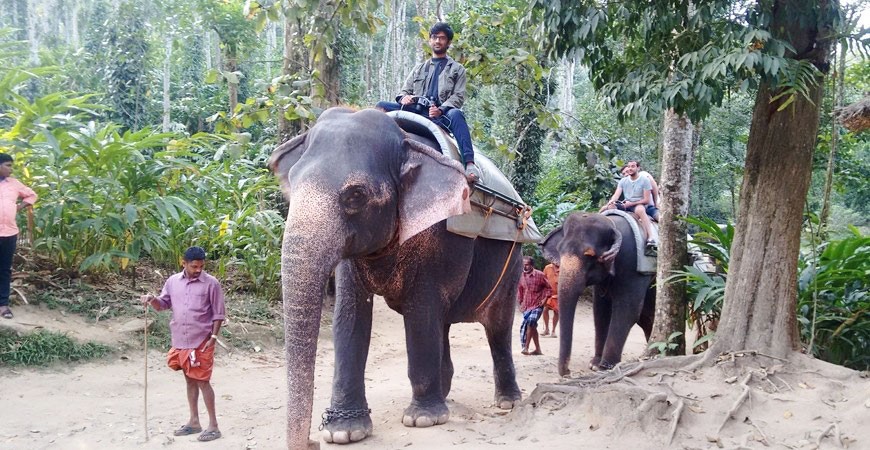 The first human settlers in forests followed elephants to find the watering holes. Even today, travellers can see these majestic animals up close here at Thekkady. One can trek through the nearby woods to see them in their natural environment, or take a boat ride to watch them drink water from the lakes. But the Elephant Junction is a must visit for those who want to interact with these friendly giants.
Located in Attappallam, Elephant Junction is a place to visit with your family. Get a chance to bathe the elephants, and in return, get sprayed with water from their trunks! Pet them, play with the more playful ones and even feed them. For those who want to see what the world looks like for an elephant from that height, take a ride on its back to the spice plantation. Other activities within this elephant reserve include plantation visits, jungle jeep safaris, tiger trails, trekking, bamboo rafting and skywalk.
You can also learn about elephants from the mahouts. According to the mahouts, an elephant can be trained to follow 20 commands. It can raise its trunk to pose for a photograph or it can be trained to do a variety of activities. It is fascinating to watch the elephants in action at Elephant Junction. 
The packages at Elephant Junction are available for varied durations. They range from 1 hour to a full day tour. Whether you're travelling with kids or with a group of friends, it's easy to find a package that will suit your needs.
Good to Know :
Location: 6 km from the Sterling resort
Timings: 8:00 am to 6:00 pm
Entry Fee: As applicable