Konark: The 768-year old Sun Temple
The Konark Sun Temple is an architectural marvel and a symbol of India's rich heritage. This temple is dedicated to the Sun God.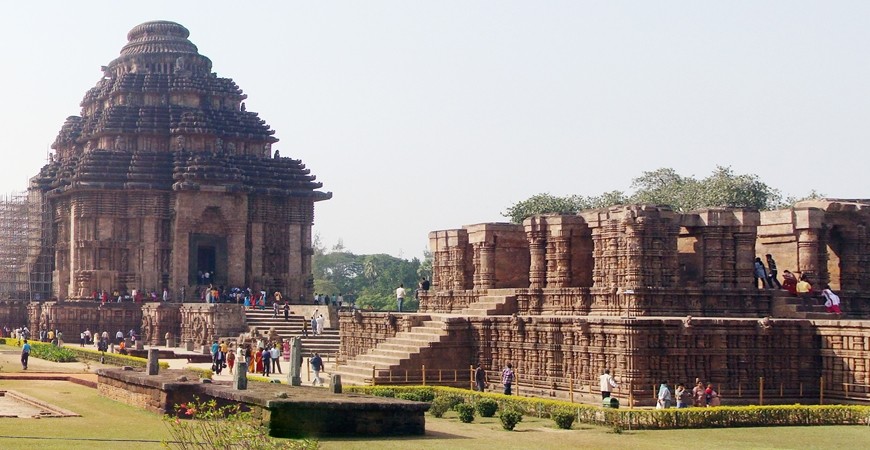 The word Konark is a combination of two words. 'Kona' means 'corner' and 'Arka' meaning 'sun' coming together to mean 'Sun of the Corner.' The first temple here dates back to the 7th century, but the present temple was built in the 13th century by Narasimhadeva of the Ganga Dynasty.

Interestingly, there are three images of the Sun God on three different sides of the temple. They are positioned in a way that catches the Sun's rays at morning, noon and evening. The main temple which enshrined the presiding deity has fallen off and only the remains can be seen. Even in its ruined state, it is a magnificent temple reflecting the mastermind of the architects who imagined and constructed it.

The Surya temple has been designed as a colossal chariot drawn by seven horses. There are twelve pairs of wheels on the sides, drawn by seven galloping horses. The 12 wheels represent the twelve months of the year. Each wheel has 24 spokes, which signify the hours of the day. Depicted on every quarter of the wheel are scenes pertaining to that time of the day. Despite its massive size, the temple is lavishly and intricately ornamented with detailed figures of deities as well as musicians, the king and his court, nymphs, animals and mythological creatures, as well as decorative patterns. The great poet Rabindranath Tagore wrote of Konark: "Here the language of stone surpasses the language of man."

Good to Know : 

Location: 42 km from Sterling Puri
Charges: Entry fee as applicable
Timings: Sunrise to sunset

Take care to follow photography/ mobile phone instructions. Keep children safe and quiet.