Chilka Lake: Allure of the Enchanted Lagoon
Being the largest saltwater lagoon in Asia, Chilka Lake can easily be mistaken for a sea. Spread over 1100 sq. km., the lake is home to the Irrawaddy dolphins and over 2000 migratory birds.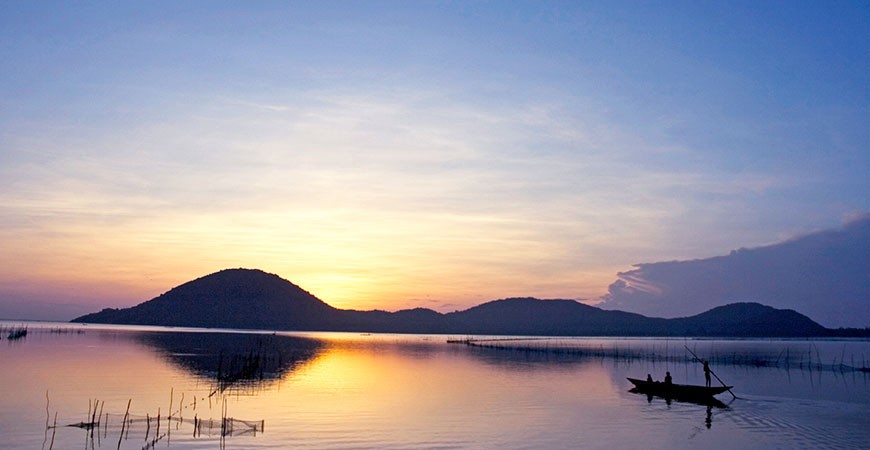 The largest saltwater lagoon in Asia, the Chilka Lake can easily be mistaken for a sea. Spread over 1100 sq. km., it touches upon three districts of Odisha - Puri, Khurda and Ganjam. This lake is the largest coastal lagoon in India and second largest in the world.
The lake and the surrounding marshland, together form a unique ecosystem. It is home to some rare flora and fauna including some endangered species of migratory birds that come from as far as Siberia. This biodiversity makes Chilka Lake one of the most important wetlands and it is a well-preserved region.
A boat ride in Chilka lake is a delightful experience. In order to completely soak in the lake's beauty and its attractions, you will need at least five to six hours. While there are diverse migratory birds, the prime attraction is the Irrawaddy dolphins. They are curious saltwater dolphins from the ocean, that wade into the lake attracted by the sounds and arrival of migratory birds, especially between November and March. Following them as they weave their way through the water, appearing and disappearing, is a truly exhilarating experience. Along the way, one can spot flocks of open-billed storks, painted storks, a variety of flamingos, gulls, plovers, cranes and stilts.
Sterling Puri will be delighted to facilitate this experience for you.
Good to Know:
Distance: 65 km from Sterling Puri
Entry Fee: As applicable
Timing: From sunrise to sunset. Advisable to reach by 7:00 am or 8:00 am so that you can spot a variety of birds.