Mannarasala Sree Nagaraja Temple
Mannarasala Sree Nagaraja Temple in Haripad is a very ancient and internationally known centre of pilgrimage for the devotees of serpent gods (Nagaraja). The famous Nagaraja temple "Mannarasala" in Haripad is nestled in a forest glade, like most snake temples.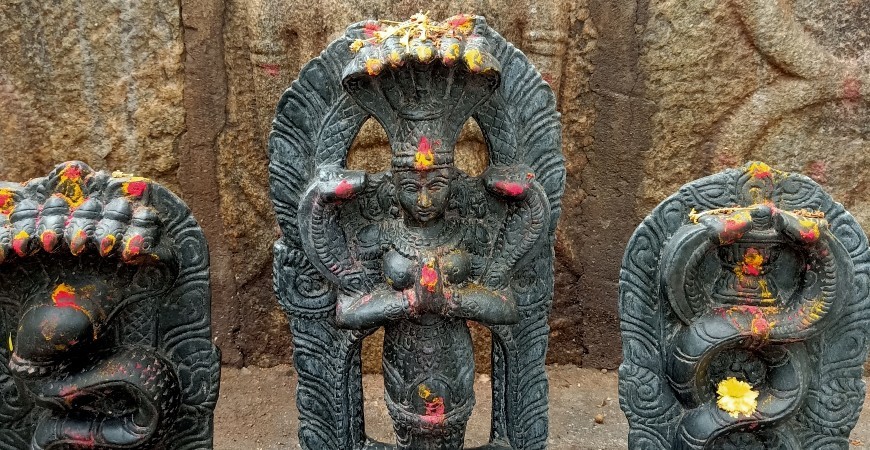 The Mannarasala Temple has over 100,000 images of snakes along the paths and among the trees, and is the largest such temple in Kerala. Couples seeking fertility come to worship here, and upon the birth of their child come to hold thanksgiving ceremonies here, often bringing new snake images as offerings. A special turmeric paste which is available at the temple is credited with curative powers. The evolution of Mannarasala as the supreme place of worship of the serpent Gods is associated with Parasurama, the son of Jamadagini and a descendant of Bhrigu. This land is believed to be the present-day Kerala. In the beginning Kerala was not habitable because of the salinity.
He undertook penance to please Lord Siva, who advised him that the objective could be realized only if the flaming poison of the serpents was spread everywhere and that the only means of doing that was the worship of Nagaraja. He set out with his disciples in search of a deserted jungle in order to please Nagaraja who was inaccessible and beyond anybody's understanding. He found a suitable place near the seashore in the southern part of Kerala. Nagaraja, who was pleased with the penance, appeared before Parasurama, willing to grant him his desire.
At a very auspicious moment, Parasurama installed, according to Vedic rites, Nagaraja, who is Brahma, Vishnu and Siva in one in the 'Thirthasthala' (Hall of pilgrimage) surrounded by Mandara trees, this place then known as Mandarasala. The beliefs and rituals associated with the Mannarasala temple are different from most other temples, and this is one rare temple where the pooja pattern is headed by a Brahmin lady.
Good to Know:
Location: 33km from Sterling Lake Palace Alleppey
Timings: 7am – 10:30am, 6pm – 7:30pm