Revi Karuna Karan Memorial Museum
An architectural marvel , the Revi Karuna Karan Museum displays fine art and artefacts that have been collected by Ravi's family for over three generations. The establishment of the museum comes with a story by itself...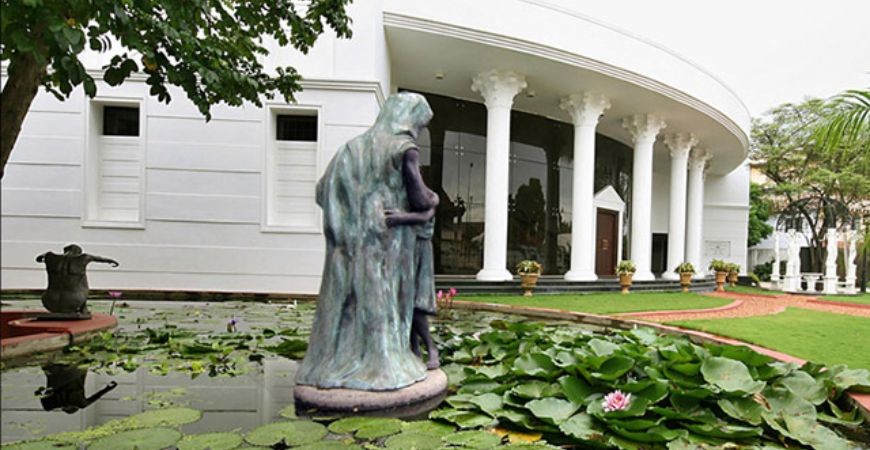 India, with its natural beauty, art and architecture also comes with its tales of love. Perhaps one of the greatest love stories would be that of Shah Jahan, who built the magnificent Taj Mahal in memory of his dear wife Mumtaz. Alleppey comes with a love story as well. In 2006, after the demise of Mr. Ravi Karuna Karan (RKK), Mrs. RKK, fondly known as Betty, built a museum in loving memory of her husband displaying all the art and artefacts that RKK had been collecting for over three generations. RKK, his father and his grandfather were prominent industrialists in the coir industry. While his collections remained private for many years, Betty decided to open up the collection to the public. Spread across an area of 28,000 sq.ft, this museum took about 3 years to complete, which was designed by Betty. 
Step into this historical gallery hall to discover some rare and nostalgic collections. 

Standing elegantly on the NH-47 passing through the Alleppey town, the museum is a 10-minute drive from the Sterling Lake Palace and is open from Tuesday through Sunday from 9am to 5pm. Entry by ticket.

Some rare finds at the museum:

A 200 sq.ft. hand-painted mural made entirely of traditional vegetable dyes.
Tanjore paintings.
Hundreds of intricately carved ivory pieces.
One of the largest private collections of Swarovski crystals in the world.
Exquisite porcelain pieces from all over world.
Traditional Kerala room.
A 1948 imported Buick Super.