Vembanad Lake
The longest lake in India and the largest lake in Kerala, Vembanad Lake is also the second largest wetland system in India, second only to the Sunderbans.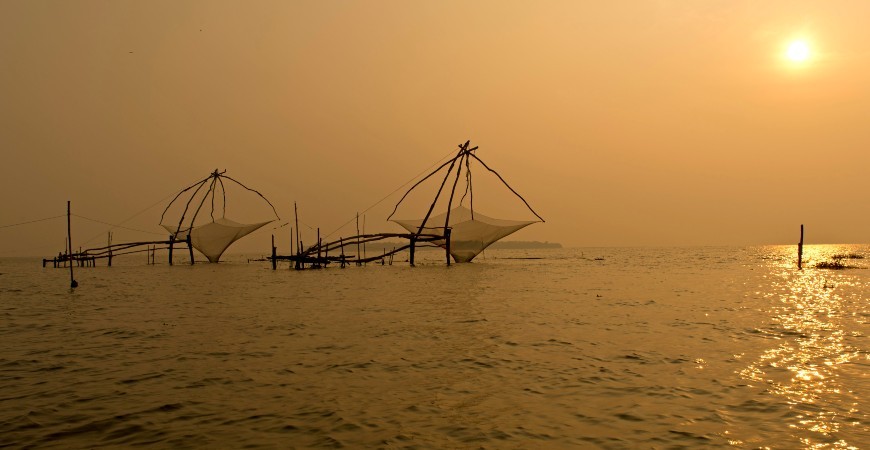 The lake is a part of the Vembanad-Kol wetland system which extends from Alappuzha in the south to Azheekkode in the north, making it by far, India's longest lake at just over 96.5 km in length. The lake is fed by 10 rivers flowing into it including the six major rivers of central Kerala namely the Achenkovil, Manimala, Meenachil river, Muvattupuzha river, Pamba and Periyar.
Kuttanad, also known as The Rice Bowl of Kerala, has the lowest altitude in India, and is also one of the few places in world where cultivation takes place below sea level. Kuttanad lies on the southern portion of Vembanad. The Nehru Trophy Boat Race is conducted in a part of the lake. The most popular location on the shores of the lake is the Kumarakom Tourist Village situated on the east coast of the lake. The Kumarakom Bird Sanctuary is located on the northern fringes of Kumarakom village.
Vembanad Lake is at the heart of Kerala Backwaters tourism with hundreds of kettuvallams plying on it and numerous resorts on its banks.
Good to Know :
Sterling Lake Palace Alleppey is centrally located around 14 acres of lush greenery and calm water bodies, parallel to the Vembanad lake. Explore this natural wonder from the comfort of your resort!