Mannavanur Lake : Picnic by the Lake
Clouds float languidly on a lake and birds swoop into its still blue waters. This one is a must visit.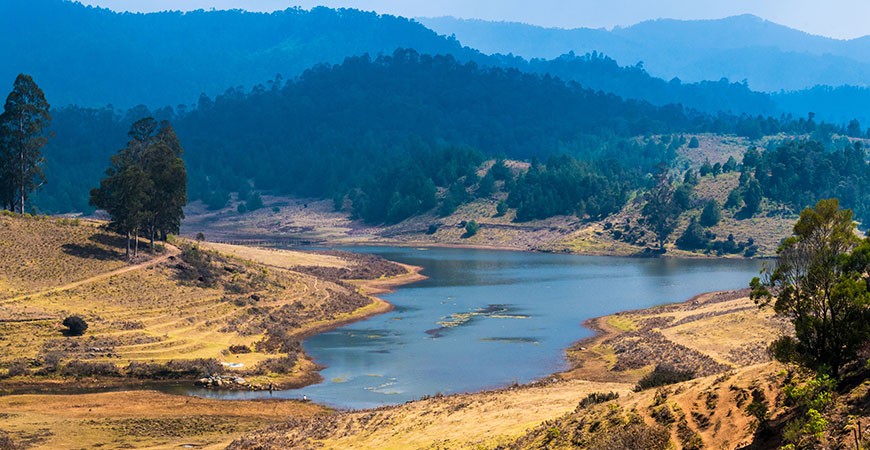 A trip to Kodaikanal is incomplete without a visit to the magnificent Mannavanur Lake.
There is a village called Poombarai, about 35 km from the town, nestled deep inside the forest. Hidden here, is the hiking trail to Mannavanur lake. It takes about an hour to reach the lake from here, and the path goes through reeds and marshes, past billowing meadows and thickets of pine. Thick forest surrounds this lake. The best time to trek up to the lake will be early in the morning when the forest and lake come alive with barbets and woodpeckers heralding the new day with loud calls while the brown owls return to roost.
On the way back, there is a waterfall called the Neptune Pool, probably named so for its brilliant turquoise and blue waters. Other places worth visiting nearby are the Mahalakshmi Temple and the Kuzhanthai Velappar Temple.
Enjoy a picnic by the lake and go boating in coracles and kayaks which are available for hire. Sterling Kodai will be delighted to organize this experience for you.
Good to know : 
Location: 45 km from the Sterling Kodai - Lake, 35 km from the Sterling Kodai - Valley
Timing: 9:30 am to 5 pm
Entry fee: As applicable