Arulmigu Arunachaleswarar Temple
The most famous temple in Tiruvannamalai is this shrine dedicated to Lord Shiva, at the base of the holy Arunachala Hill, in the heart of Tiruvannamalai.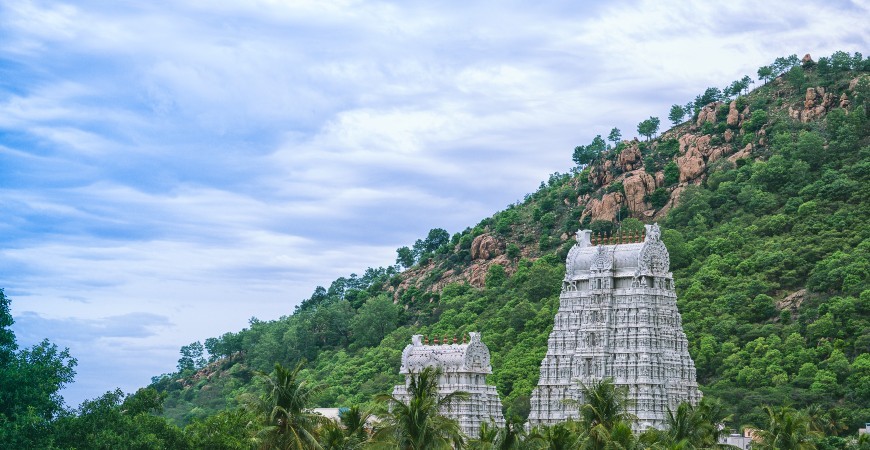 The Arunachaleswarar Temple, also known as the Annamalaiyar Temple one of the temples associated with the five elements, the Pancha Bhoota Stalas, and specifically the element of fire, or Agni. The temple complex is one of the largest in India and houses one of the tallest temple towers – or gopurams as they are known – in India. The temple complex has great architectural value, with many uniquely built shrines and halls. The hall of a thousand pillars, is another must-see feature of this place.
The Arunachala Hill and the temple are steeped in legend. It is said that Parvati, the wife of Lord Shiva, once playfully closed his eyes. This engulfed the earth and the universe in darkness for years. To fix the situation Parvati and other devotees of Lord Shiva performed penance, and it is said that he appeared as a column on fire atop the Arunachala Hill, returning light to the world. The Arunachala hill which is red in colour, lies behind the temple, and is worshipped as a holy mountain.
Karthigai Deepam
The temple celebrates a large number of festivals throughout the year, but the most important of them all is the celebration of the Karthigai Deepam where a huge cauldron containing three tons of ghee is lit at the very top of the Arunachala Hill and the festival image of Shiva is taken on a wooden chariot around the hill in procession with devotees. Karthigai Deepam is the most significant festival that is celebrated with pomp and gaiety at Arunachaleswarar temple. Celebrated over 10 days, there are multiple processions leading up to the Maha Deepam. It is widely known as Karthigai Brahmotsavam festival.
Good to Know :

Location: 4km from Arunai Anantha