Jawadhu Hills
An extension of the Eastern Ghats, the Jawadhu Hills are a beautiful range of bluish gray granite that have peaks averaging 3800 feet in height. The hills are known for their breathtaking verdant beauty.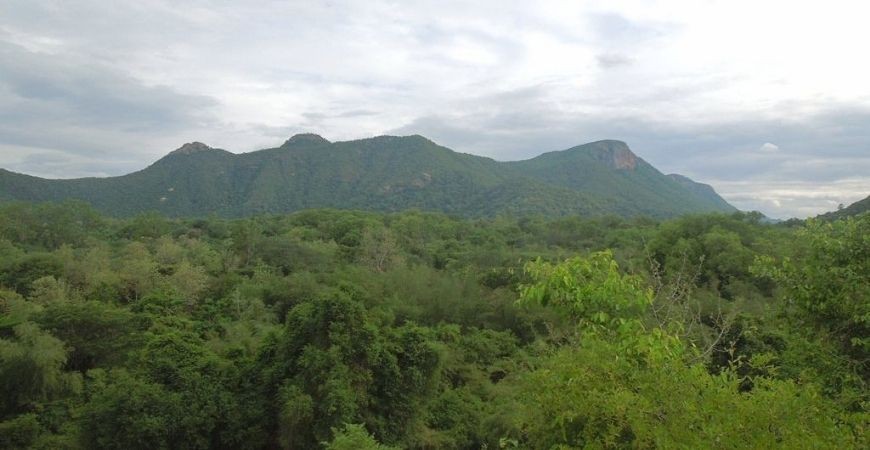 During the British colonisation of India, the Jawadhu Hills appeared occasionally in government gazetteers and manuals, ethnographies and travellers' accounts. It is said that the hills were discovered by Henri Le Fanu, a French citizen in 1883, who loved these hills. The range separates Tiruvannamalai from Vellore and are about 80km wide and 32km long. The Cheyyar and Agaram rivers – both tributaries of the Palar river – flow through the hills bisecting them into eastern and western sections. With peaks ranging from 3600-3800 ft, the hills barely have any inhabitants, except for a few tribes. The Jawadhu hills have a range of attractions and are a haven for trekkers. One visiting these hills can enjoy sights like the famous Beema falls, Komutteri Lake, Amirthi Forest, and the Kavalur Observatory.
Beema Falls : Located 5Km from Jamunamarathur, water is flows in these falls for almost 8 months in a year.
Komutteri lake : This is the biggest lake on the Javadhu hills and also called as Kolappan Lake. Visitors can enjoy a leisurely boating session on this lake. A manmade island in the centre of the lake is also a major tourist attraction here.
Kavalur Observatory :  The largest observatory in Asia, it sees scientists from all over the country and abroad visiting for their studies. 11km from Jamunamarathur, the big telescopes and facilities here draw a lot of tourists.
Melpattu Village: Melpattu village, is located on the highest peak of Javadhu hills. Cave like stone Age Houses that are more than 5000 years old are found here, and are a very interesting attraction for all visitors. There is also a Herbal Farm, set up and maintained by the Forest Department here.
Good to Know:
Location: 79km from Arunai Anantha
Best time to visit: Oct – Mar
Time Required: 3 hours – 2days