Edakkal Caves: Explore the Settlements from the Neolithic Age
Edakkal - A stone in between, bridges time between present day and the Neolithic age. Explore these caves and petroglyphs to get a glimpse of the history of human civilization.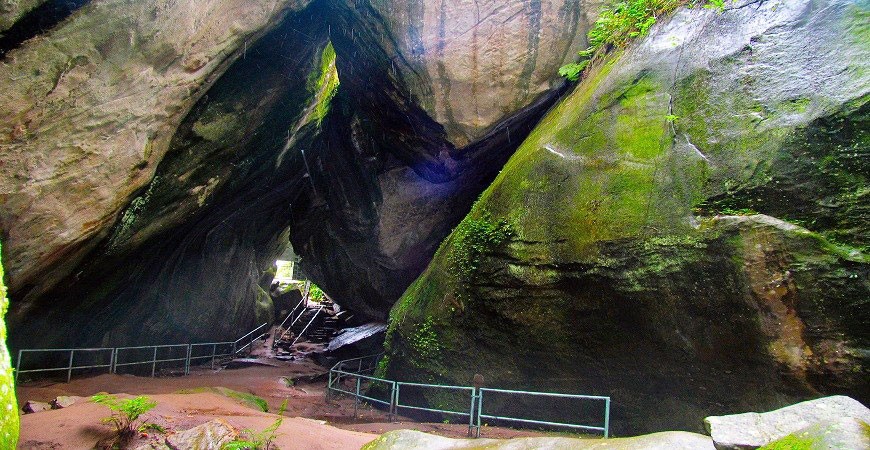 Edakkal caves throw light on the life of prehistoric men. The cave is known for its rock paintings from the Neolithic age. It is the most popular tourist destination at Wayanad. A short trek of about 45 minutes, up Ambukuthi hills takes you to the caves. It is the only place in South India where you can see carvings from the stone age.
Edakkal means, 'a stone in between.' Technically these are not caves but rock shelters that had human settlements in the prehistoric era. There are two chambers inside the cave. You can see petroglyphs depicting human figurines, animals, tools used, hunting scenes and their way of life. Petroglyphs are a form of rock art where figures are made by scratching or carving out of the rock surface. There are not just carvings of human figures here, but also stone scripts written in a language that we are yet to decipher. Some archaeologists believe that the newer paintings represent Indus Valley Civilisation.
Good To Know:
Location: 23 km from Sterling Wayanad
Best Time to visit: Any season
Timings: 9:00 am - 4:30 pm
Entry fee: Rs. 20 for Indian Nationals/ Rs 40 for Non-Indians