Guruvayur Sri Krishna Temple
Guruvayur Sri Krishna Temple - the sacred abode of Lord Vishnu, that holds great significance for Hindu devotees.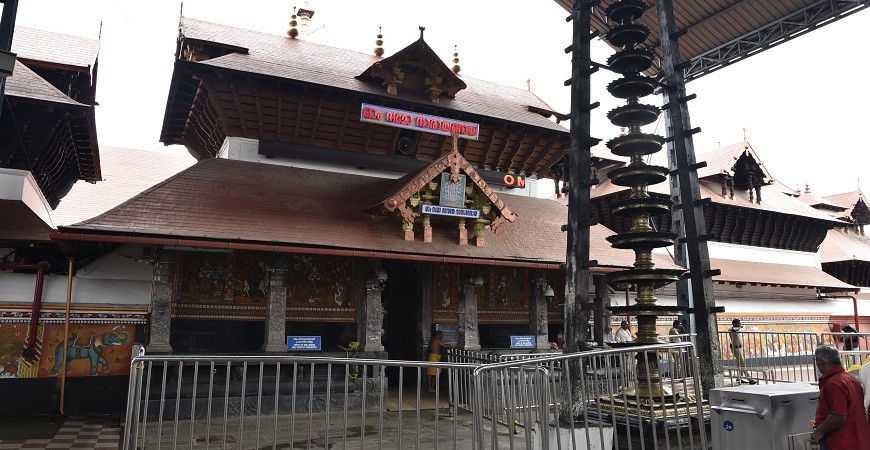 Guruvayur Sri Krishna Temple – the sacred abode of Lord Vishnu, that holds great significance for Hindu devotees. Located 25 km away from the hustle and bustle of the Thrissur city, Guruvayur is popular as the 'Dwarka of the South'. The legend has it that the temple was established by the Teacher of Gods Brihaspati (Guru) and the Lord of the Wind (Vayu) to worship Sri Krishna when Dwarka drowned in a flood.
Interestingly, the idol of the deity made of 'Patala Anjanam' stone (black bismuth) is in the form of Lord Vishnu. Standing with 4 arms holding the Panchajanya conch, the Sudarshana Chakra, the Padma (lotus)  and the Koumodaki (mace), the deity is adorned with ear ornaments, garlands, Kasthuri Tilakam and a red Pattukonam (loincloth). This attire is in reminiscence of Krishna's playful childhood days in Gokulam. Legend has it that during the birth of Krishna, Vishnu revealed his full avatar to Devaki and Vasudeva.
Built-in the typical Kerala architecture style, the temple follows the Kerala Vastuvidya. The Gopuram evokes a feeling of harmony, warmth and belongingness and the side walls exhibit rich mural arts. The temple is built such that on the day of 'Vishu', the Kerala New Year, the sun's rays caress the feet of the deity – Guruvayoorappan.
Ideal for new beginnings, a lot of devotees come to this sacred shrine for Choroonu (first solid meal of a baby), Vidyaarambham (initiation of a child's learning), birthdays and weddings. It's considered auspicious to offer a Chuttu Vilakku (lighting of oil lamps around the shrine) or Thulabharam (where a person is weighed against a commodity which is then donated to the temple) to the deity here.
The most beautiful time to visit the temple is 3.00 am in the morning during the Nirmalya puja and Vakachaarthu puja or during the Seeveli at 5.00 pm where caparisoned tuskers elegantly march carrying the idol of Lord Krishna. On special days, a colourful traditional dance-drama on Krishna's life called the Krishnanattam is performed inside the temple to entertain the devotees.
Palpayasam, butter, sugar and Kadhalippazham (a type of banana) are the popular Prasadhams of this temple. The sandalwood paste (Kalabham) offered to the devotees from Guruvayur is ground by hand and has fresh saffron in it. One must be dressed in ethnic wear (saree/davani/skirt for women and mundu/veshtti for men) to enter the temple.
This historic temple is held together not just by its beautiful architecture, but also by ancient lores, legends, unique rituals and traditions that'll surprise and inspire any traveller who's embarking on a spiritual sojourn.