The Institute of Mural Painting: History, art, and culture for one and all
Famous for intricate detailing along the walls of prehistoric temples, Kerala is also known for its renowned mural painting institute. Situated at less than a kilometer from Sterling Guruvayoor, The Institue of Mural Painting allows the visitors to explore the various dimensions of the artform through seminars, exhibitions, and training programs. For Rs. 200/person, take a companion with you to admire the sheer brilliance of these mural artists.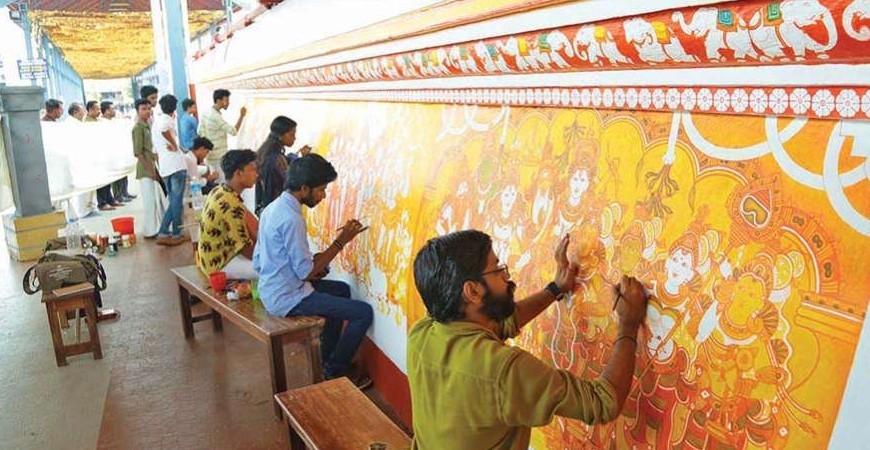 Kerala is famous for temples, archaeology, and picturesque locales. Take a break from the city and spend the day exploring with your inner artist at The Institute for Mural Painting. Established in 1989 by Shri Mammiyoor Krishnankutty, the institute is situated close to the Guruvayurappan temple. When a fire destroyed the Guruvayoor temple complex in 1970, renowned artists, including Shri Mammiyoor Krishnankutty, were commissioned to restore the walls with mural paintings. Upon completion, the artists came together to establish this institute to pass their knowledge and heritage to future generations.
The institute conducts various full-time courses. Students from all over the country enroll for a five-year diploma course in mural painting, art, aesthetics, and sculptures. Tourists visiting the campus can participate in various programs, including seminars, exhibitions, and training programs regularly conducted by the institute. At Rs. 200/person, Sterling Guruvayoor arranges transportation to visit the place alive with rich heritage and remarkable artwork.
Things to remember
Availability: All through the year
Clothing: Casual wear/dhoti for men and saree for women if planning to go inside the temple
Shoes: Not allowed
Water Bottles: plastic bottles will not be allowed
Sunglasses: Not required
Sunscreen: Not required
Walking Stick: Not required
Umbrella/Rain Gear: Seasonal
Timings: 9 am to 5 pm
Booking recommended
Kindly note that the minimum required number of participants is 2.
Priced: INR 200 per person including guide and vehicle charges
Taxes extra as applicable