Palayoor Church: World's oldest church - is that right?
Palayoor church is known for many things - architectural grandeur, Renaissance-style planning, historical significance, and more. According to history, the church was established in 52AD by Saint Thomas, one of the twelve apostles of Jesus Christ. Over time, the church faced many hardships but continues its reign as one of the country's oldest churches. Sterling Guruvayur arranges a trip to the Palayoor Church at Rs. 250/person.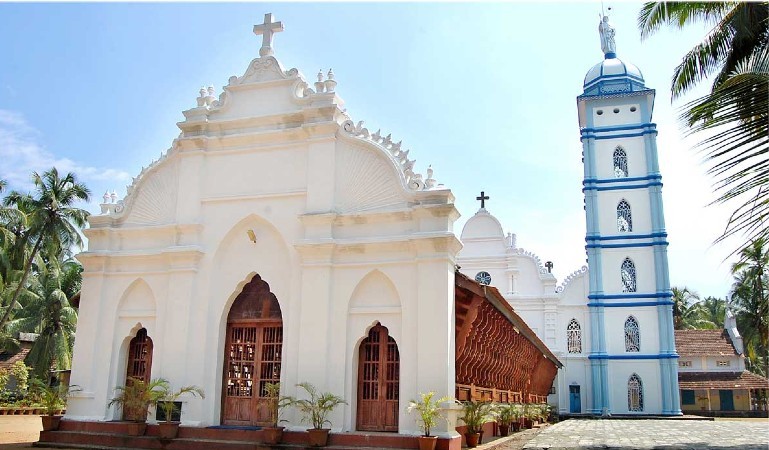 Considered one of the world's oldest churches, Palayoor Church has a long history behind it. Located in the Thrissur district, the church is believed to be established in 52AD by one of the twelve apostles of Jesus Christ. The church is part of the seven churches that were established in India. While the initial structure is still retained, the church was subsequently improved in the 17th century by Reverend Fenichi without compromising the place's sanctity. Palayoor church marries the Renaissance-style planning with Hindu temple architecture, filling the interior with opulent cravings, a beautiful garden, rectangular ponds.
A popular tourist destination primarily for the beautiful sculptures and historical significance, Palayoor church has stood the test of time for centuries. A short ten-minute drive from the resort, Sterling Guruvayur welcomes the guest to visit the church to immerse in the sheer brilliance of architecture from the days of the past. Available at Rs.250/person, the experience is open all year round.
Things to remember
Availability: All through the year
Clothing: Casual wear
Shoes: Allowed
Water Bottles: plastic bottles not required
Sunglasses: Not required
Sunscreen: Not required
Walking Stick: Not required
Umbrella/Rain Gear: Seasonal
Booking recommended
Kindly note that the minimum required number of participants is 2.
Priced: INR 250 per person including guide and vehicle charges
Taxes extra as applicable