Batasia Loop: Toy Trains and War Games
This is a cenotaph of it's own kind. It is a picturesque spot between Ghoom and Darjeeling where toy trains circle the Gorkha War Memorial.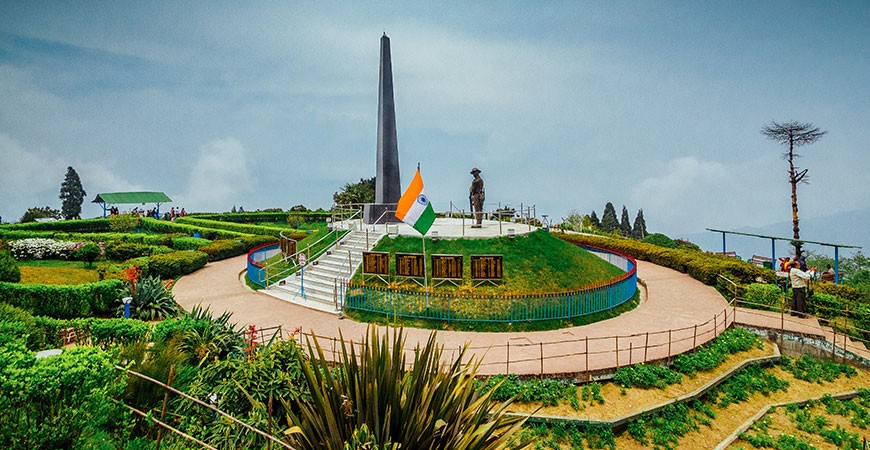 The courage of the Gorkha soldier is the stuff of legends, as the Brave Sam Manekshaw famous quote " A man who claims to be unafraid of death is either a liar or a Gorkha".

Darjeeling is a place where even your taxi driver will narrate stories of Gorkhas. A war memorial dedicated to these soldiers stands at the picturesque Batasia Loop between Darjeeling and Ghoom Heritage Railway stations. The railway track here loops over itself through a tunnel and over a hilltop, forming an infinity symbol. At the centre of this loop, stands the sculpted figure of a soldier, with his head bowed respectfully, in front of an obelisk.

A toy train comes puffing along every quarter of an hour. Batasia Loop was commissioned in 1919 because it was an engineering requirement for the toy train to be able to handle a steep gradient. The toy train circles the silent soldier, lets out a salutary whistle, climbs the hill top and bids farewell before disappearing around the bend. The entire ritual has a certain poignancy. It is as if the misty mountains, the cheerful train and the dignified pines come together spontaneously in shared remembrance of men who left as soldiers to defend the country's borders and returned as martyrs.

We recommend you to experience the ride for yourself.

Good to Know : 

Location: 3 km from Sterling Darjeeling

Timing: 6 am to 6 pm

Entry Fee: As applicable.