Japanese Temple and Peace Pagoda : Awaken the Buddha Within
Do you want to feel the serenity of the Buddha within? Visit the Japanese Temple and join the chanting of Nam-Myoho-Renge-Kyo.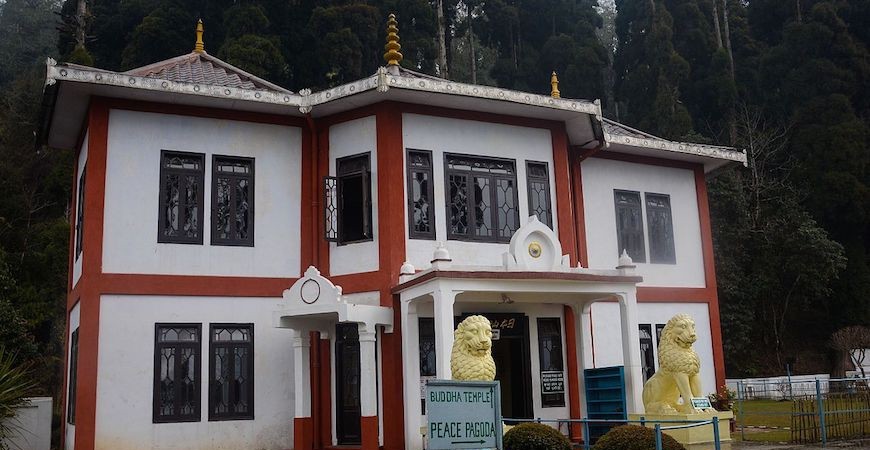 Today, we travel not just to explore but to find peace away from our busy lives. A visit to this temple at Jalapahar during the prayer hour should be on every traveller's list. It is the kind of experience that often leads to a personal journey. Close to the temple is the Peace Pagoda that showcases the four avatars (incarnations) of Lord Buddha. From the top of the Pagoda, you get panoramic views of the Darjeeling landscape including the Kanchenjunga range.
This temple belongs to the Japanese Buddhist Sangha of the Nipponzan Myohoji sect of Buddhism. Followers of this sect chant the simple phrase 'Nam-Myoho-Renge-Kyo' to reflect on the essence of Buddhism and awaken the dormant Buddha within. Known locally as the Japanese Temple, the structure is simple and reflects the sect's focus on essence rather than embellishment. The prayer room is so peaceful that you will find your voice dropping to a whisper, on its own. During the hour of prayer, the misty surrounding hills reverberate with the chants of Nam-Myoho-Renge-Kyo. The prayer glides into the mountains, seeps into every crevice and fills the air with a powerful longing for eternal peace. The prayer ceremony at the temple is simple and inclusive. Visitors are encouraged to participate. Hand-held drums are laid out neatly in the prayer room. You are welcome to pick one up and join others in beating the drum and chanting.
Good to Know :
Location: 13 km from Sterling Darjeeling
Timing: 4:30 am to 7 pm daily
Prayer Hours: 4:30 am to 6 am, 4:30 pm to 6:30 pm